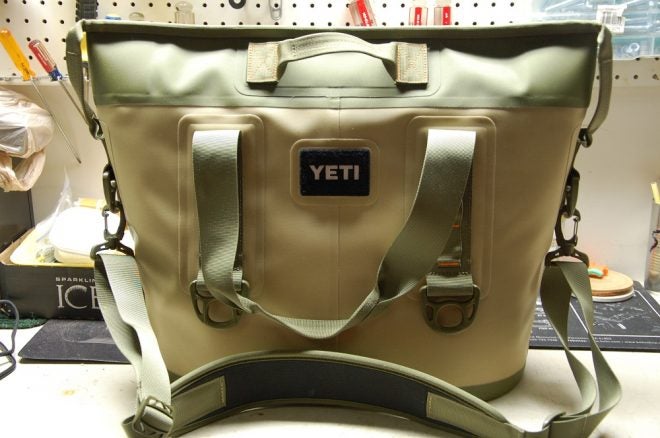 John J. Woods
Magnolia Outdoor Communications
YETI HOPPER TWO SERIES WORKS
The Yeti brand name and products stormed on the outdoors scene just a few years ago it seems. Now it is one of the most iconic brands names to own. Are these ice coolers really worth all the hype? We put one to the test to find out.
One product introductions already revised in an improved version is Yeti's Hopper Two series of shoulder or hand strap carry ice coolers. Though they are categorized as "soft-sided coolers", Yeti markets that by saying that is like calling a monster truck a pickup.
The distinctive outside material of the Yeti Hopper Two's are fabricated into a shell known as "dryhide." The DryHide fabric is used for both the interior and exterior shells. It is a material like that used in the construction of whitewater rafts. This is a high tenacity 840 denier nylon with a double TPU lamination. This makes the ice cooler waterproof and highly resistant to punctures and abrasion.
The ice cooler seams are RF welded thus doing away with conventional type stitching, which eventually leaks. The inside liner is anti-microbial, mildew resistant and is FDA food grade. The cooler's bottom is a tough duty EVA that creates a stand up stability which also knocks off rough abrasion for durability in outdoor use activities.
The Hopper Two's zipper has been moved from the top of the original model to a side mounted location for easier access. The zipper itself is described by Yeti as a "hydrolok" zipper. Again the zipper is RF welded into the cooler instead of stitched. The hydrolok zipper does two things. It is airtight to hold in the cold and thus allows for the retention of ice without permitting moisture to escape. Yeti Hoppers are known for keeping ice for days and not leaking.
The Hopper Two is insulated with a one-inch thick lining of "coldcell insulation." It is 1.5 inches thick on the bottom. Cooler design and shape maximizes superior cold holding. The Model 20 we tested has a 4.9 gallon capacity. There are also 30 (7.4) and 40 (9.7) Models as well. All are available in two colors, a tan/orange/green, or a blue/cream.
The Hopper Two series also comes with double-stitched grab handles, and an ergonomic shoulder strap with quick snap attachments to cooler mounts. There is also a built in HitchPoint grid for adding other Yeti accessories such as a Sidekick gear case.
Did the Yeti Hopper 20 perform as expected? A week in whitetail camp trials anything. From lashing it to the ATVs, ice dispensary at the campfire ring, and keeping vital supplies cold like bottles of vino, sausage and cheese. Yep, it performed. The straps are tough as nails, and the cooler DryHide threw off rubs, bashes, and bruises. Go to www.yeticoolers.com for more.
YETI Hopper M30 2.0 Portable Soft Cooler
YETI Hopper Flip 18 Portable Soft Cooler
YETI Hopper Flip 12 Portable Soft Cooler