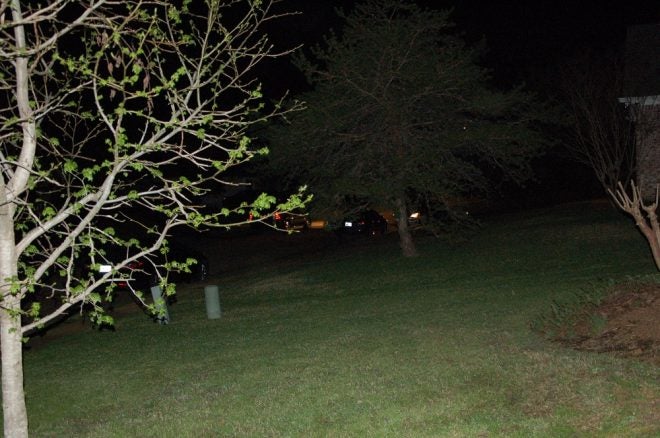 When the sun goes down, things can get dicey. Most prepper guidelines and time tables talk about planning to survive the first 72 hours as being a crucial milestone after the SHTF. To be even more explicit, what about the first 8-12 hours. Honestly, if you do not make it beyond that first night of darkness, then there may not be another two and a half days to worry about.
Here's the scenario. You're at work, school, out shopping, at the doctor's office, running errands, but away from your primary residence. News comes of a blackout in the city and in short order widespread mayhem breaks out. Looters and malcontents are filling the streets to disrupt everything.
Streets are becoming blocked. City lights are not coming on as the sun is setting. The building or location where you are is not in any kind of a lockdown and streets rioters are beginning to spill over into the lobby area, hallways and up stairways. What do you do?
Power is out, but some emergency lighting creates an eerie glow in the halls, offices, or shopping areas. Elevators are not working. Some stairways may still offer an option to escape. Reaching your car might be possible or maybe not. Even so, you may not be able to exit the parking garage or lot. Some fire alarms are going off. What do you do?
If you planned well in advance of such an event, you can now exercise your judgement to implement your plan. That might be a lockdown in your work area the same as if it were an active shooter event. Barricade the doorway, keep noise and even flashlight use to minimum. Help others to remain calm. Organize them to help defend your position or get to a more secure area where you can last out the night alone.
If you get caught outside, on the street, or in the open, search for a place to huddle in place. Behind an alley dumpster, in a dark doorway, in a secluded park area or another spot out of sight, where you can hide and remain quiet until daylight if necessary.
Now is when your EDC kit or office emergency supply bag shines. Arm your weapon, test your flashlight, tune in your radio at low volume, inventory your supplies, water, food items, and prepare to hunker down in your office, inside a hidden place in the mall, or your vehicle if appropriate. Monitor your cell phone for news. Try to remain calm, but alert. Sunrise will come.