Sightmark Core SX 1.5-5×32 Crossbow Scope Review
Russ Chastain 12.17.18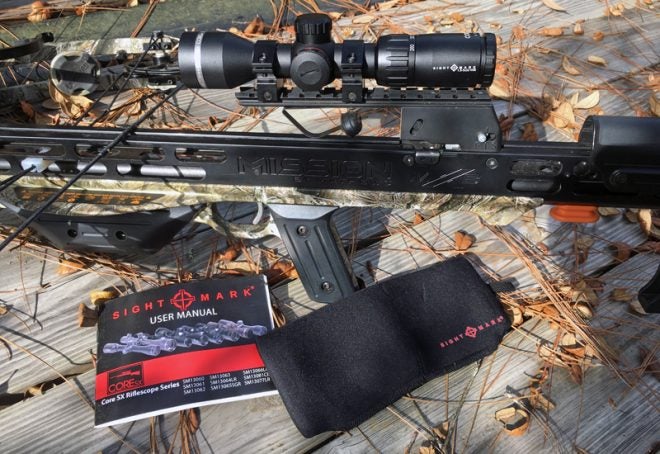 A few years back, I reviewed a Mission MXB Dagger crossbow, which I purchased after writing the review and have been using during archery season ever since. I recently tested a Sightmark crossbow scope with that crossbow; here are my results.
The scope is a Sightmark Core SX 1.5-5×32 Crossbow Scope. NOTE: Although both the manufacturer's website and the Amazon page describe it as 1.5x-4.5x and 400 fps max arrow speed, my scope adjusts to 450 fps and the box indicates a magnification range of 1.5x-5x. Some other specs also changed; the specs below should be accurate.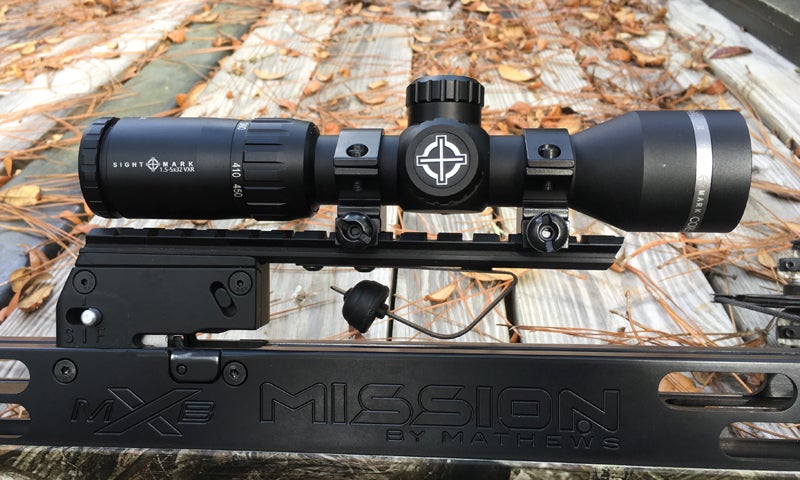 Here's what the manufacturer says about it:
Featuring killzone rangefinding capabilities and variable power magnification, the Sightmark® Core™ SX 1.5-5×32 Crossbow Scope is the ideal crossbow scope for medium-sized game such as whitetail deer and mule deer. This scope accomplishes arrow drop compensation. Its 1.5-5x magnification is tuned to 250-400 fps crossbow speeds. Multi-coated optics and a fully weatherproof body.
Specs
Reticle: VXR-M (Vitals Crossbow Reticle – Medium Game), Black/Red/Green
Finish/Color: Matte black
Magnification: 1.5-5x
Arrow Speed adjustment range: 260-450 fps
Diameter, Objective Lens: 32 mm
Diameter, Eyepiece: 39 mm
Diameter, Exit Pupil: 21 – 7 mm
Eye Relief: 3.5 – 3 / 88.90-76.2 in/mm
Field of View: 73.7 – 22 ft @100yd
Diopter Adjustment: 3 to -3
Diameter, Tube: 1 / 25.4 in/mm
Parallax Setting: 30 yards
Windage Range of Adjustment: 100 MOA
Elevation Range of Adjustment: 100 MOA
MOA Adjustment: 1/2 MOA per click
Maximum Recoil: 800 Gs
Battery Type: CR3032
Battery Life: (high) 25, (low) 1000 hours
Battery Voltage: 3 V
Nitrogen Purged: yes
Shockproof: yes
Fog Proof: yes
Focal Plane: 2nd
IP Standard: IP67 (waterproof and dustproof)
Body Material: Aluminum
Lens Coating: multi-coated
Operating Temp: 0 to 120 F, -17 to 49 C
Length: 9.5 in / 242 mm
Width: 2.6 in / 66 mm
Height: 1.5 in / 38 mm
Weight: 16 ounces
Includes: Scope, CR2032 battery, scope rings, neoprene scope cover.
MSRP: $149.97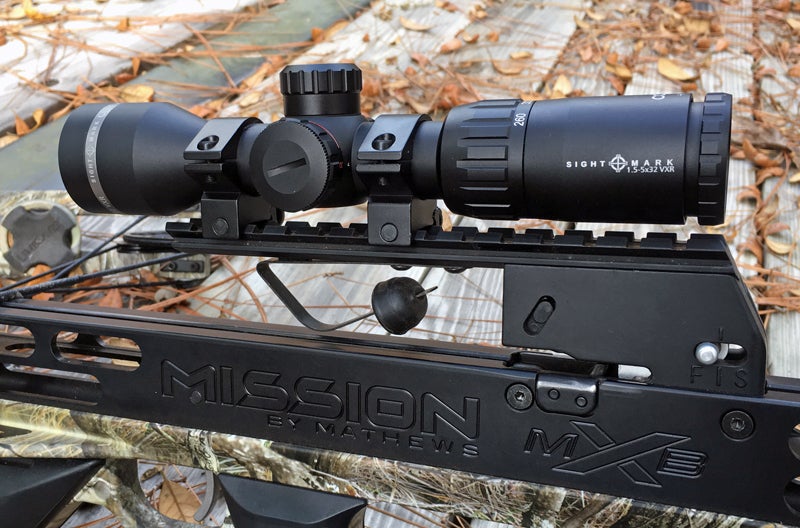 Installing the Scope
My scope came with a set of rings for Weaver/picatinny mounts, which worked well for mounting the scope to my crossbow. Mounting was fast and easy and there were no snags.
Shooting the Core SX Crossbow Scope
I began by zeroing the scope at close range, which was roughly 11 yards, to make sure I'd hit the target out at 20 yards, which is where you want to zero the center of the crosshairs. I then moved the target out to 20 yards and fine-tuned the zero.
To test the range-compensating reticle, I then moved the target out to 30 yards, then 40 and 50.
I didn't use my hunting arrows for most of the shooting, and at 50 yards my group opened up quite a bit. When I got out my Horton hunting arrows, my 50-yard group shrank from 10-12 inches to about 3.5 inches, which is great accuracy at that range, in my opinion.
Bottom line: The VXR reticle did a fine job of compensating for arrow drop at various ranges. I didn't test the scope past 50 yards, which is already too far to shoot an arrow at game.
Good Stuff
I like the scope's compact size. Crossbows are awkward, and a small scope helps keep things manageable. The VXR-M range compensation works well, but you will need to know your arrow speed, so you'll need to shoot your xbow through a chronograph to learn that. Once you do, set the magnification-adjustment ring to match the FPS of your arrow, zero the scope to hit at center of crosshairs at 20 yards, and test at various ranges to confirm it will hit at the appropriate aiming point on the reticle.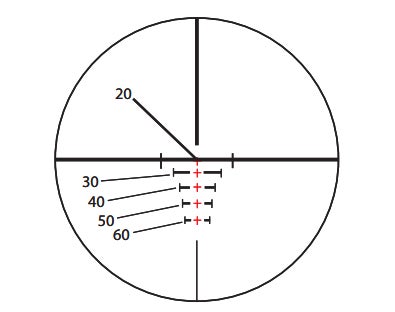 They say you can also use the reticle for ranging. What you do for ranging is crank the scope all the way up to 5x (450 fps mark on the adjustment ring), then see which aiming mark's brackets are about the same length as a whitetail deer's "kill zone," or about ten inches.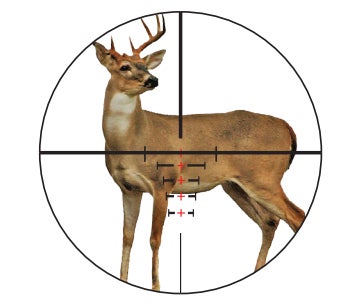 They say the deer in the image above ranges at 20 yards, because its kill zone lies between the brackets at the 20-yard aiming point (center crosshair). To me, this deer looks a bit closer than 20 yards… which means using the center crosshair to aim should still work well.
Bear in mind that if you are shooting at any range beyond 20 yards, you need to change the magnification of the scope to match your arrow speed before you aim and shoot!
Optical clarity is good, with a good crisp reticle.
The illuminated reticle will turn the little + marks either red or green when you rotate the adjustment knob on the left side of the scope. Each color is infinitely adjustable from bright to dim, with two "off" positions on the dial, each between the red and green halves of the dial.
The included scope rings worked just fine, and stayed tight through all of my shooting.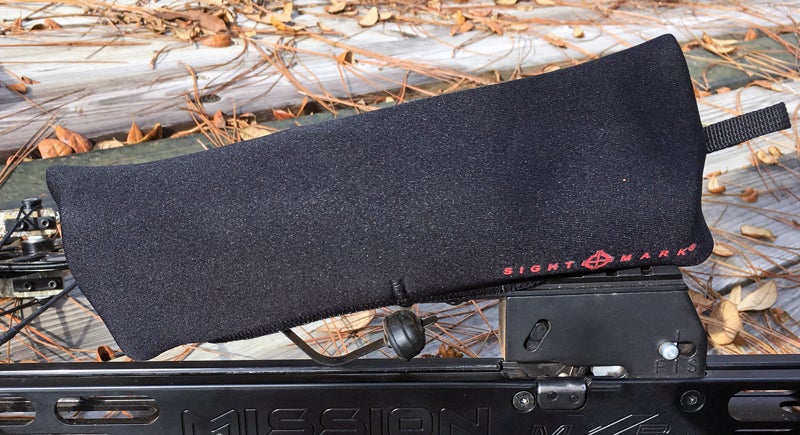 The neoprene scope cover works just fine, although its rectangular shape is a bit unusual.
Conclusion
If I had to find nits to pick about this scope, it would be that the magnification adjustment ring is a bit difficult to turn, and the user manual needs a good proofreading & edit. And if that's the worst I can say about it, you can rest assured this scope treated me well.
You can pick one up here for a good bit less than the MSRP.