Tulsa Homeowner Shoots Second Burglar in 5 Years
Russ Chastain 12.17.18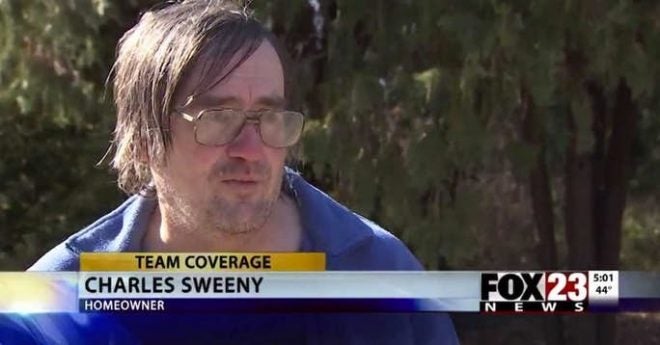 A man in Tulsa, Oklahoma reportedly shot and killed an intruder who'd broken into his home — and this is not the first time he's had to use deadly force to defend his home.
Charles Sweeny was awoken by noises in his bathroom, indicating someone was inside who shouldn't be. Turns out, someone had just entered his home through the bathroom window.
I thought, okay, somebody just broke in.
After grabbing his pistol, he got ready and waited, rather than closing the distance by confronting the intruder.
I cocked the hammer back so the trigger'd be in single action mode and I just waited for him to come into view. He comes into view and BLAM! [acts out firing a handgun one-handed]. Boy that nine millimeter's real loud inside the house.

When he clenched up his chest, he said 'I'm sorry I'm sorry I'm sorry,' then he retreats back to the bathroom and tried to get out the same window… but he didn't make it.
Back in 2013, Sweeny reportedly came home to find his home being burglarized and shot one of the bad guys several times.
In October 2013, he shot another man several times with a .22-caliber pistol, he said. Sweeny had returned from a walk and realized that something about his property was amiss, the World reported previously. He then confronted two burglars, shooting one of them multiple times. That man then fled to a waiting pickup, which took him to a hospital.

Both burglars subsequently pleaded guilty to charges in that case, according to court records.
Sweeny's message for the world at large? It's pretty simple:
I wish they'd stop breaking in, I wish people would stop bothering me.

I've had a concealed handgun license since the summer of '96. Don't break into my house. It's gonna end badly — I WILL defend the place.
Nothing wrong with that. Keep up the good work. Mr. Sweeny.