Hornady Frontier Cartridge Barrel of 13,889 Rounds of 5.56 NATO
Adam Scepaniak 12.27.18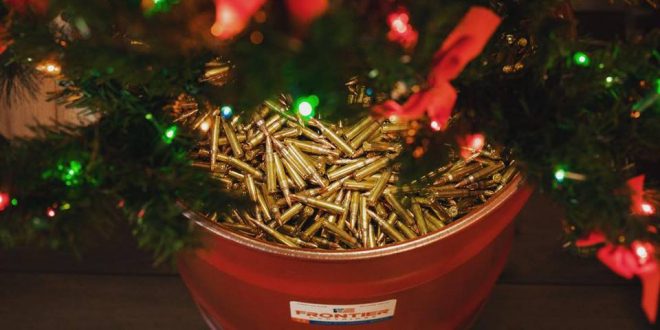 The internet has been buzzing since Federal Premium introduced a drum or barrel of ammunition available on Brownells' website. You could have your pick of 12,500 rounds of 5.56 NATO or 7,500 rounds of 7.62 NATO ammunition. The price-tag for either barrel is pretty steep only because of the volume. The price per round is actually very cheap. To keep in competition with Federal, Hornady has released their own barrel of ammunition filled with Frontier Cartridge rounds.
Hornady's barrel of Frontier Cartridge ammunition contains 13,889 rounds of 5.56 NATO. So Hornady's barrel squeaks out a few more rounds than their counter-part Federal. At the moment, you can buy Hornady's barrel of Pew-Pew at one of 3 internet retailers. You can have your pick from the 3 websites below if you would like one:
All of the ammunition that comes in these barrels of fun is loaded at the Lake City Army Ammunition plant. So is all Frontier Cartridge ammunition under the Hornady label and it maintains Mil-Spec ammunition tolerances. The short, but concise specifications for the ammunition in Hornady's new Frontier Cartridge barrels can be read below:
5.56x45mm NATO
55 Grain FMJ (Full-Metal Jacket)
3,240 FPS (Feet per Second)
1,282 Ft-Lbs of Energy
While this will be a cataloged item of Hornady's that you can now purchase year round, they did release a festive Christmas video to entice last-minute shoppers. That YouTube video can be watched below:
So what do you guys and gals think? Would you bite the bullet and purchase a $4K barrel of ammunition? Or do you think this is something more suited for indoor and outdoor ranges to sell to shooters when they come through? I, personally, would think it is kind of fun to scoop ammo from a barrel like its candy from a grocery store before I hit the range! Let us know your thoughts in the Comments below! We always appreciate your feedback.