3D Printer + IR Sensor = World's Best Mouse Trap?
Russ Chastain 01.10.19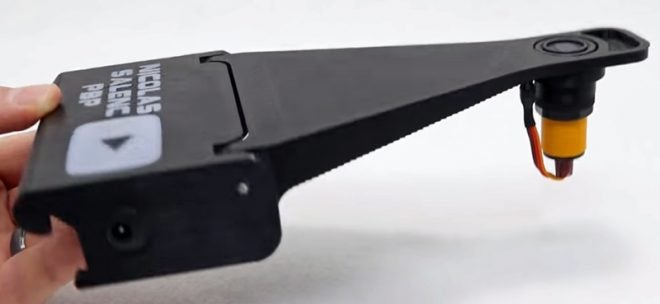 I hate rats and mice, and they can do an amazing amount of destruction. Mousetrap Monday creator Shawn Woods calls this new trap his "All Time Favorite Mouse Trap," and that's saying something, considering he has been constantly testing various rodent traps for years now.
The trap was designed and built by one of Shawn's viewers, Nicolas Salenc, who sent it to him for testing. Nicolas calls it the SalencPlank trap. You hook this to the rim of a bucket and place some bait on the end, and when a rat or mouse triggers the sensor by trying to get the bait, it drops right into the bucket below. The trap then resets by automagically raising the "plank" back up in about 1.2 seconds.
Here's some info from the inventor:
The live multi catch SalencPlank trap uses a trapdoor system to eliminate an unlimited number of mice mice per setting. Fully automated, the trap has the ability to eliminate your rodent problem in just one night. This trap's infrared photoelectric sensor detects the mouse's presence and activates the 5v gear motor which tips the plank forward, causing the rodent to fall into a bucket. One second later, the gear motor lifts the plank back in its default position, resetting the trap. It is this technology that allows the SalencPlank to dispatch an unlimited number of rodents per setting. The trap is very safe to use around kids and pets, since is does not use high voltage, toxic chemicals or powerful spring loaded kill bars. This product is easy to use. Simply bait the trap, hook it on the edge of a bucket and plug in. This trap can be used for years to ensure advanced mouse control.
There's something quite satisfying about watching rodent after rodent being dropped into a bucket of water to meet their final end. I love watching this!
About halfway through, he digresses and puts out the critter carcasses to see what animals come to eat them.
This video has caused quite a sensation, with out-of-control bidding for the inventor's last currently-available trap on eBay. As I type this, it's bid up to 381 Euros, which is about $439! Amazing what a little PR can do for a product.
Update: This trap sold for 699.00 Euros, or approximately US $799.13!