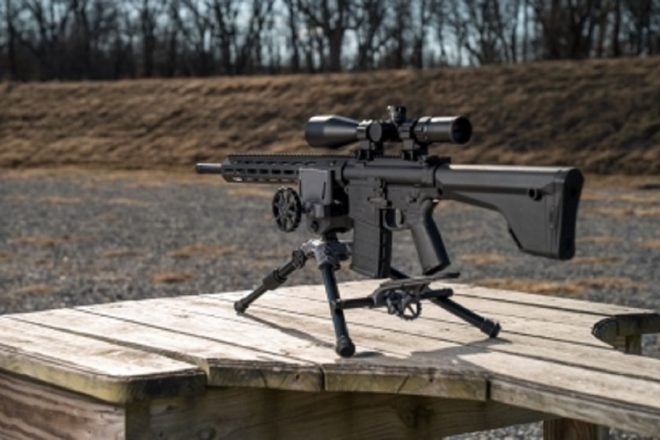 John J. Woods
Magnolia Outdoor Communications
THE CALDWELL PRECISION TURRET SHOOTING REST
Sometimes it is really a challenge to keep up with all the new shooting related products constantly coming on the market. Caldwell Shooting Supplies a subsidiary of Battenfeld Technologies is one such company. This outfit is a favorite of mine however, because for one reason they reside in Columbia, MO where I went to college for eight years. Other than that, they make fantastic products for the shooter.
Their latest introduction is the new Caldwell Precision Turret Shooting Rest. While it is indeed a shooting rest that can be used off the range bench, it is also adaptable to the hood of a vehicle out in the prairie dog prairie, or on a portable field bench for long range target or other hunting applications.
The Precision Turret is a tripod affair that sort of looks like a mini-mount for an old Browning machine gun. The platform has one forward leg with two in the rear that balances the rest for a solid stance on a flat surface. The unit has a swivel pan and tilt knobs that makes rifle aiming a snap.
The firearm rest is of heavy duty construction with features that includes a forend clamp that holds the rifle in place. There is a micro-adjustable pistol grip attachment to make an AR rifle stable when the swivel feature is in motion. The forend clamp design features an easy turn wheel to tighten the clamp snug up against the rifle. There are also M-LOK and KeyMod adapters for those rifle options to securely lock up a rifle with one of these forends.
The legs on the turret shooting rest are adjustable for up to 180 degrees. Adjustments are made via stainless steel push-button leg locks. The legs also feature twist-lock technology that permits the adjustment to the extension of the legs. Each leg is also capped with a soft rubber foot to add no slip stability to the turret shooting rest.
Talk about portability, the Caldwell Precision Turret Shooting Rest comes in at a minimal weight of only 9.3 ounces. This makes for easy transport to the range or in the field. It is compact enough to be put into a shooting range bag or a backpack on a hunting trip. The suggested retail price of this turret shooting rest is $129.99.
Additional information and product photos can be found on the Battenfeld Technologies web site at www.btibrands.com located under the Caldwell brand name.