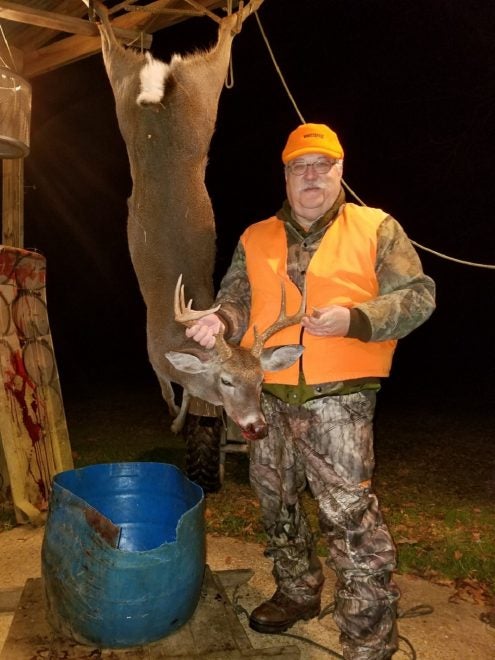 Interesting buck racks interest me. I've always preferred the crazy, twisty antler racks to the normal, run of the mill textbook typical racks. I've often been accused of being a bit non-typical myself. I accept that as a compliment.
The hunting property where I share ownership simply does not have trophy class white-tailed deer genetics. That has been proven after over 25 years of hunting there. We do have some curious buck racks that show up occasionally. One genetic factor that our property does have is a propensity for 7-point racks, though that trend seems to be diminishing the past few years.
I maintain a camera watch on our deer so that I can see them and other wildlife that moves through the area. My cameras capture a number of bucks and plenty of does but also coyotes, fox, opossum, raccoons, wild turkeys, and the occasional stray dog. It's fun just to see what wildlife crosses our property.
This past November a week after the season opener in Mississippi, one of my cameras captured two non-typical bucks. One was a drop tine buck, and the other was a really odd looking buck. It had a cow-horn or single antler on one side with three little baby finger tips on top, and the opposite side was three typical points with two brow tines.
That first contact was on the 19th of November. I did not catch the buck on camera again until December 19, but on a different camera that was over 300 yards away as the crow flies over a pond, a slough, and heavy timber. Then I found the buck's mugshot on the original camera again on January 3, 2018 just into the New Year.
Call it what you will, a cull buck or just an inferior buck with genetics you don't want passed on. I estimated its age at 3 years old. That means not a fully mature buck. Either way, we did not want these genes for a cow horn antler shared. I made the management decision that this buck should be taken out. I know all the arguments pro and con.
On Friday evening, January 5th, this screwy non-typical buck stepped out into the food plot I was hunting right at 5:00 PM. One shot from my Browning A-Bolt .300 WSM ended the curiosity. This is not a trophy buck the likes that B&C cares about. But, I did. That is the joy of owning, managing, and hunting your own place. This "trophy" will be on my wall in a European mount, but he won't be out there in the deer herd sharing his genetics either.