Florida Principal on School Shooters: "We Are Going to Put Them Down."
Russ Chastain 02.11.19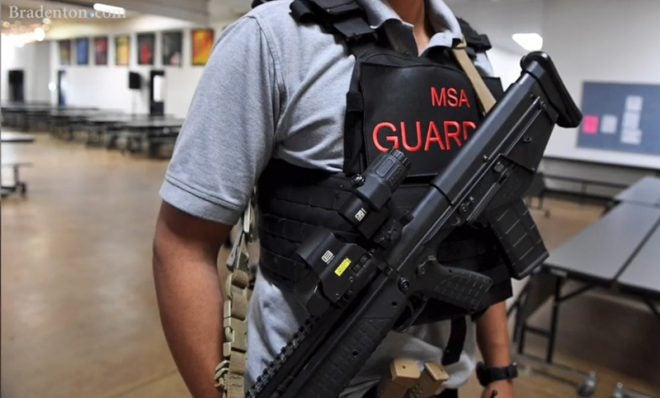 At least one Florida public school has reportedly upped their security game, hiring military veterans as guards and arming them with pistols and rifles — and announcing they're not afraid to use them.
'If someone walks onto this campus, they're going to be shot and killed. We're not going to talk with them. We're not going to negotiate. We are going to put them down, as quickly as possible.' – Principal Bill Jones
The school is Manatee School For the Arts located in Palmetto, Florida, which describes itself as "A Public Charter Middle and High School." From their website:
Manatee School For the Arts is tuition free, arts infused, public charter middle and high school, which strives for academic and artistic excellence in a safe, student-centered environment.
And "safe" is an important word here. Hurried knee-jerk legislation passed after the Marjory Stoneman Douglas High School debacle (during which several police officers reportedly cowered outside rather than rushing to neutralize the murderer) requires all public schools in Florida to have armed security on site. And the Manatee School For the Arts has taken that well beyond the minimum.
Manatee School for the Arts, which has more leeway than regular public schools, has taken a more aggressive approach to the guardian program, hiring only military veterans with combat experience and arming them with Glock handguns and Kel-Tec RDB 17-inch semi-automatic long-guns, both which they carry at all times. The rifle is a bullpup, a configuration that allows for a shorter firearm with a long barrel, and uses .223 caliber ammunition, same as an AR-15.

'There's no guarantee that the guardian's going to be where he's needed at the time, but you do the best,' Jones said. 'And certainly, the long gun gives you a better range.'

Range was a major part of the decision process in arming their guardians with rifles. A guardian armed only with a 9 mm handgun would not be able to neutralize an intruder from across the cafeteria, for example, Jones explained.

~~~

Many school resource officers assigned to campuses by local law agencies are armed with rifles, but they do not carry them. Instead, they are kept secured in racks built into their vehicles.
I'm sure there will be some crybabies who bristle at the presence of good guys with guns on the campus of a public school serving grades 6-12. Let 'em. These folks did their homework and are stepping up with what will almost certainly be an effective preventative measure that prevents anyone from attempting any violent crime.
The new guards also wear more body armor than most officers, "comparable to what is worn in combat." And ammo selection was also closely considered.
The administration was also very particular in the ammunition used with the long-guns to avoid over-penetration. Officials selected a shell designed for hunting that can go through basic body armor an intruder might be wearing. But it won't go through the intruder, lessening the risk to students and staff.
Selecting combat veterans was another conscious decision made to prevent any potential criminal from roaming unopposed. They wanted folks who had been under fire and were ready and willing to return it.
During the Parkland shooting, Broward sheriff's deputies, including the school resource officer, sat outside as shots were still being fired.

'If you're ever going to have an event on campus, I don't want it to be the first time they've been shot at,' Jones said. 'I don't want them trying to figure who they are and how they are going to respond. That's a life-changing experience and these folks, I don't want this to be the first time they've asked themselves, "What am I going to do?"'
They're also adding fences and will soon add a guarded gate.
The article didn't mention whether the selection of Kel-Tec's bullpup RDB 17 had anything to do with the fact that Kel-Tec is also based in Florida. Probably not.