Walther Q5 Match Steel Frame Custom "We The People"
Dickson 02.15.19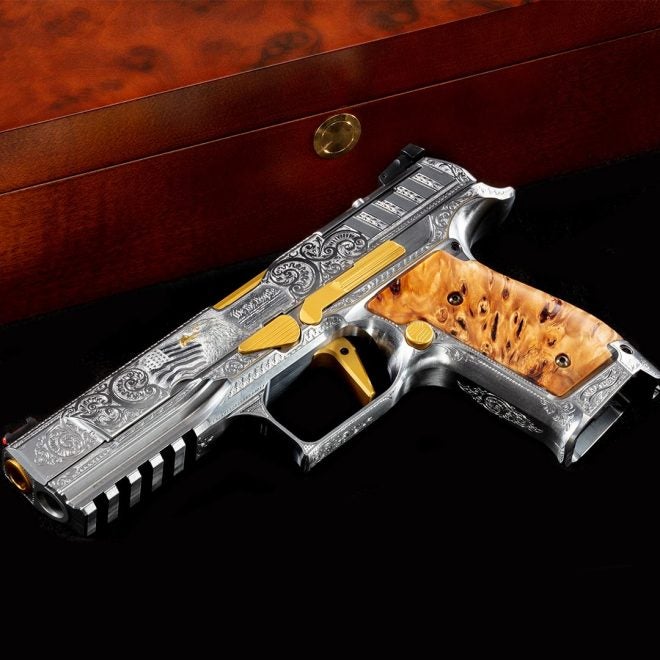 Those who attended SHOT Show in Las Vegas in January, Walther was showing a glimpse of this custom Q5 Match Steel Frame 9mm "We The People" pistol in their video displays. Now we have detailed photos of this pistol which is hand engraved by a master engraver in Germany and features 999 Gold (24Karat) barrel, trigger, slide release, takedown lever, magazine release and extractor.
On the left side of the slide it features an American flag and the head of a bald eagle with 24Karat gold inlay on its mouth and eye, with the text "We The People" beside it. On the right side of the side it features a flying bald eagle. It has a beautiful set of wood grips and a removable magwell. Even the mag well and magazine base pad are engraved.
Speaking to Dr. Peter Dallhammer, Product Manager at Walther headoffice in Ulm, Germany, he said the pistol is not for sale and the factory have yet to make a final decision on what to do with this pistol. There's talk of putting it up for auction for charity. It could also possibly end up in the Walther private museum.
We were told that we will see this pistol in person at IWA Outdoor Classic show to take place in Nuremberg, Germany on March 8-11th. We will for sure bring you more details if you are indeed in the market for this one-of-one art piece.