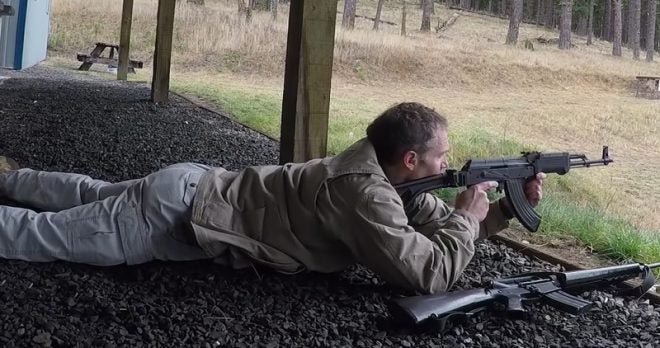 Here we have the incomparable Paul Harrell — haters, please don't cry too hard about his lack of eye protection — comparing the accuracy of AK and AR/M16 platforms.
As he says about AR vs. AK: "It's been done to death but people seem to never tire of it, so here we are again."
Unfortunately the audio sucks throughout the video, thanks to wind on his apparently-unprotected microphone.
He uses Winchester "white box" ammo, which is more affordable than some ammo but decidedly better quality than the cheap imported ammo most of us like to burn in AKs.
The rifles in the test are an M16A1 the AK is an M10 made in Romania. The M10, he observes, is a big step up from the actual AKs seen out there being used by insurgents in the real world.
After putting them through a series of tests it's clear that for him, the AR works better. But then he changes it up but putting away the M10 and bringing out a WASR-10/63 to shoot a pair of groups at 300 yards.
He hit the targets every time, but the AK scatters them a bit. Who could've guessed?
Yeah, I know… just about anyone. But if you care about the AR and/or the AK, check out the video below. As Paul says, "Is it accurate enough? You be the judge."