Streamlight MicroStream USB Pocket Flashlight Review
Russ Chastain 02.26.19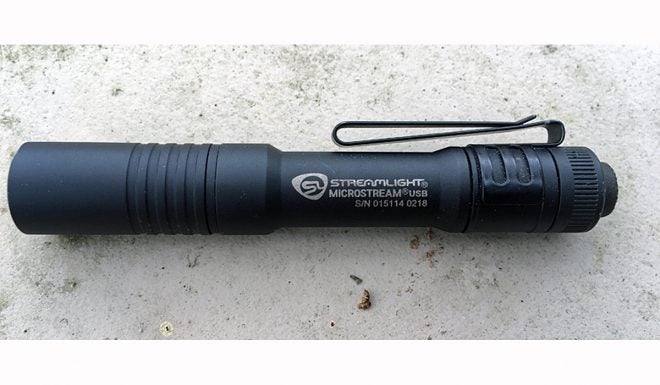 I've grown accustomed to keeping a flashlight on me all the time, and that can be tough to do with a larger light. After toting the Streamlight Polytac X USB a while and reviewing it last month, I made a serious effort to carry a smaller light. For that, I chose the Streamlight MicroStream USB. At less than 4 inches long and roughly 5/8″ diameter at the largest spot, it's a handy little light that's easy to carry.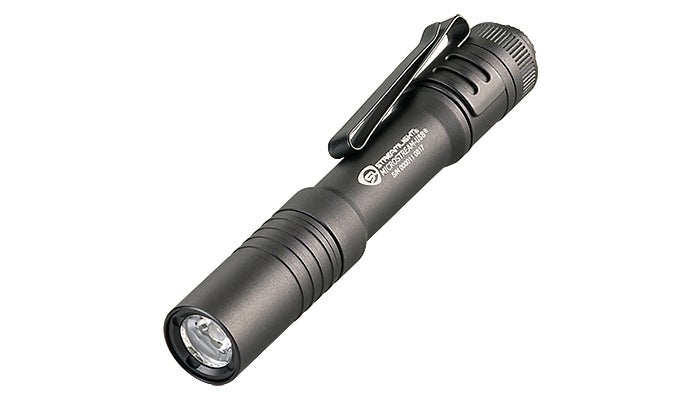 Streamlight MicroStream USB Specs
Lumens on High: 250
Run Time on High: 1.50 hours
Run Time on Low: 3.50 hours
Beam Distance: 68 meters
Max Candela: 1,150
Battery Type: 3.7v Lithium Ion Cell Pack
Battery Quantity: 1
Length: 3.87 inches (9.83 centimeters)
Weight: 1.20 ounces (34.02 grams)
Colors: Coyote, Blue, Red, Black
First Impressions
The MicroStream is small and light, as you'd expect from its name. It's also fairly bright for what it is, which is just a pen light that'll help you see stuff that's not too far away. It's okay for finding your way around a dark house, but it's not going to reach out very far.
The first time I carried this light, I lost it. I'd clipped it onto my pocket, and it had come off as I was doing yard work. It stayed gone for a few days, during which there was at least one downpour of rain. When I found it, it had been run over by a side-by-side UTV and mashed down into the damp sand… but it worked just fine.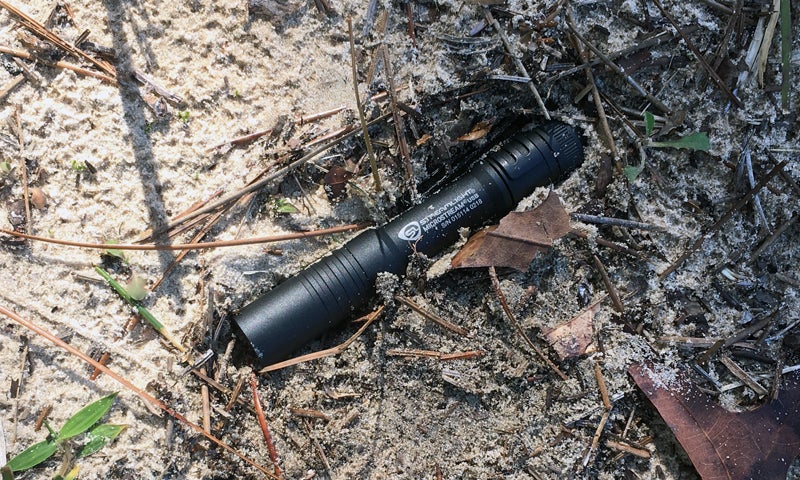 The pushbutton tailcap switch is nothing fancy, but it works. One push gives you low, and if you do a momentary push quickly followed by a full "click-on" push, you get high power. This is bright enough for close work, and even decent for taking a walk at night if you don't need to see far. Brightness wanes noticeably by the time you've put an hour or so on the battery, so it's not a bad idea to keep the charge topped off.
The battery is proprietary. It's about the same diameter as a AAA, but it's a bit longer and more than double the voltage. So you can't slap a AAA in there and rock on, if the included cell gets damaged or worn-out.
The Good Stuff
I love me a rechargeable light. When it gets weak, charge it up. I'm too frugal (sure, call me cheap) to throw away disposable batteries if they still have life in them, so I tolerate weak beams from non-rechargeable flashlights. With this little rascal, I can easily charge it without taking anything apart. Just slide the collar forward to expose the USB port and plug it in.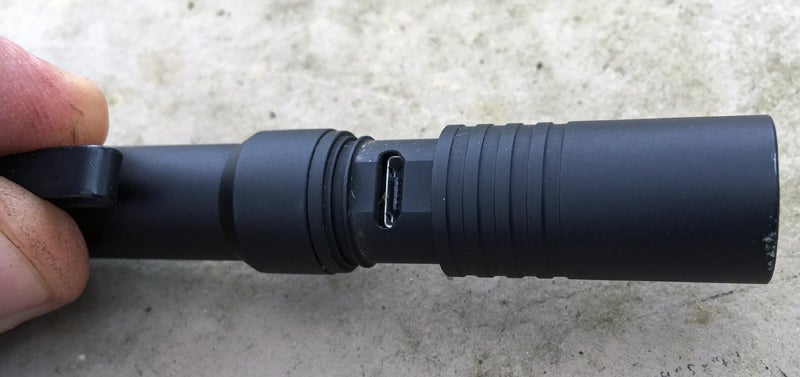 Opposite the charging port is a small light, also normally covered by the collar. It shines red during charging and turns green when the battery is charged.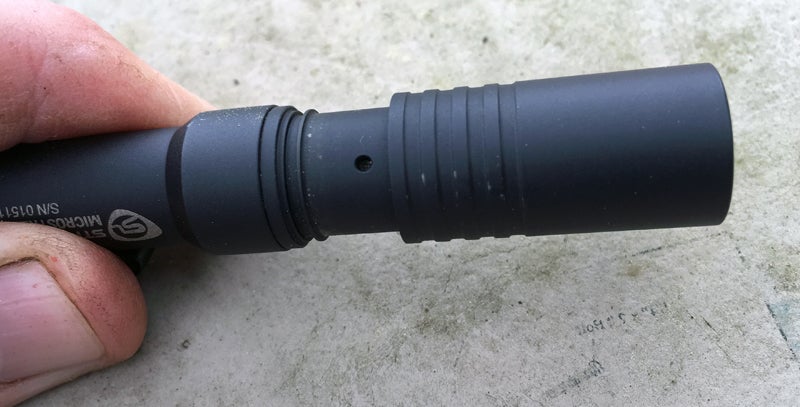 My MicroStream USB is easy to use and easy to carry.
Not so Good
And now for the bummers. The MicroStream doesn't project light well and the beam doesn't focus, so if you're walking at night and want to focus the light to highlight something you can't quite make out, you will be disappointed. Sliding the front collar (which usually covers the USB port and charging indicator) does nothing to focus the beam. It'd be nice if it did.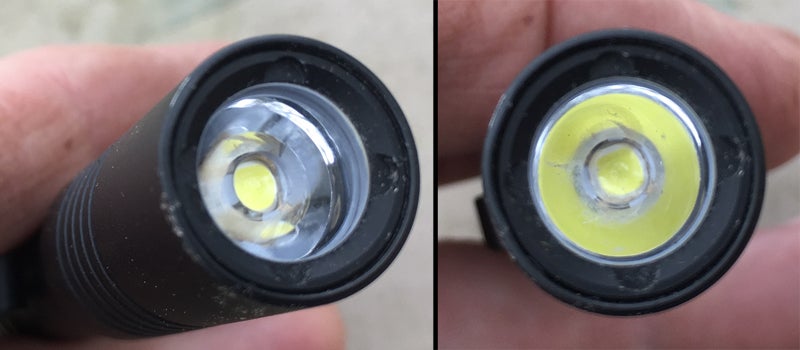 And then there's the clip. It's a double clip, so you could conceivably clip it to the brim of your hat or bill of a cap, and it would probably stay pretty well. But as for pocket retention, well remember when I lost the thing on the first day? I was carrying the light inside the front left pocket of my jeans at the time. So yeah, the clip ain't much.
My other gripe is that the supplied USB cord for charging this light is micro in more ways than one, at a mere five inches long! Lame. Thankfully it's micro USB, which is a common size and I have other cords I can use.
Conclusion
I like the Microstream USB and it's my favorite light of this size, but it's not stellar. It's handy and tough — you can see some battle scars in the photos — and although it's not waterproof, it pulled through a thunderstorm just fine.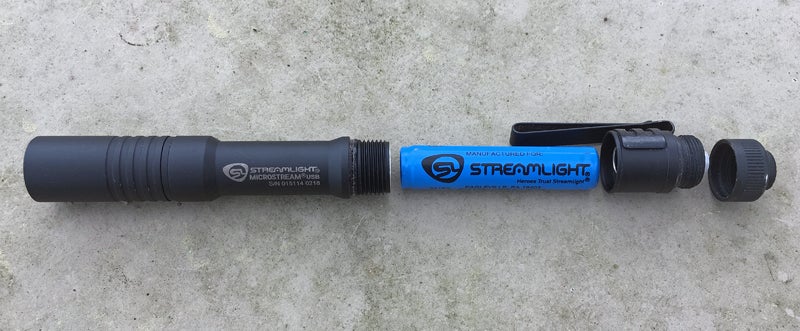 The Streamlight MicroStream USB pocket flashlight is so easy to carry that I don't think I'll be giving it up anytime soon. I plan to keep carrying it and simply reach for something more powerful when I need to see very far.
This light is currently priced at $29.97 via Amazon Prime.