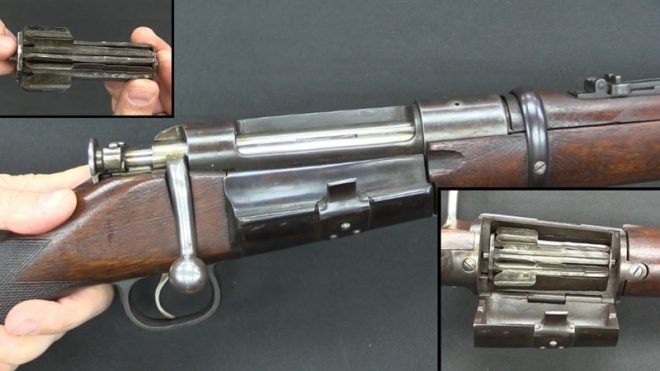 The Krag-Jorgensen rifle is only widely known today because it was once an official long arm of the USA and that it's one of the smoothest-running bolt-action rifles ever designed. The Krag's cartridge, which came to be known as the 30-40 Army and eventually the 30-40 Krag, also endures mainly because of its brief military service. In this video, we see a cool design which competed with the Krag and lost (it later lost to the Lee Navy as well) and therefore failed to endure.
Here's what Ian says about the rifle in this video:
The Blake was one of many rifle designs submitted to the US Army trials that would ultimately result in the adoption of the Krag-Jorgensen as the US Army's standard rifle. The main innovation of Blake's design was a unique ammunition "packet" system which held 7 cartridges. The rifle would be loaded from the bottom with pre-loaded packets, which would be carried like clips or magazines by troopers. However, the loading was not as quick or simple as with more typical clips, and the trials board felt the packets were both too fragile and too bulky. Blake went on to submit his rifle for Navy testing a few years later, where it lost out to the Lee Navy straight pull. His last effort was commercial production of the rifles, which got him a few sales, but not enough to sustain manufacture. This example is one of the commercial rifles.
What's interesting to me is the creativity with which both the Blake and Krag rifles approached the magazine. Both designs took a thoughtful approach to ammo carrying & feeding. The Blake uses something most folks have never seen before, and that's a removable and replaceable rotating clip assembly which holds seven cartridges.
The "packet" which holds the ammo has to be removed to load the ammo, and it's a bit tricky to insert. It certainly can't be slapped in place like the box magazines which dominate today's military arms. But the steel door which covers the bottom of the magazine well is incredibly stout!
Like the Krag, the Blake has a magazine cutoff which would allow a soldier to casually fire rounds one at a time as if the rifle was a single-shot, only switching over to use the magazine in the heat of battle when rapid fire is desired.
It's a complex rifle which would almost certainly be more expensive to produce than the Krag, which is probably one of the reasons it lost out.
This particular rifle sold at auction for $2,875 in 2015.
I hope you enjoy the video.