Benchmade Attempts Damage Control on Gun Talk Radio
Russ Chastain 03.04.19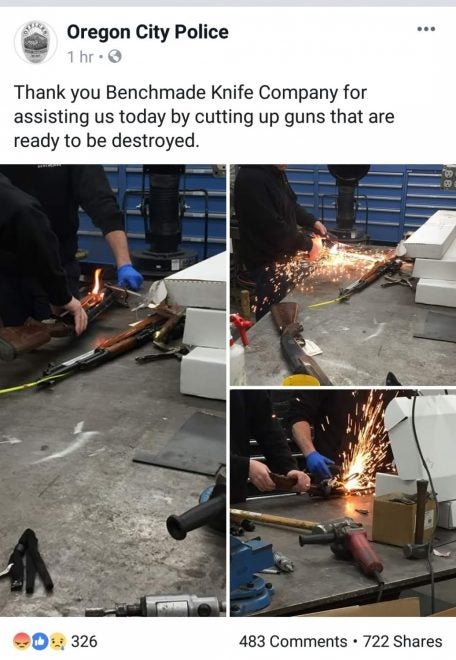 By now, you may have heard about Benchmade's infamous decision to help Oregon City Police by destroying guns for them. Naturally, this caused a wave of anti-Benchmade sentiment among their customer base, which is largely composed of gun owners who fully support gun rights and the Second Amendment.
On top of that, Benchmade has also donated to anti-gun Democrats. So yeah, not a good time to be Benchmade if you wish to continue receiving gun owners' dollars.
Tom Gresham talked about the topic in a recent Gun Talk radio session, which I'll include below via YouTube. According to him, it's Benchmade that reached out to him.
Tom talks with Matt Elliott, Director of Marketing for Benchmade Knife Company, about the company destroying firearms for the Oregon City Police Department and donating to anti-gun Democrats.
The Benchmade topic begins around the 2:30 mark, and by way of introducing it he talks about being "Zumboed" as in Jim Zumbo's unfortunate remarks about modern sporting rifles and his resulting fall from grace.
It would seem that Benchmade has been Zumboed.
If you want to get right to it, skip to the 5:45 mark. Here are some of the high points:
Benchmade has been destroying guns for the police for "a few years" but less than a decade.
No law requires the police to destroy the guns; they could be sold to the public. This PD "has made a political decision to not sell guns back into the lawful trade stream."
Benchmade is selling this as "being supportive to law enforcement."
Benchmade said they'll stop destroying guns for the police.
Benchmade has made multiple political donations to anti-gun Democrats and has no record of contributing to any Republicans or pro-freedom candidates.
Benchmade says they contribute to Democrats because Democrats get elected in Oregon, and apparently these donations are intended to help pass a law to protect interstate travel for people transporting certain knives.
Tom Gresham thinks that law is terrible and says, "I hope it never passes and I think you guys are wrong, to an incredible extent, to be pushing that." He adds the new law "will only get people arrested."
After Tom says, "It's even so bad that Dianne Feinstein supports it," he's met with dead air from Benchmade's PR man.
The lobbying group hired by Benchmade is ultra-liberal and one of their biggest clients is Planned Parenthood.
At the end, Matt states:
The contributions that [Benchmade] has made to the shooting sports industry and to pro-gun organizations, whether that's through discounts to members, donations for funding, financial support of youth programs, co-branded knife lines, memberships, or simply to the supply chain of the industry, has been consistent throughout the course of our history and to the tune of millions of dollars.
Take that as you will, folks. As for me, I don't own any Benchmade knives and now I don't think I ever will.
What's your take?