The Crimson Trace CTL-5324 5-Series™ Tactical Riflescope 3-24X56MM
Cory Mince 03.04.19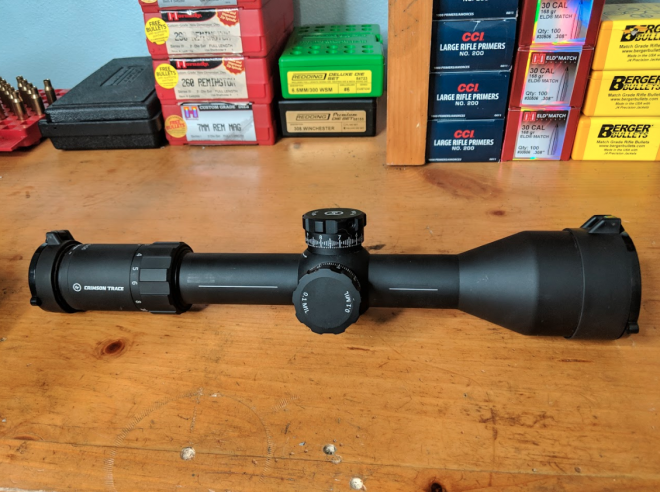 Crimson Trace is no stranger to the gun business, nor are they a stranger to optics. They are, however, a new player in the ever growing and increasingly popular discipline of practical long-range precision shooting. Some shooters may shy away from "unproven optics companies", but I am typically intrigued, as the new guys often offer a fresh perspective, often willing to do things that other, more traditional optics companies, are unwilling to. The changes don't always contribute to progress, but often they do, if for no other reason than proving that certain "wished for" concepts don't actually translate to functionality.
Enter the Crimson Trace CTL-5324, which is a 3-24×56 FFP tactical long-range scope that has all the features you'd expect in what is being called by Crimson Trace a "…premium long-range rifle scope", with plenty of nuance to separate itself from the pack.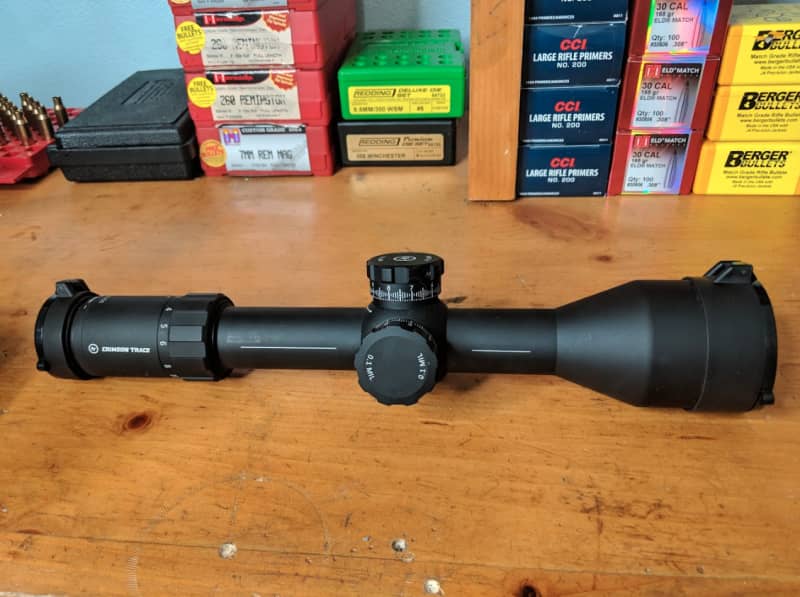 Though it may work well for other shooting disciplines (i.e. hunting, LARPing etc…), this scope appears to be aimed squarely at the precision rifle match shooter.
Among a number of somewhat universal precision rifle shooter needs are the following:
Large magnification range (to balance ease of target location and target identification)
Easily adjustable, but stable turrets with a zero stop
Turrets and reticle that speak the same language
At least 10 mils, or 25 MOA per turret revolution
First focal plane reticle
A reticle that with enough stadia for the shooter to hold accurate wind adjustments/calculate corrections from misses, but also clean enough to be able to spot misses.
Reasonable weight, but really, the lighter the better. Nobody wants a top-heavy gun.
Robust enough to not only handle recoil, but long road trips and multi-day matches.
Lifetime warranty
Specs:
Let's take a second and review the published specs:
Adjustment Per Rotation: 10 MIL
Elevation Range: 32 MIL
Windage Range: 20 MIL
Scope Length: 13.9″
Scope Weight: 34.9 oz.
Scope Body: 34mm
Objective Diameter: 56mm
Warranty: Full Lifetime Warranty + Lifetime Battery replacement
It would appear that Crimson Trace hit the majority, if not all, of the major shooter needs with this one. You can get yours here.
 Magnification Range
The magnification range of this optic is exceptional: 3-24 power. I feel that this is a very usable magnification range; It has enough low end to allow a shooter gain orientation for those stages with a wide engagement area, and high enough for those stages that require a high degree of precision (think 100-yard paper stages, or KYL stages). Although it is needed on occasion, I rarely find any situation which would require more or less magnification than this scope offers.
The full range of magnification adjustment is buttery smooth. I feel it offers just the right balance of ease of adjustment and resistance. It reminded me somewhat of my old Premier Heritage 3-15, before magnification throw levers were a thing.
Reticle (LR1-MIL™)
The reticle is the one area I was left disappointed. I am a traditionalist of sorts, when it comes to reticles, and long for the days of the simple, yet elegant, Premier Gen II XR. Although the LR1-MIL has a lot of features I really like (floating center dot, 0.2 mil windage stadia, and a mostly intuitive flow), it comes up short in one critical aspect: It doesn't draw your eye to the center. In fact, it took me a second to figure out exactly where the center aiming point was. Every time I look through the scope, weather to dry fire, zero, or engage another target, I have to take a little extra time to make sure I'm looking at the right dot on the right row. This is the case at high magnification and only more pronounced on the low end, making any individual stadia very difficult to see, if not nearly invisible at 3x.
I would think that if you were the kind of shooter who likes the Horus brand of reticles, this would likely be of interest to you.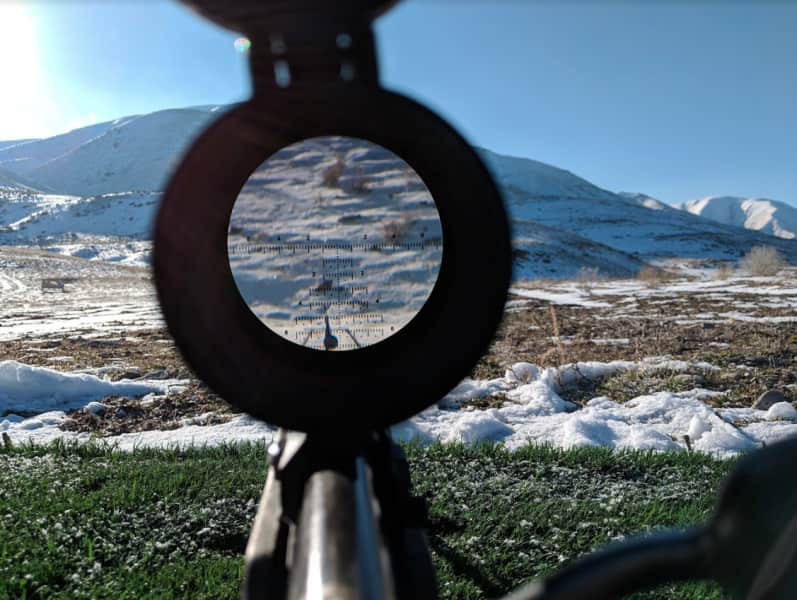 Price (MSRP)
Given the features and capabilities of this optic, I think the $1,999 MSRP (likely lower street price) is certainly reasonable but not a bargain.
Appearance
The CTL is a fairly plain looking optic, but it has two distinct features: a thin white centerline along the scope body, and a noticeably short overall length. Apparently, the line is there to help level the scope. The logic is that you can align the markings with the top of your ring base and have a leveled scope. The problem is, this doesn't work with the rings I have, or will it work with ARC or Spuhr mounts, since they aren't a standard perpendicular ring base/ring cap configuration.
The scope is short. Really short. It's only 13.9", which is shorter even than my Razor Gen II 3-18×50, which comes in at 14.4". The CTL is also significantly lighter than the Razor weighing in at 34.9 oz. as compared to 46.5 oz. respectively. I don't have any strong feelings about specifics on the length or weight of a scopes, but I do prefer a scope that is handy, and the CTL certainly is that.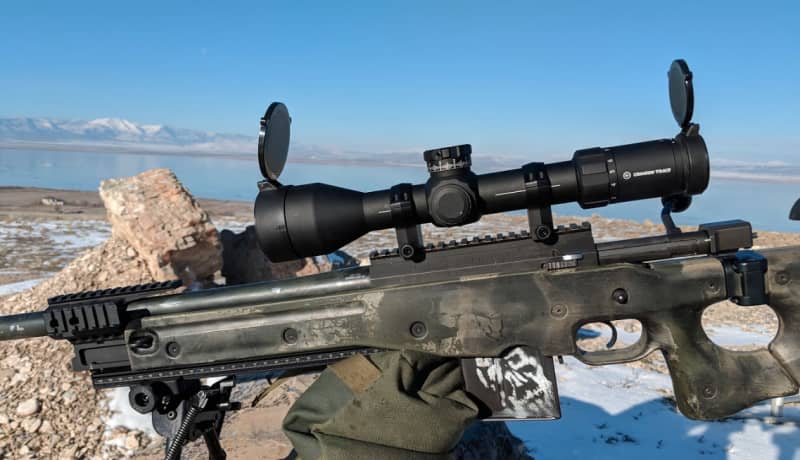 Glass Clarity
I'm no expert on glass clarity by any stretch, but while comparing the CTL to other scopes with similar features, I didn't notice a difference that would make the CTL any more or less usable in a match environment. I had no trouble locating and clearly identifying targets while looking through the Japanese made ED glass. For the purposes of match shooting, I would be surprised to hear anyone account for lost points in a match due to a lack of optical clarity from the CTL.
Turrets/Zero stop
The turrets aren't super flashy, but they have a great deal of functionality. They offer 10 mils per revolution and have a zero stop. They are reset by the standard three setscrew design and do not lock (which I much prefer). The stadia on the turrets are in a somewhat unique linked diamond formation, where the stadia increase in size to the half-mil, then decrease until the full mil mark. This makes it easy to differentiate between say a 0.4 or 0.5 mil adjustment. The clicks are more audible, but slightly less tactile than the turrets on my Vortex Razor Gen II 3-18×50, and the CTL's turrets are much more tactile and audible (as well as easier to read) than the turrets on my Schmidt & Bender PM II 3-20×50.
I ran the CTL through several iterations of what I call a "Usable Tracking Range Test". After zero or bore sight, I run the scope up 15 mils from zero, then 5 mils of wind in each direction, then return to zero. I'm not a believer in maxing out turrets in all directions. I never use that much adjustment in a match, so I don't think it's a very useful metric. The two questions I like to ask are: Can this optic repeatedly adjust to the value I input through the turrets? And can it reliably return to zero? The answer is yes on both accounts for the CTL.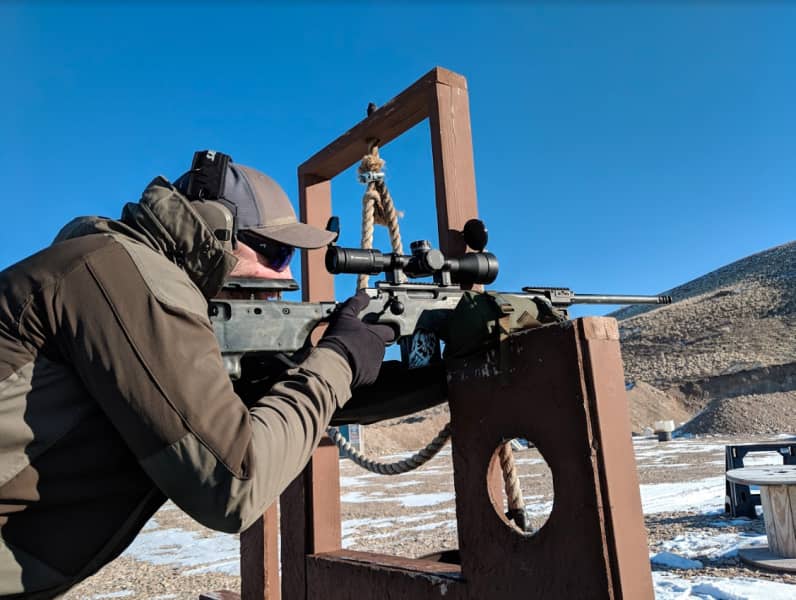 Warranty
As with most rifle scopes these days, the CTL comes with a lifetime warranty. The difference is that Crimson Trace also offers lifetime battery replacement in addition to their lifetime scope warranty, which is pretty unique. Basically, if your battery poops out, let Crimson Trace know, and they'll send you a new one.
Conclusion
The CTL does a lot of things very well. It has a great magnification range, excellent turret feel and appearance. Its compactness and lightweight make it a very handy scope that may even find its way onto a hunting rig. Really, on the surface, this scope has almost everything I'm looking for. And it probably has everything many shooters are looking for, including the reticle.