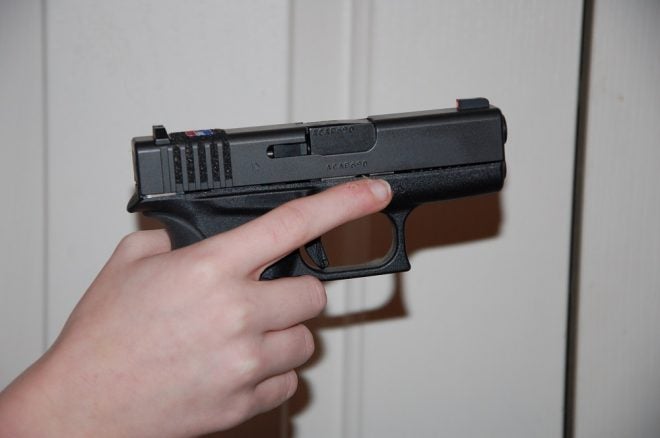 Believe it or not, a handgun's trigger is not just a mechanical device that is used to discharge the weapon. For best consistent shooting accuracy and results, the shooter's finger has to be positioned correctly for repeatability in shooting. But in all concerns, safe trigger positions are paramount.
Proper finger positioning also has to be deployed in order to maintain safety and security in the use of a handgun. The old adage of "keeping your finger off the trigger until ready to shoot" is not just a shooting range rule or motto. It is a regiment that has to be trained and maintained.
In every case when handling a handgun whether loaded or not, but be sure you know, the trigger finger should always remain outside the trigger guard. The universally accepted position of the trigger finger even in a "ready" condition is to line the finger above the trigger and trigger guard alongside or just under the slide of pistol or the frame of a revolver.
As appropriate, some shooters may keep their trigger finger poised or hooked on the slide release if the release is an ambidextrous model available on both sides of the pistol. Depending on the actual length of the shooter's finger, this position may be more comfortable for shooters with shorter or stubby fingers. Regardless, the trigger finger is to be kept out of the trigger guard and off the trigger until ready to actuate the handgun.
Furthermore, another accepted position for the shooting trigger finger is placed just below the ejection port on the right side of the pistol. Again with proper training and good shooting habits this position keeps the trigger finger off the trigger until ready to actually fire the gun.
These are all safety procedures used to help avoid accidental discharges. This can happen easier than one might imagine if you find yourself in a dangerous self-defense situation or any other stressful condition with a weapon drawn. You certainly want to avoid a nervous jerk or premature trigger action before you are actually fully ready to engage a target threat.
Other considerations for proper finger positioning are when you draw your firearm from a holster, pocket hide, or other concealment condition. Train yourself to bring that weapon out to bear without your finger on the trigger. It should automatically be positioned outside the trigger guard and off the trigger without a second thought. Safe gun handling is the first priority.