Pelican EL27 Elite Weekender Suitcase Review
Cory Mince 03.07.19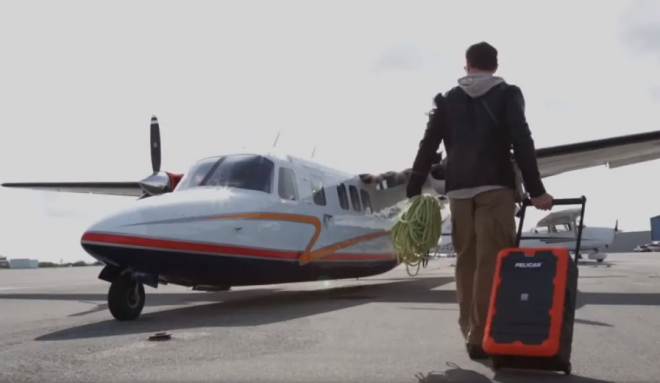 Pelican Cases are widely known for their durability. Although readers of this review may know Pelican primarily for their hard gun cases, they are often used to protect and carry photography equipment, electronics, sensitive medical gear, and just about any other valuable or otherwise fragile item. This Pelican EL27 suitcase is no exception in terms of robustness and durability.
Two days after receiving the EL27 Elite Weekender (which I'll refer to as "the Weekender" for short), I literally flew across the country, making a number of stops from Salt Lake City, to Minneapolis, Columbus, Dayton and Atlanta. Having made the past mistake of purchasing "budget minded" luggage that fell apart on the first leg of an extended trip, and having to hand carry said luggage from stop to stop, I was excited to see how well the Weekender would perform.
Though my trip wasn't a combat tour, the case was certainly exposed to the elements. We had abundant snow in Minneapolis, freezing rain in Columbus, and traversed the lengths of numerous dusty airport parking garages. The weekender took everything in stride, and was ready to roll at all times.
The Weekender, being 24.59″ x 16.85″ x 10.82″, exceeds the carry-on size for most major airlines, but you may get lucky at Southwest by employing a little sweet talk with the gate agent. I always check a bag anyway, as I like to bring a cutting tool everywhere it is possible, so this isn't an issue for me. For those who would prefer a carry-on option, I'd suggest considering the Pelican EL27 which is 21.64″ x 13.87″ x 9.00″, and was designed with carrying on in mind.
They call this case the Weekender, but I think it is plenty large for me to last a week or so of travel (with the addition of a backpack, of course) before things started to get out of hand. I had plenty of extra space for my 4-day trip and could have easily made it much longer.
This suitcase weighs in at 19.34 lbs., which I found quite manageable, and was actually surprised at when I read the spec. It felt much lighter to me. At no point did the weight of case encroach on my consciousness.
Appearance
The Pelican EL27 Elite Weekender certainly looks tough, but not over the top. It clearly has the appearance of a Pelican; ready to handle a rough ride, but wouldn't look out of place in an upscale hotel. I never felt as though all eyes were on me while walking through the numerous airport terminals, but the Weekender did stand apart from the rest with its "I'm here for business, but I'm not afraid to get my hands dirty" look.
Organization
This case has a very clever and efficient system for organizing your clothing and footwear. This maybe common in high end luggage, but I've never experienced it before, and it was quite the luxury. It came with a lid organizer (super slick click-in attachment system), Dopp style toiletry kit, zippered shoe sack, laundry bag and garment bag.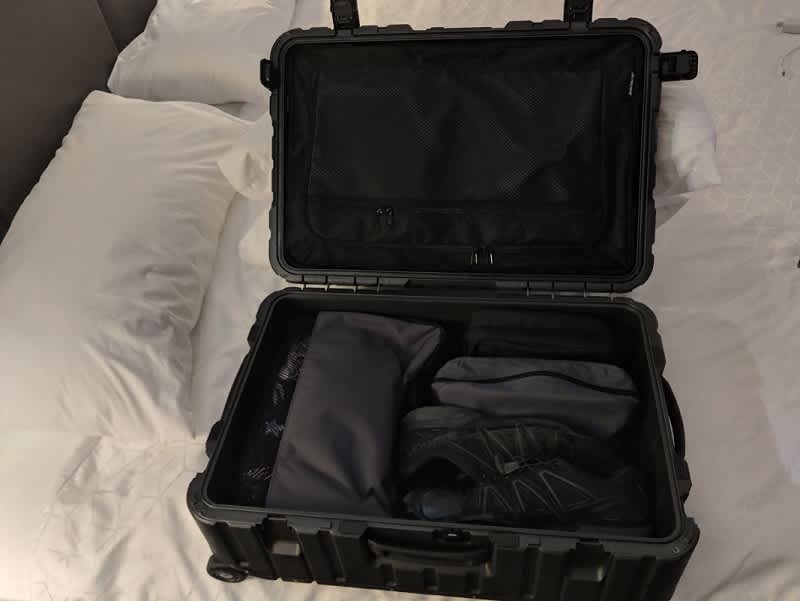 I used all of the organizational accouterments with the exception of the garment bag, and was very pleased with how they performed. Instead of stuffing things wherever they will fit, and knowing it'll all come to pieces when I take the first item out, the Weekender allowed me to easily remove and replace any single item without a catastrophic explosion. Very convenient, and very low stress, which is greatly appreciated during travel.
Lock
The lock is a TSA approved lock, which means it does more for warm fuzzies than for securing the contents of your luggage. It has a three-digit wheel combination, and a somewhat flimsy arm that spans from the bottom half of the suitcase to the top half when locked, then retracts when unlocked. The lock is the least "Pelican" feature on this luggage. Ideally, I would like to have the option to apply my own personal padlocks (American Lock Co. is my preference) for times when the TSA isn't snooping around in my bags, but this is a minor complaint when considering all the other excellent features of this suitcase.
Handles
All handles on the Weekender are as robust as you would expect. They extend to a reasonable length when needed, offer a nice tacky rubber grip, and retract flush to the body of the suitcase when not needed.
The telescoping handle is wide (almost as wide as the case itself), sturdy, and easy to index. The arm has only two settings: extended and retracted. There are no intermediate positions for those who may want them. I thought this maybe an issue for my own use, as I am bit taller than average at 6'3", but I never found it to be a bother.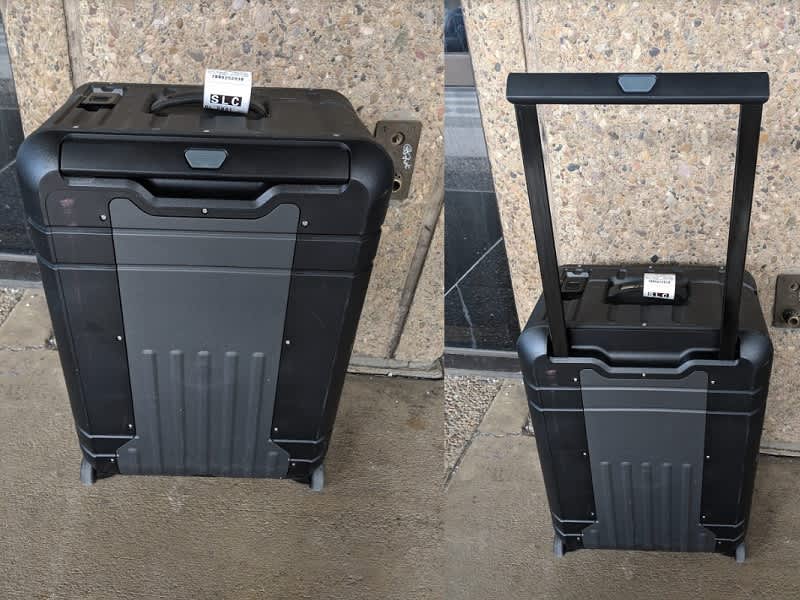 Warranty
As most readers are likely aware, Pelican stands behind their products. The Pelican EL27 Elite Weekender is no different and is guaranteed for life. It is also guaranteed to be waterproof at 1 meter depth for 30 minutes, which is impressive and handy for travels that include a bit of over-water travel.
To be honest, when I first got the Weekender, I wasn't sure I'd be able to come up with enough to say about it to write a reasonable review. I was wrong. This thing is excellent, and I find myself recommending it to everyone, including those who aren't even in the market for a suitcase. I find it strange to be excited about luggage, but here I am.
The Pelican EL27 Elite Weekender is durable, well organized, good looking, and is exactly what I want in a suitcase. Well done, Pelican.