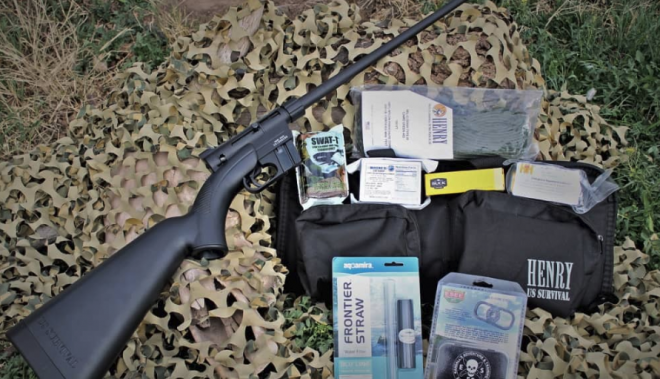 Henry Repeating Arms is a company well known for its quality firearms, all made here in the USA. Most folks are aware of the AR-7 survival .22 rifle that Henry manufactures but may not realize that as of 2018, the company offers a U.S. Survival Pack that includes the AR-7.
If you're like me, you are probably ever-mindful of maintaining a kit that offers the ability not only to hunt and defend, but will also provide for a survival situation. The U.S. SurvivalPack – or Kit as it is sometimes called – is designed as a grab & go package to provide for basic survival needs.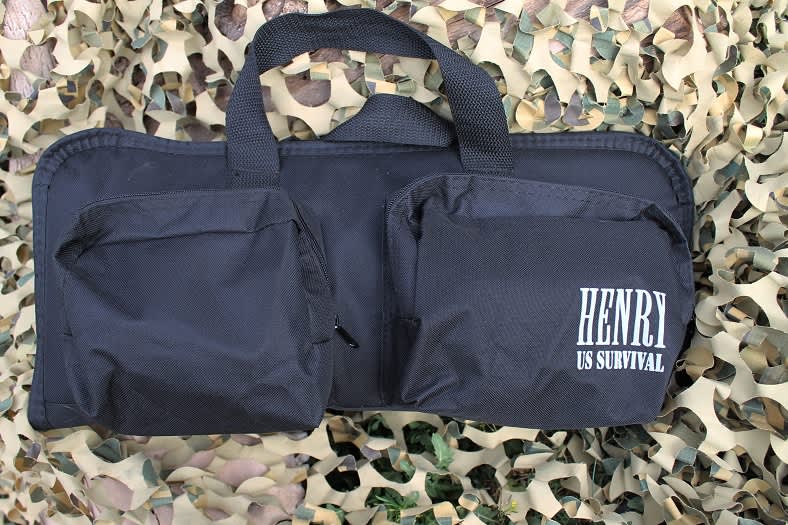 The AR-7 is a .22 semi-auto long rifle caliber at the core of the pack. It weighs only 3.5 pounds and breaks down for carry in its own 16.5-inch stock at. Barrel, action, and magazines all store inside the water-resistant ABS plastic stock. The little rifle comes with two eight round magazines. The disassembled AR-7 fits perfectly in the Allen brand carry bag that stores the other components of the U.S. Survival Kit. Two roomy side pockets would also allow for additional small items of your preference.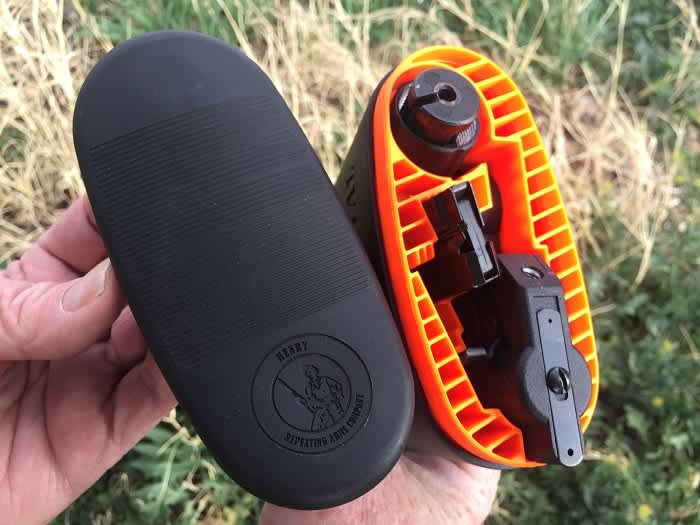 The U.S. Survival Pack comes standard with the following items that would be of use in any survival situation:
AR-7
22 long rifle carbine in black finish.
Para-cord
Mil-C-504H Type III Camo Green 483x100ft – Henry Private Labeled that can be used for lashing duties, snares or cut down for fishing needs.
Tourniquet
SWAT-T (stretch, wrap, and tuck) black mode. This tourniquet can also serve as a pressure dressing to hold gauze or other blood stop material in place.
Cold Resistance
Mylar vacuum-sealed space blanket that can be also be used for signaling due to its highly reflective silver color.
Fire Steel
ESEE brand steel that can be used with your ferro rod for fire-starting and also has a center divot for use with a bow and drill.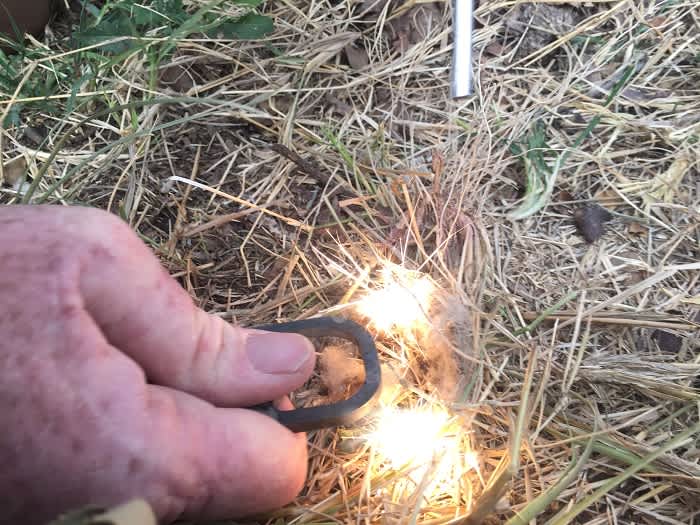 Life Straw
Water purifying straw by Aquamira Frontier that can provide filtration for up to 30 gallons of water.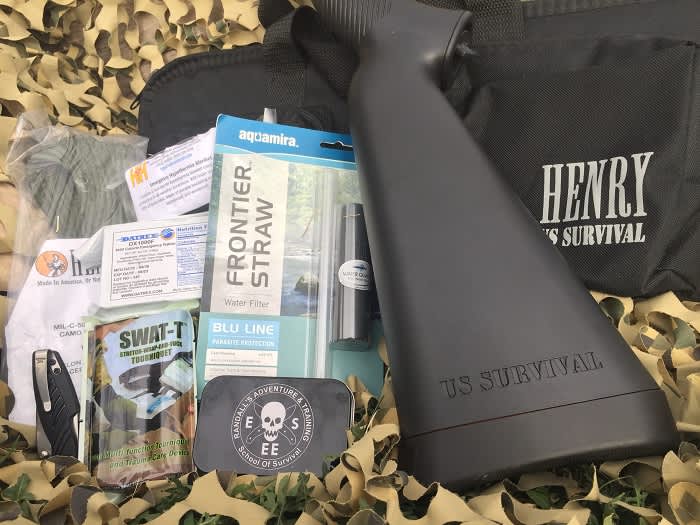 Datrex Food Bar
Highly concentrated 1000-calorie food bars vacuum bagged in a specially designed polymer/foil package, certified to keep fresh for a minimum of five years – four per pack.
Folding Knife
Buck Rival folding knife with 2.75-inch stainless steel blade, Henry branded (on blade) and black handle with one-handed thumb opening stud.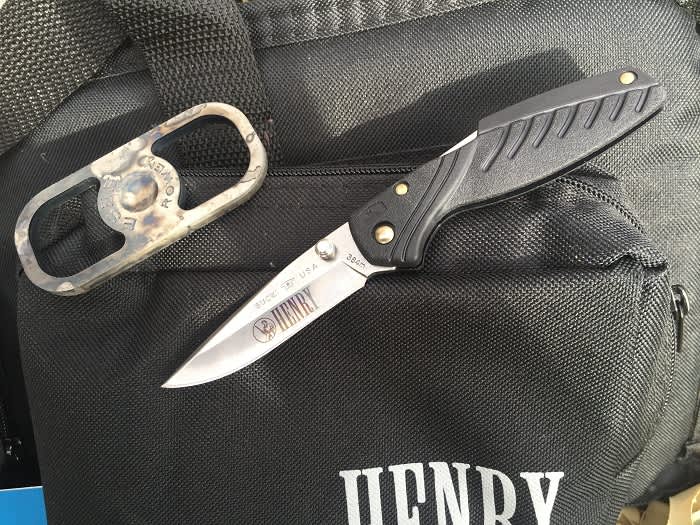 I personally tested the AR-7 and found it to be simple to assemble, reliable and accurate. I fired at least 50 rounds the AR-7 and it never had a failure to feed or eject. I also fired five rounds into a 1.5-inch bullseye offhand at about 15 yards, certainly plenty of accuracy for small game hunting. The sights on the AR-7 are a peep style rear sight and a high visibility orange front sight.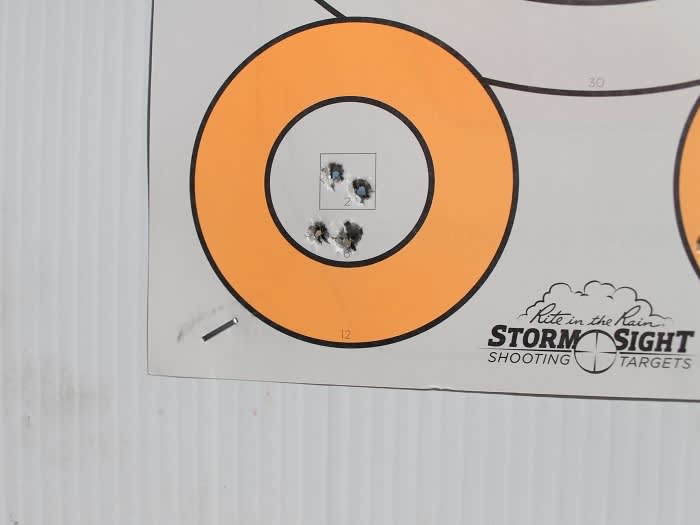 Although a U.S. Survival Pack comes standard with the black AR-7 rifle, two additional AR-7 camo patterns are available for purchase separately, called True Timber-Kanati and Viper Western.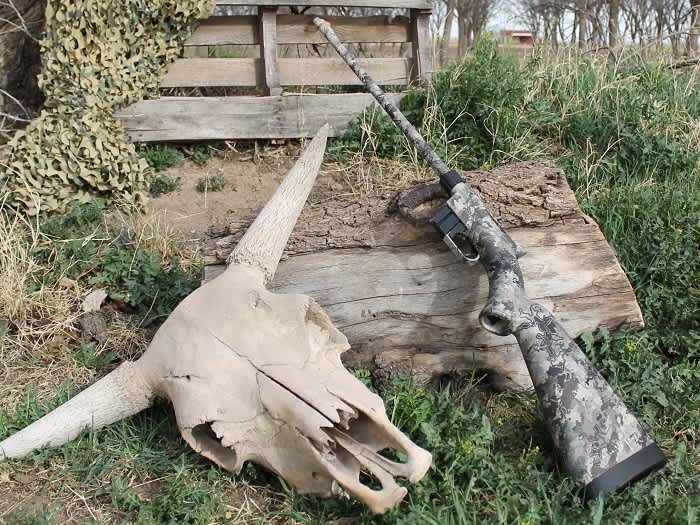 MSRP for the U.S. Survival Pack (including AR-7) is $550.
MSRP for the AR-7 (w/black finish) is $305; in one of the camo patterns: $368.
As standard for Henry Repeating Arms all items in the survival pack are quality-made here in the US. This pack is lightweight, compact and offers an added layer of preparedness for any outdoor enthusiast. You can find the US Survival Kit and other offerings from Henry Repeating Arms at https://www.henryusa.com/