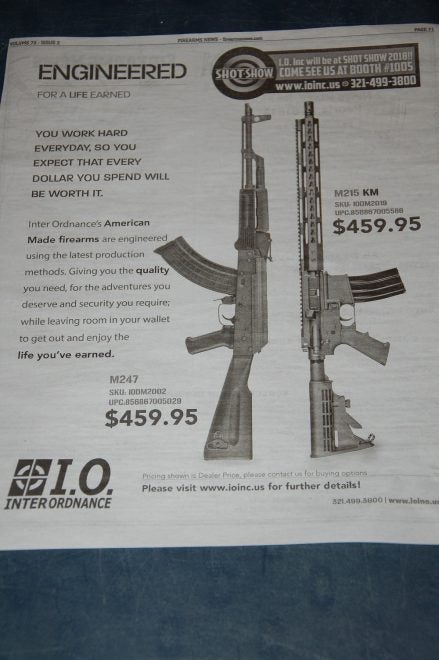 Among many debates, one of the most heated fire ring discussions in a prepper camp is which rifle(s) to have? After the talk simmers down like a good venison stew, the choices boil down to either the AR-15 platform or an AK-47. Those two rifles are the classic choices.
Now, with one company manufacturing semi-auto MSRs (Modern Sporting Rifle) in both categories, preppers can get one of each and end the debate. Inter Ordnance, Inc. has now introduced the M247 and the M215 rifles to satisfy everyone.
Located in Palm Bay, Florida, I.O. is producing several models of each famed platform so preppers among others can find just the outfitted rifle they want. I.O. has ARs and AKs in both classic and upgraded formats. The AK's are chambered in standard 7.62×39 and the AR's in 5.56×45. Their web site is www.ioinc.us.
Their M247 series offers the Classic model with a bolt hold open, buffer, nitrided barrel, and an extended magazine release. This model will accept all standard AK and RPK magazines so supplying additional magazines should not be an issue as these are fairly common. The wood stock is "classic" laminated wood. The rifles are patterned after the Polish blueprints.
Other specs include a mil-spec receiver, 1:10 RH barrel twist, a threaded muzzle, 36-inch length, 16.5 inch barrel with a weight of 8 pounds. The metal finish is a manganese phosphate, Parkerized finish. Adjustable front and rear sights are standard. The MSRP is listed at $739.95, but in the ad photo, you see the price listed at $459.95 which is really appealing.
There are two models of the AR-15 version of the rifles I.O. calls their M215 KeyMod and their Low Profile models. The LowPro model is a no frills rifle with standard type AR features. The KeyMod version has a full length hand guard with plenty of KeyMod slots to add all types of accessories such as lights, sling attachments, forward hand holds, etc.
The KeyMod hand guard is a slimline version, free-floated, and 15 inches long. This makes the rifle easy to handle. The Low Profile is equipped with a standard issue flat top receiver with a 1913 rail making it optics ready. The KeyMod rifle has a mil-spec receiver, 1:8 barrel twist, 36-inch length and a weight of 6.3 pounds. List price is $699.95, but again can be bought for $459.95 per the ad.
For under $1000 a prepper could stock up with both platforms, so all the bases would be covered for ammo supplies, optics, and other accessories. Only then, you'd have to find another debate topic for the fire pit. Try optics.