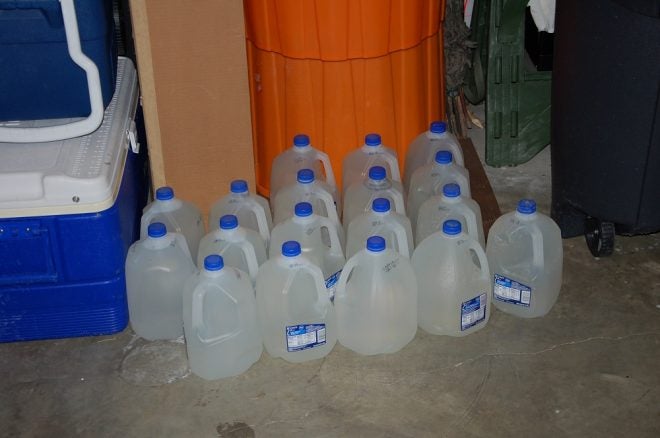 One of the initial primary concerns of newbie preppers just getting into the planning and preparation for SHTF survival is just how much stuff to store up. Certainly this varies in each individual case depending on a lot of factors such as how many people you are planning for, what kind of budget you may have, medical issues, security concerns, housing options, transportation, bug in or out philosophy, and so forth.
First, establish priorities. It makes little sense to stock up weapons and ammo if you have nothing to drink or eat, so start there. If the water utility service ends, then count on having storage water for three months. That is a tall order. Maybe a hand pump well is an option, a creek, or rain water tank to provide water that can be treated or boiled as needed. Save milk jugs to store extra water for multiple uses.
Stock your pantry plus add extra storage cabinets to store enough long term canned, survival foods or dehydrated foods to last at least six months. Put all of these foods on a rotation basis to freshen the stock but also to determine which foods will actually be eaten. This way you can also learn how to prepare such foods and conduct real SHTF practice.
After water and food, concentrate on essential health needs. If you require meds to live for a specific disorder, disease, or whatever, then collect as much medicine as you can acquire. This is not easy these days with all the restrictions in force now. Same with common everyday OTC med needs. Stock up heavy on pain relievers, stomach meds, cough and cold remedies, eye drops, lotions, soaps, and anything needed to make aches and pains easier to deal with. Stock up on anything you use regularly. Include personal hygiene items.
Personal security and self-defense wise, think at least in supplying the minimum. That would mean at least one handgun, shotgun, and rifle. Tomes are written on this, so do your research. If you need more weapons, then standardize them. Add extra magazines, carry gear, cleaning tools and supplies. As to ammo, build a stock of at least 1000 rounds in each caliber or gauge you have. Backup redundancy is a wise strategy.
Preppers need to realize that Rome was not built in a day. Dedicate as much reasonable time and money as you can to achieve your prepping goals. Prepping is a lifelong learning experience. Supply, train, and practice to be ready.