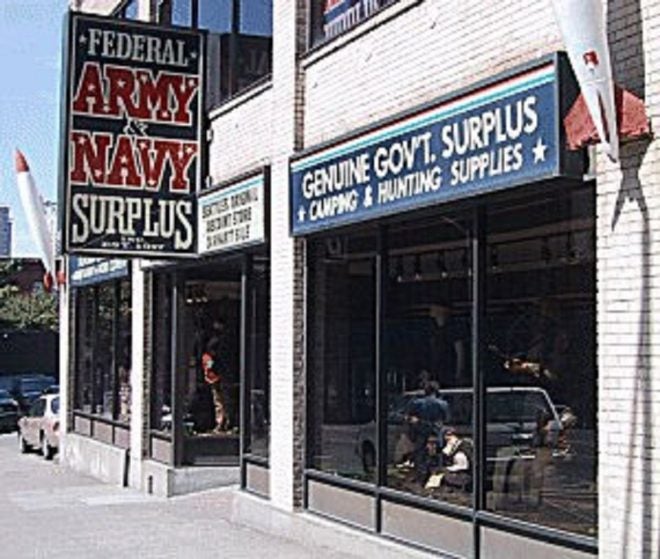 Walking into a genuine war surplus store can give you goosebumps. What the military has shed in terms of high quality used gear or contract overruns of brand new gear can be put to good use by preppers, survivalists, outdoors people, campers, and such. However, of all the gear and goodies to be had in such stores, there are at least five pieces of web gear that every prepper should have.
If you ever get to Seattle, then wonder back off the famous fish market area to 1st Avenue. There is the location of the Federal Army & Navy Surplus. This is nirvana for military surplus as well as more commercial outdoors gear of all kinds. Their selection of genuine military goods is hard to beat. Here you can find all your web gear.
Preppers are often envisioned as outback campers that have either escaped the latest SHTF event or they are just off the grid for a weekend (or longer) adventure. Carrying on prepper survivalist activities in the outdoors often means having to carry certain types of gear on your belt or harnessed over your shoulders. Web gear does that.
Though there are undoubtedly many choices for what are individual priorities, at least five pieces of web gear should be purposed for carrying stuff on a daily basis. This is in addition to the assumption that one will likely be carrying a rifle with sling over the shoulder and/or some type of handgun in a holster of choice. These web gear choices support those items.
In no particular order of priority you will need mag pouches to tote extra magazines and ammo or Blackhawk and others make a bandoleer that carries both pistol and AR/AK or other rifle magazines. Next comes one or two of a general Molle pouch into which can be carried a wide variety of items from knives, flashlight, or nabs. These can go on your belt or a web Molle gear carrier.
Then go for a canteen or a water bottle carrier. Next, add a compact medical/FAK pouch. Pare this down to essentials. Finally add a communications zipper pouch to secure your iPhone and or a com radio to stay in touch with base operations.
Certainly more web can be added and carried, but these are the basics to get you by in the field. Some prefer a gear vest carry system or a backpack. Your option. Consider what you need to take away from camp and get the proper web gear to carry it.