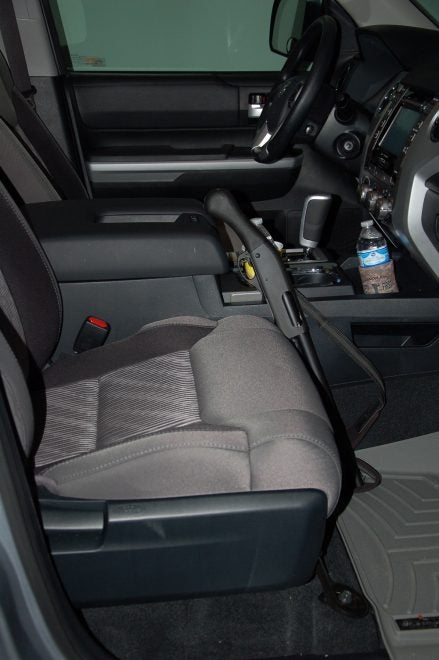 Lately there seems to be a high crime rash of breaking into vehicles and stealing firearms. Ironically, in many of the cases the police determined that the vehicles robbed were not even locked at the time of the theft. It would seem like a no brainer that people would lock their vehicle doors especially if there is a firearm inside.
So, are there safe ways to leave a firearm in a vehicle? Well, of course, but you have to be smart about it, because criminals that break in will know where to look that makes it easy on them. First rule, don't make it easy for a gun to be stolen in a vehicle or at home either.
Despite what you might think and we are all guilty of this, a gun in a car or truck is not totally secure even if the vehicle doors are locked, windows are up, and the trunk or hatch is locked. A break in is just that. It means a forced entry to steal whatever is lying around in the vehicle, or hidden somewhere inside.
So, under the seat is not good enough. Sure, if the doors are locked and a gun is totally out of sight and nothing else of value is visible, then a crook might pass to go to the next car in the lot or driveway. Remember, time has to be on their side. They don't have a lot of time to rummage around inside a vehicle. If there is an alarm, all the better. Thieves hate noise that draws attention.
Next, a glove compartment or even a center console is not a gun safe. In fact, for criminals that know what they are doing. These are the first places they search for anything of value. It just takes a second and a good pry bar to pop these open. Don't keep your guns there.
To properly secure a firearm in a vehicle, what you actually need is a gun lock box made specifically for a vehicle. There are many of these on the market that can be permanently bolted into the vehicle in different manners. Some of these lockable safes are also designed with easy and fast access when needed. Again, it is best to install these out of sight, too.
Guns can be carried safely in a vehicle. If you have to keep a firearm in a vehicle beyond just a trip to the range or hunting, then install a locking gun safe device in your vehicle. But never leave the vehicle unlocked.