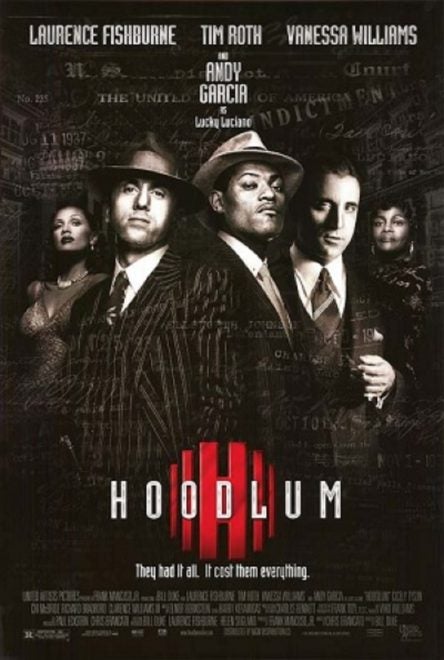 The era of gangsters in America is a unique study of the firearms and weaponry of organized crime. During the roaring 20's into the 30's nearly until the Second World War battles were waged on the streets of American cities most notably Chicago and New York City. Control was fought over illegal booze, prostitution, gambling, running numbers, and betting on anything there was to bet on. It was big money into the millions a year, untaxed.
From this time came some of the finest firearms to ever be manufactured in America. WWI was over, GI's were home looking for jobs in a depression economy, so many turned to elements of crime to survive. These were the men who knew guns and how to use them. They used a lot of them.
This whole era was depicted well in the classic movie Hoodlum. Taking place in the streets of New York City and Harlem in the 1930s, the screenplay featured the classic gangsters Dutch Schultz, Lucky Luciano, and Ellsworth "Bumpy" Johnson with his girlfriend Francine. These characters were played in order by Tim Roth, Andy Garcia, Laurence Fishburne, and Vanessa Williams. The "Queen" of Harlem crime was play by Cicely Tyson.
When Bumpy was reunited with his crime buddies in Harlem, he received a gift from his cousin a Colt Police Positive in nickel finish. A classic 4-inch barreled revolver in .38 Special, tens of thousands of Police Positives were produced and used in those days. Black hard rubber grips and open sights, the six-shot Colt was a favored with crimesters, as well as police.
The Smith and Wesson Model 10 was used in various models throughout the movie and the era. The 2-inch snub-nose was a favored pocket pistol in the day. Easy concealment with 6 shots available, the M-10 in .38 Special was ideal for close quarters work. A Model 10 with a silencer was notably used by one of two assassins hired by Schultz to whack Bumpy in addition to them both carrying pickaxes.
Other noted Colts used by hoodlums included the Detective Special, the model equivalent of the Smith 10. A Colt 1903 in .32 ACP was used by an Irish "Mick" police captain. Dutch Schultz used a Model 1911 MKIV Series 70 which he always kept in his waistband most certainly in .45ACP. Other 1911A1s were wielded by countless shooters and was a favored big bore "automatic" by gangsters of this era. Colt New Service revolvers were also popular.
Beside numerous sawed off shotguns and Thompson Sub-machine guns, handguns were the most prolific firearms used by hoodlums. Easy to tote, conceal and shoot, handguns were "the" gun to carry and remain so.