Top 10 Guns for Turkey Hunting (5th – 1st Place)
Adam Scepaniak 03.29.19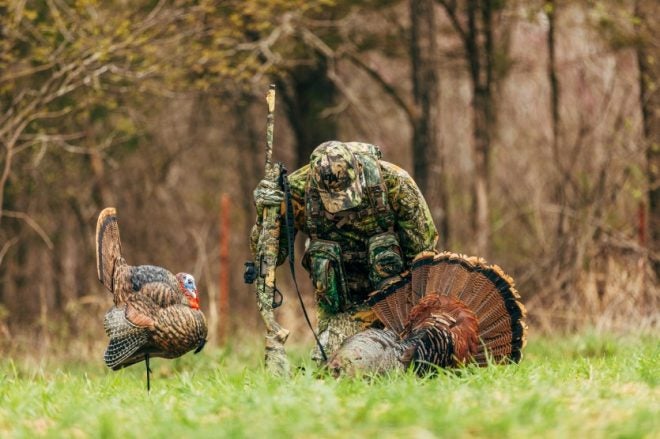 Yesterday we walked through the 10th through 6th place spots in our "Top 10 Guns for Turkey Hunting." That brought us through some 10 Gauge and 12 Gauge shotguns, an Over/Under, and a few semi-autos as well. Today we are going to finish off our Top 10 list with the final 5 shotguns! This final run through the list will bring even more new calibers, action types, and brands. Diversity is the spice of life, right? So your gun safe should have a little variety, too, and there is an abundance of that in the arena of shotguns for turkey hunting. Let's get started!
5th place: remington 870 sps super mag turkey predator 12 gauge mossy oak obsession
The Remington 870 in all of its various forms is one of the true workhorses of pump-action shotguns. For eternity they have been moderately priced, have a reputation of never-failing for reliability, and are offered in every possibly iteration a hunter could request. This one specifically will help you conquer your turkey season with its Mossy Oak Obsession coloring which is the official camouflage of the NWTF. It also has a factory TruGlo red dot, hefty rubber buttpad, extended choke tubes, and a pistol grip stock for a more sturdy grip while shooting. The Remington 870 SPS Super Mag Turkey Predator 12 Gauge Mossy Oak Obsession retails for $710.
4th place: stevens 301 turkey .410 gauge mossy oak obsession
If you already know what the Stevens 301 shotgun is you might be questioning why we would suggest a single-shot, break-open shotgun? Well, similar to when we entertained the idea of an Over/Under yesterday, most all successful and humane turkey hunts end within one shot or at a maximum two. While much of today's gun culture loves to have a million rounds available to them in their firearms it just isn't necessary in the specific field of turkey hunting.
The Stevens 301 Turkey .410 Gauge Mossy Oak Obsession can really reach out and touch a tom with its 26″ barrel and Extra Full extended choke (Win. choke pattern ½-32UN). The best gobbler medicine you can launch from this shotgun would be Federal Premium's Heavyweight TSS turkey loads. Its because of their advancements in making turkey shells that we can now reasonably even entertain the idea of using a .410 Gauge for turkey hunting.
The Stevens 301 Turkey .410 Gauge Mossy Oak Obsession also features a one-piece rail for optics, has a single brass bead front sight that is compatible with TruGlo sight systems if you desire to upgrade, it has the NWTF's Mossy Oak Obsession camo, and it only weighs 5 pounds to carry it into the woods. The Stevens 301 Turkey .410 Gauge Mossy Oak Obsession has an MSRP of a whopping $199 making it incredibly affordable for new and old shooters alike.

3rd place: mossberg 500 turkey 12 gauge mossy oak obsession
The Mossberg 500 Turkey 12 Gauge Mossy Oak Obsession, like so many shotguns that have made this list, utilizes the NWTF's recognized Mossy Oak Obsession camouflage pattern for remaining concealed from our avian prey. Another simple and time-tested feature that catapults the Mossberg 500 into 3rd place is its top tang, ambidextrous safety that is so intuitive. If you already have your sights set on a tom and he is staring directly at you, you likely can still quietly click the safety off and make your shot without him making a run for it. You couple those tremendously valuable yet mundane elements with a tougher than nails action, adjustable fiber optic sights, and an extended choke tube and you have a recipe for success. The Mossberg 500 Turkey 12 Gauge Mossy Oak Obsession has an MSRP of $500.
2nd place: winchester sx4 nwtf cantilever turkey 12 gauge mossy oak obsession
The Winchester SX4 NWTF Cantilever Turkey 12 Gauge Mossy Oak Obsession quite possibly boasts the most features and enhancements of any shotgun that made our list. It truly has a laundry list of upgrades to ensure you bag a longbeard this spring season. It has textured gripping surfaces with a non-glare finish in the Mossy Oak Obsession camo pattern. You get a hard chrome-plated chamber and bore for easier cleaning of your action and more reliability. You have a weaver-style cantilever rail for the most accuracy possible with your optics. It also employs Winchester's "Inflex Technology" recoil pad to give the shooter softer shooting. The Winchester also has a drop-out trigger group and "Quadra Vent" gas ports for easier cleaning. All of these technologies and more make it an incredibly reliable, soft shooting, and accurate gun for laying the smackdown on big toms! The Winchester SX4 NWTF Cantilever Turkey 12 Gauge Mossy Oak Obsession has an MSRP of $1,069.

1st place: savage arms 220 turkey 20 gauge mossy oak obsession
We have finally hit the number one spot! And the winner in our Top 10 Guns list is the Savage Arms 220 Turkey 20 Gauge Mossy Oak Obsession! If you had told us 5 years ago that a bolt-action shotgun would be the best choice you could make for hunting gobblers, we would have resoundingly told you to set down your Kool-Aid because you are crazy! The fact of that matter is though that the secret sauce that Savage Arms is pouring into these shotguns is working. Their counterpart, the traditional Savage Arms Model 212 and 220 used for deer hunting, are lights out accurate and have taken the niche market of deer hunting by storm. Savage Arms looks to do the same with this model as it deploys all of the same reliability and accuracy yet for our longbearded, delicious friends.
The Savage Arms 220 Turkey 20 Gauge Mossy Oak Obsession boasts their AccuFit stock system that gives you a perfect comb height and buttstock fit to your body. It also has their legendary AccuTrigger which is user adjustable. It would not be complete without their AccuStock which three-dimensionally secures the action into place. Then, they add in a one-piece rail for your preferred optics and a coating of that wonderful Mossy Oak Obsession camouflage pattern and you have a formula for success. This shotgun retails for $695.

So after making this journey with us through the Top 10 Guns you can take to clobber a gobbler, what do you think? Did we nail this list? Was it a complete flop? What shotguns would you have liked to see on the list? Let us know all of your thoughts in the Comments below, and be sure to check out our previous article as well! We always appreciate your feedback.