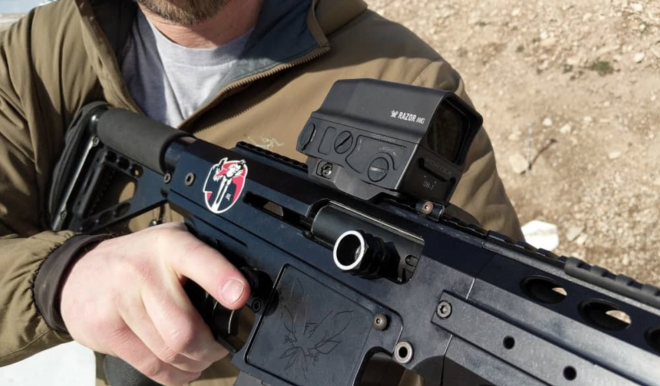 The Vortex UH-1 is Vortex's premier offering in the world of holographic sights. It's designed to be rugged, reliable and compete with all the industry top dogs for opticsdesigned around quick sight/target acquisition.
Vortex UH-1 Specs: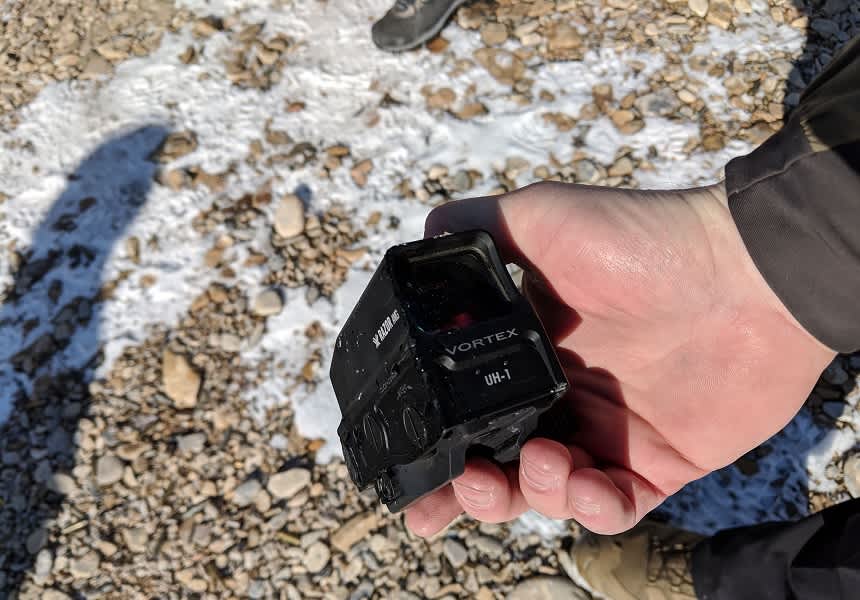 Let's review the specs, as stated by Vortex:
Mount Type – Picatinny
Magnification – 1x
Dot Color – Bright Red
Dot Size – 1 MOA
Eye Relief – Unlimited
Adjustment Graduation – 1/2 MOA
Travel Per Rotation – 16.5 MOA
Max Elevation Adjustment – 100 MOA
Max Windage Adjustment – 100 MOA
Parallax Setting – Parallax Free
Length – 3.6 inches
Weight – 11.8 oz
Reticle: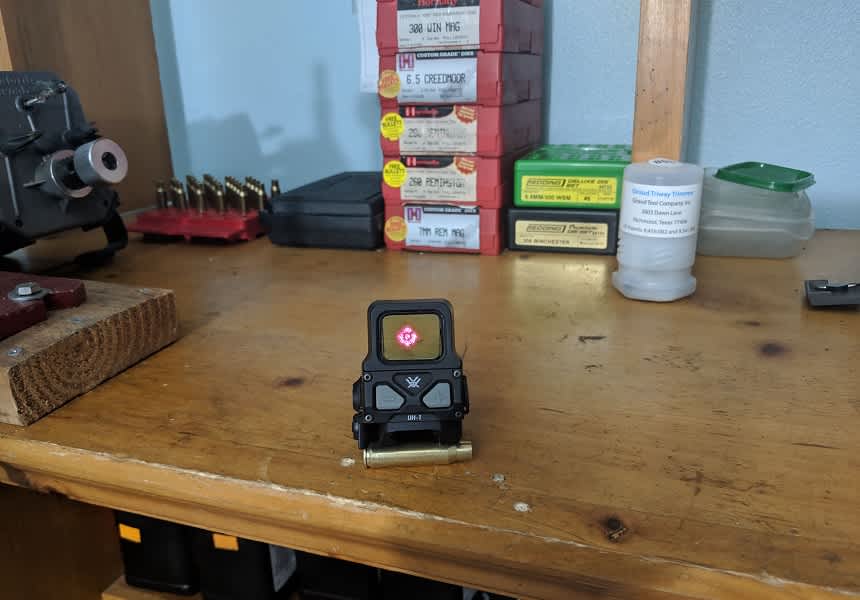 It has a familiar 1 MOA center dot and a 65 MOA outer circle. There are many similar reticle configurations across a variety of low power optics, and there are for a reason: they work well, and so does this one.
The reticle was plenty bright. I didn't have the UH-1 at its brightest setting even on a clear day with a significant amount of reflected light from surrounding snow. I would assume, unless you were engaged in a gunfight on the surface of the sun, the UH-1 would have an adequate brightness setting for you.
Appearance:
The UH-1 is a blocky beggar with a very utilitarian appearance. No frills or flashy lines on this one. It's conspicuously lacking in sexappeal, which is somewhat disappointing. I would, however, gladly trade an optic's good looks for reliability if given the option, and that's what you get with the UH-1.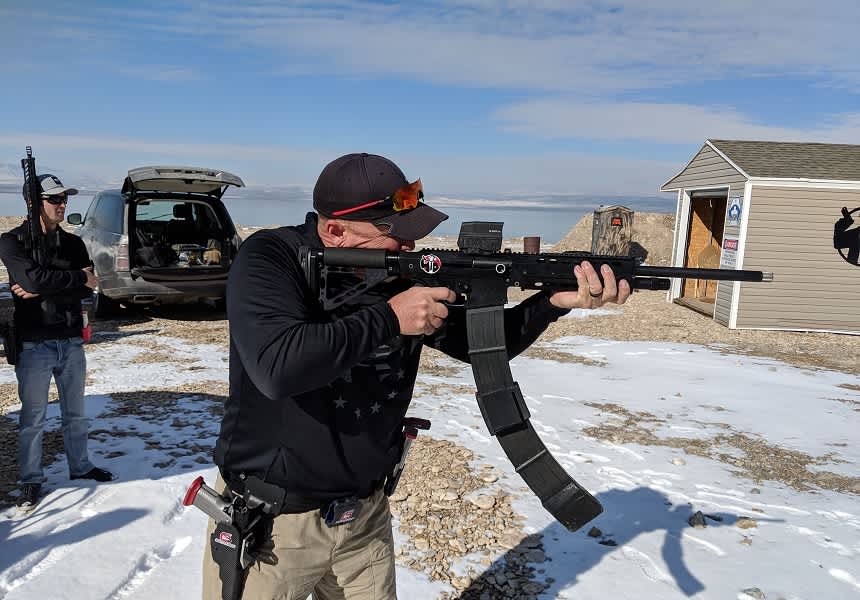 Ergonomics/Controls/Battery:
All controls for the UH-1 are on the shooter's side of the optic. They are very similar to the logic of EoTech: one button on, 2 buttons off. One clever feature of the UH-1 is the option to use either a one time use CR123 battery, or the USB connection on the right side of the optic to charge a rechargeable battery with a power bank. Battery life is approximately 1,500 hours on a reasonably low setting for one time use batteries and somewhere around 600 hours with a rechargeable battery.
Reliability:
The stated specs on the UH-1 are good, which is to say they are on par with what people expect from optics in this category, but the primary concern for most end users is the optics reliability.
Prior to  receiving a UH-1 specifically to review, I had used somewhere in the neighborhood of 8 individual UH-1 optics on a variety of carbines and rifles. I've fired hundreds of rounds between them and engaged targets from 25 yards to over 300 yards (12" diamond, by the way) with great sucess. In terms of optics testing, it's rare to see a sample size of more than one of the same optic, but 8 is nearly unheard of. All UH-1's worked flawlessly through the whole process.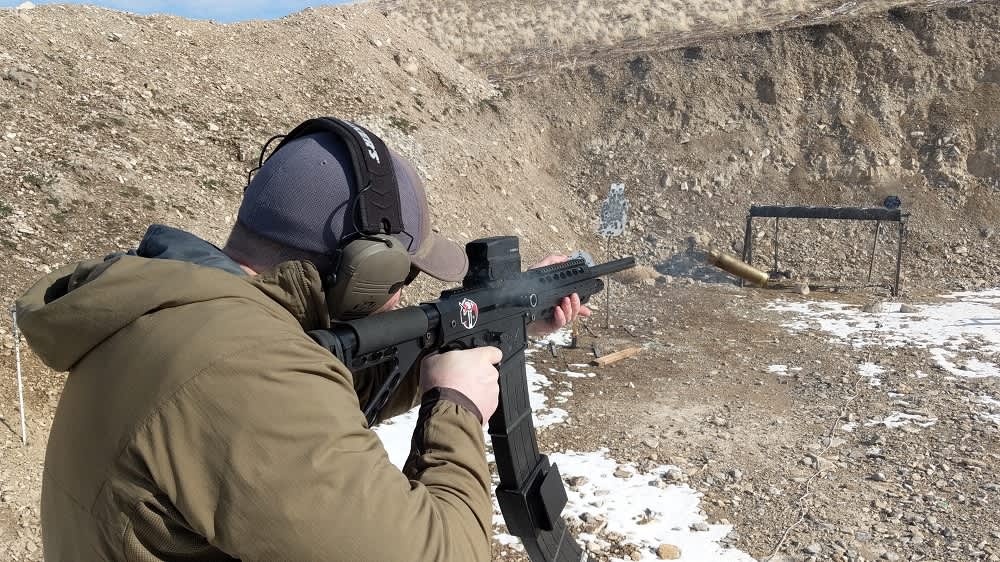 Given this previous experience, I was already supremely confident in the robustness and reliability of the UH-1 and I wanted to challenge it further. For the most part, I think opticstorture tests are irrelevant (unmounting optics and throwing them across the range, freezing them in a block of ice, burying them under a mountain of sheep turds) I'm interested in seeing how optics will perform in adverse conditions, but in an organic manner, like having them on guns and shooting a lot. Generally exposing them to hard, but reasonable use.
To do this, I handed the UH-1 to my good friend, and 3-Gun spirit guide, Casey. When I say I handed the UH-1 to Casey, I mean through some strange and impressively uncoordinated intersection of moving limbs, he smacked the UH-1 out of my grip in a downward motion, sending the optic at nearly Mach 3 to the rock covered ground. Ouch. I thought for sure I would see the UH-1 fail on the range at some point that day due to the impressive impact. I picked up the optic, dusted it off, checked to ensure that it would turn on (it did), then I very carefully, and successfully, handed it to Casey. The UH-1 was then mounted to his MKA 1919, semi-auto, 25 round, box-fed shotgun (compliments of Firebird Precision.)
The first rounds fired were slugs for the purpose of zeroing the UH-1 (and for warming up our shoulders for the abuse to come.) We then fired round after round at plate racks, silhouettes, and any other steel targets that looked at us funny. We varied between a moderate cadence of fire, and a near cyclic rate, approaching Huey gunship volumes of fire down range. I'm not sure how many rounds of 12 gauge we went through, but we were ready to quit long before the UH-1, as it never did.
Price (MSRP):
Vortex has a listed MSRP of $649.99 with a street price much closer to $500. Considering the fact that this optic will probably last the life of whatever firearm you put it on, I'd say it's worth it.