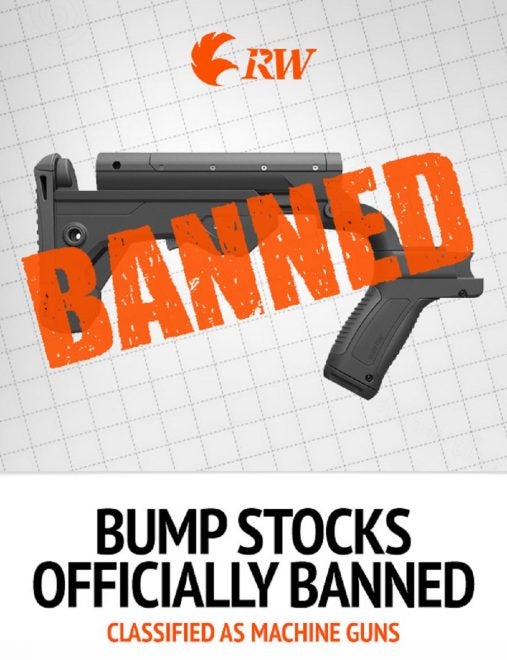 Effective this week, specifically on March 26, 2019, the firearms device known as bump stocks are no longer legal to own. This simply means if you own one installed on an AR rifle or still in the original factory box, it has to be turned in to the BATF or destroyed. The fine for possessing a bump stock now is a possible $250,000 fine and up to 10 years in prison.
How did this new ATF ruling come about? Pressure mounted after the 2017 mass shooting from the Las Vegas hotel onto an outdoors music concert killing 58 people. As a result, President Trump via a Presidential Memorandum ordered that these devices used during that Vegas shooting event be banned. The memorandum characterized the bump stocks as capable of turning a legal weapon into a machine gun.
For those unfamiliar with the bump stock device it is a butt stock accessory attached to a conventional AR-15 type semi-auto firearm. When the AR-15's trigger is pressed, the recoil energy from the cartridge ignition causes the bump stock to facilitate a continued motion operation repeating the firing with just a single trigger pull. This in effect produced a firing action similar to that of a fully automatic machine gun. Machine guns are illegal without a special NFA permit.
There are basically two schools of thought when it comes to such weapons accessory devices like the bump stock. First, though admittedly it could be just pure recreational shooting fun to use a bump stock, of what real practical value are they? If you simply want to eat up a 30-round magazine of ammunition in a matter of seconds, should that not be your right? Well, sure. But how many of those extended round mags loaded with expensive ammo can you afford to blast off for a cheap thrill? Again, that should be your choice.
I assume bump stocks sold well and shooters wanted them. I have seen them for sale at gun shows. They were quite expensive. I don't know a single AR-15 owner that has one or wanted one. I classified it more or less as a novelty. I like to plink shoot, too, but I can bust targets and cans plenty fast enough with the conventional trigger.
The second school of thought is the incrementalism used in gun control measures. Bump stocks now, then large magazines, red dot sights, military like web gear, camouflage, certain ammunition, and eventually guns altogether. To me, that is the more serious concern.