Federal Premium Expands their Gold Medal Grand Plastic Shotgun Shells
Adam Scepaniak 04.09.19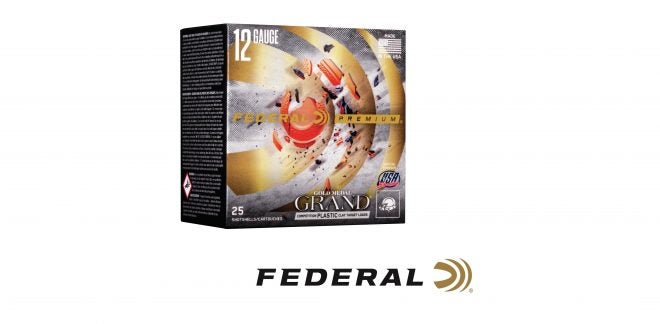 Federal Premium is expanding their Gold Medal Grand Plastic line of shotgun shells for competition clay pigeon shooters to give them even more options than before. These are the exact same shells that are officially sponsored by the "USA Shooting" Team, and afford the shooter tremendous performance. At the time of this writing, deliveries of these shells should be occurring at retailers making them available for purchase. Some of the characteristics that you can come to expect from the Gold Medal Grand Plastic loads are as follows as presented by Federal Premium:
24 Gram Payload
Two-Piece Wad utilizes SoftCell Technology to decrease perceived Recoil & produce more Uniform patterns than One-Piece Designs
Rigid PrimerLock Head improves Primer Sensitivity ensuring Proper Ignition in the event of a Light Hit
Lead Shot is engineered for the Optimum Blend of Hardness & Density for even Patterns & Maximum Downrange Power
Integral Base Wad maximizes Reloadability
A lot of the elements boiled down into these shotgun shells some of us might never notice or think of needing, but if you are trying to take the podium at your local club or a national level, the difference could be in these little details. Federal Premium had these words to share in a Press Release about the broadening options for the Gold Medal Grand Plastic line-up:
Gold Medal Grand Plastic delivers less felt recoil, more reliable ignition, improved shot hardness and excellent reloadability. Now there are even more options in the product line, with two new 24-gram international loads. Both feature the rigid PrimerLock head to improve primer sensitivity, SoftCell wad technology to cut felt recoil, and lead shot engineered to provide the optimum blend of hardness and density. The result is the most powerful and consistent patterns trusted by the world's best shooters.
Finally, for those who are interested, there are two new offerings being added to the line-up of shotgun shells. Those offerings with their associated price-points can be read below as presented by Federal Premium:
12 Gauge 2 ¾" 24 Gram | #7.5 Shot | 1,335 FPS | GMT119 7.5 | 25 Count | MSRP $11.95
12 Gauge 2 ¾" 24 Gram | #9 Shot | 1,335 FPS | GMT119 9 | 25 Count | MSRP $11.95
For our readers who do more clay pigeon shooting in a recreational and competitive capacity, what do you think? Are these some shells that you would want to send down range in a friendly competition or match? Let us know your thoughts in the Comments below! We always appreciate your feedback.