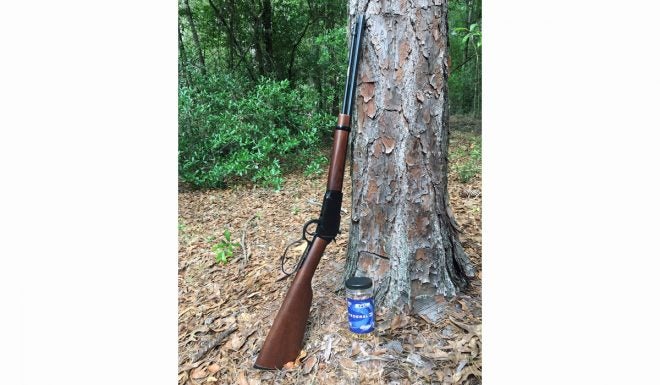 I've been working at this writing gig for a long time, having collected my first paycheck for outdoor writing way back in 1998. Most of the time when I get an item to review it goes on my list and I'll make some notes of my first impressions, then it gets set aside and tested as the opportunity arises, but this time, I just can't help telling y'all about my latest loaner: a Henry Repeating Arms lever action Small Game Rifle chambered for 22 short/long/long rifle rimfire.
I'm grateful for the opportunity to cover one of Henry's rifles, which have earned an excellent reputation among shooters in recent years. Here are some quick specs on the Small Game Rifle:
Large-loop lever action
Chambered for: 22 S/L/LR (also available in 22 WMR a.k.a. 22 Mag)
Barrel: 20″ blued steel octagonal
Rifling twist: 1:16
Receiver: Black finished alloy, grooved for rimfire scope mounts, drilled & tapped for Skinner peep sight
Stock: Walnut with satin finish
Weight: 6.5 pounds per Henry (mine weighs 6.2 unloaded)
Overall length: 38.5 inches per Henry (mine measures 38)
Magazine: Tubular, under-barrel. Holds 16 rounds of 22 LR or 21 rounds of 22 Short.
Safety: 1/4-cock hammer notch
Sights: Skinner peep/aperture rear, brass bead front
MSRP: $525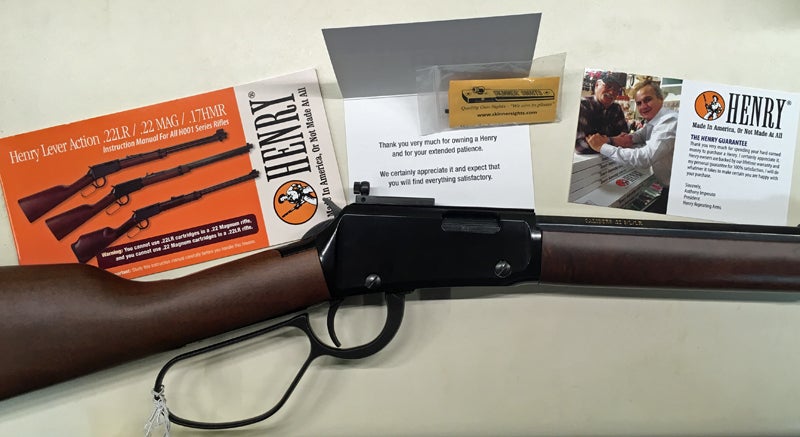 The first thing most folks notice about a Henry rifle is its good looks. They're just plain lovely, with the traditional lines and slim width of the classic American lever-action rifle. And Henry pays attention to details; if your Henry rifle has a ding or scuff, it probably didn't happen at the factory.
One feature I love about Henry's Small Game model is the rear peep sight. There's no rifle sight system faster than a peep, or aperture, sight, and that's all I used for the first two decades of my deer hunting "career." I also appreciate simple toughness, and from what I can see, the Skinner peep sight on this rifle has it.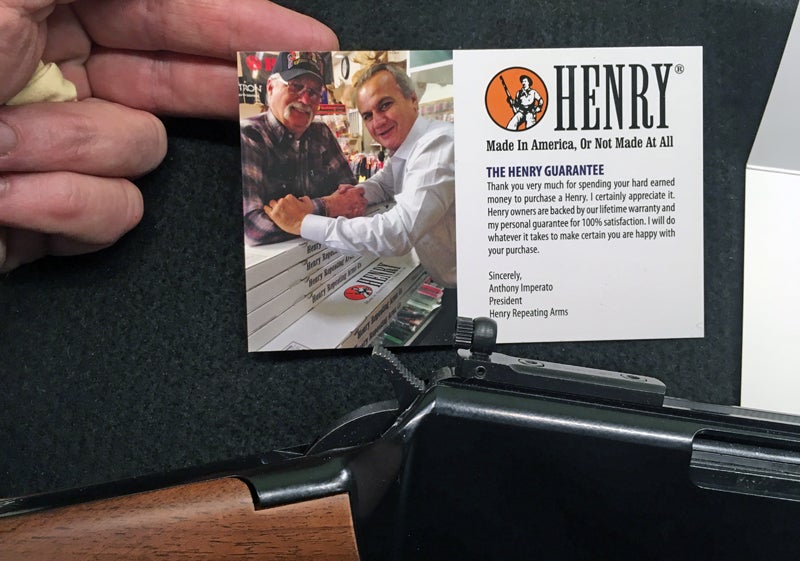 A quick look down the bore of the new Henry revealed some powder fouling, which didn't surprise me. While many folks believe that any new-in-the-box rifle is "unfired," there's really no such thing. All firearms are test-fired at the factory, and this one was probably also zeroed — because the sights required no adjustment for me to reliably hit 4″ and smaller targets from a standing offhand position at 25 yards.
You see, I was unable to wait — I just had to start running some lead through this beauty. So I grabbed a jug of Federal BYOB 36-grain Champion hollowpoint ammo and got busy plinking. It didn't take long for rain to run me off, but not before I'd loaded and emptied the 16-round tubular magazine 4 or 5 times.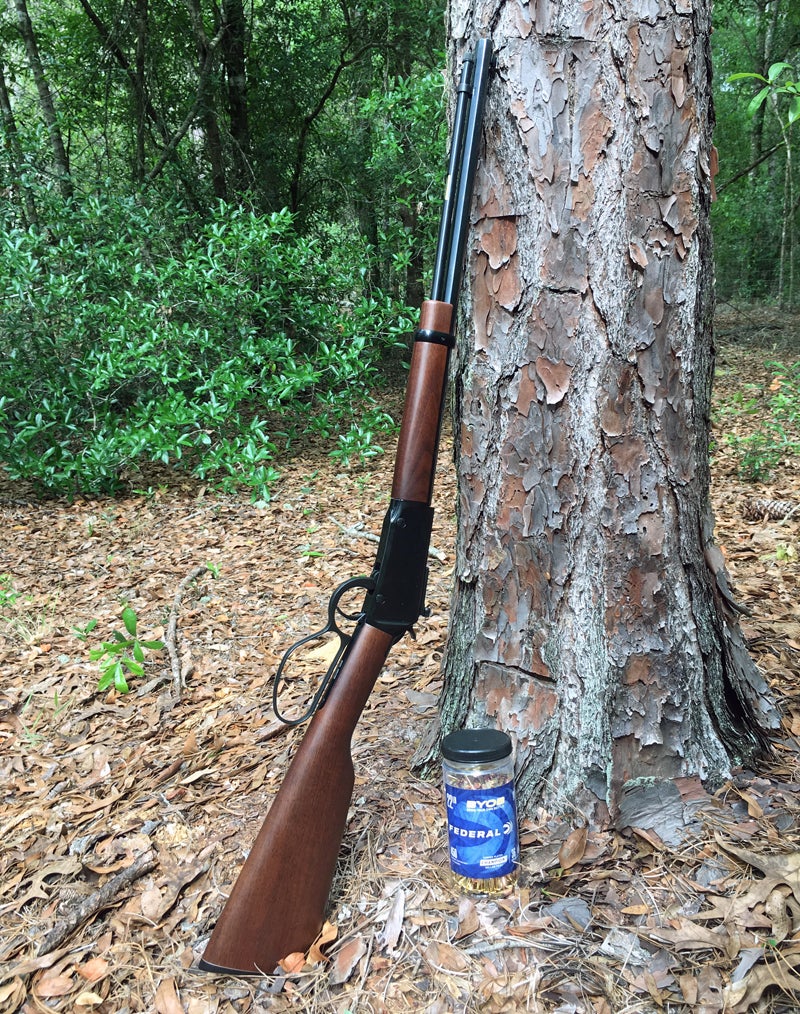 Every time I loaded the rifle and then worked the lever to chamber the first round, it jammed. The nose of the bullet was simply too high and didn't line up with the chamber. It also happened a time or two in between, but the rifle's operation was mostly smooth — and I had neglected to clean the rifle before putting it to use, which should always be done with any new gun. Therefore I'm not laying any blame on the rifle.
UPDATE: I ended up sending this gun back to Henry; they repaired and returned it and the rifle has run perfectly ever since.
This is far from the last time I'll shoot this rifle, and rest assured that when the time comes to review it I'll let you know if there are any problems. In the meantime, I can report that the Henry Small Game Rifle is easy to handle, feels great in my hands, is accurate even with bulk-packed ammo, and is comfortable and fast to run with its oversized lever loop.
For now, though, I'm off to clean this American beauty.