Whitetail Doe Lived 20 Years as 'Farm Guest'
Russ Chastain 04.09.19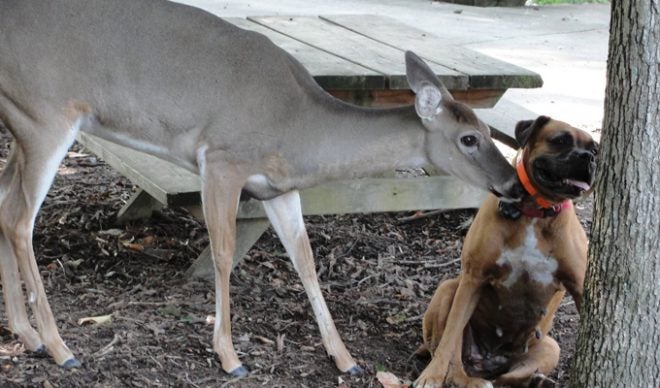 When a whitetail doe was killed by a vehicle from Kentucky traveling through Georgia in 1999, her young fawn was left defenseless and unwilling to leave its mother's side. The family whose vehicle had killed the doe decided to take the fawn to a veterinarian — something that's actually illegal to do in the state of Georgia, where only "licensed wildlife rehabilitators" are allowed to handle wild animals in this situation.
The vet reportedly contacted a local farmer named Gene Gilbert, who was "known for taking in many distressed and stray pets on [the] family farm." Newly-retired Gene decided to accept the challenge.
'I thought this would be a fun adventure and a learning experience,' said Gene.

The fawn, which was never caged, quickly gained its strength, and Gene figured the deer would eventually just ease off and join other deer in the area. However, the fawn formed a strong bond with Gene's four dogs. Once Gene realized that she was just going to become a local at his house, he named her Prissy.

'Prissy really formed a bond with Sandi, my Labrador retriever. Prissy viewed Sandi as her mother and never wanted to leave her side,' said Gene.
Prissy was never restrained physically, but she simply didn't want to get very far from home. The dogs never left the farm, so she had to return in order to visit them. Passers-by thought Prissy was being kept illegally and would often report the deer to authorities.
'It would drive the DNR crazy because people would drive by and see Prissy in the yard, and they would call them and tell them we were holding this deer captive, but we weren't,' said Gene. 'This happened for the first five years we took care of Prissy, but she stayed willingly because of the dogs, not because we made her.'
The doe lived on and around the farm for 20 years, only passing away on February 26, 2019. Aside from being a dog-lover, she had other odd quirks — and she never had fawns of her own.
Through watching Prissy grow, Gene noticed her estrus cycle was odd.

'She would actually come into heat as late as March and as early as October, but I am not sure if that's because she's never been bred,' said Gene. 'When she participates in the rut, she goes out, pees on her hocks and all that, and when the buck decides to come after her, she jumps the fence and runs back to the house with the dogs. She just won't stay still long enough for one of the bucks to breed her. The dogs can't leave the yard, and as long as the dogs don't leave, Prissy doesn't stay gone long because she likes to be with them.'
Prissy's long life was quite unusual for a deer that lived free in the great outdoors. Free-range deer don't often make it to the ten-year mark, although whitetail does which actually do live in captivity can live 20 years or more.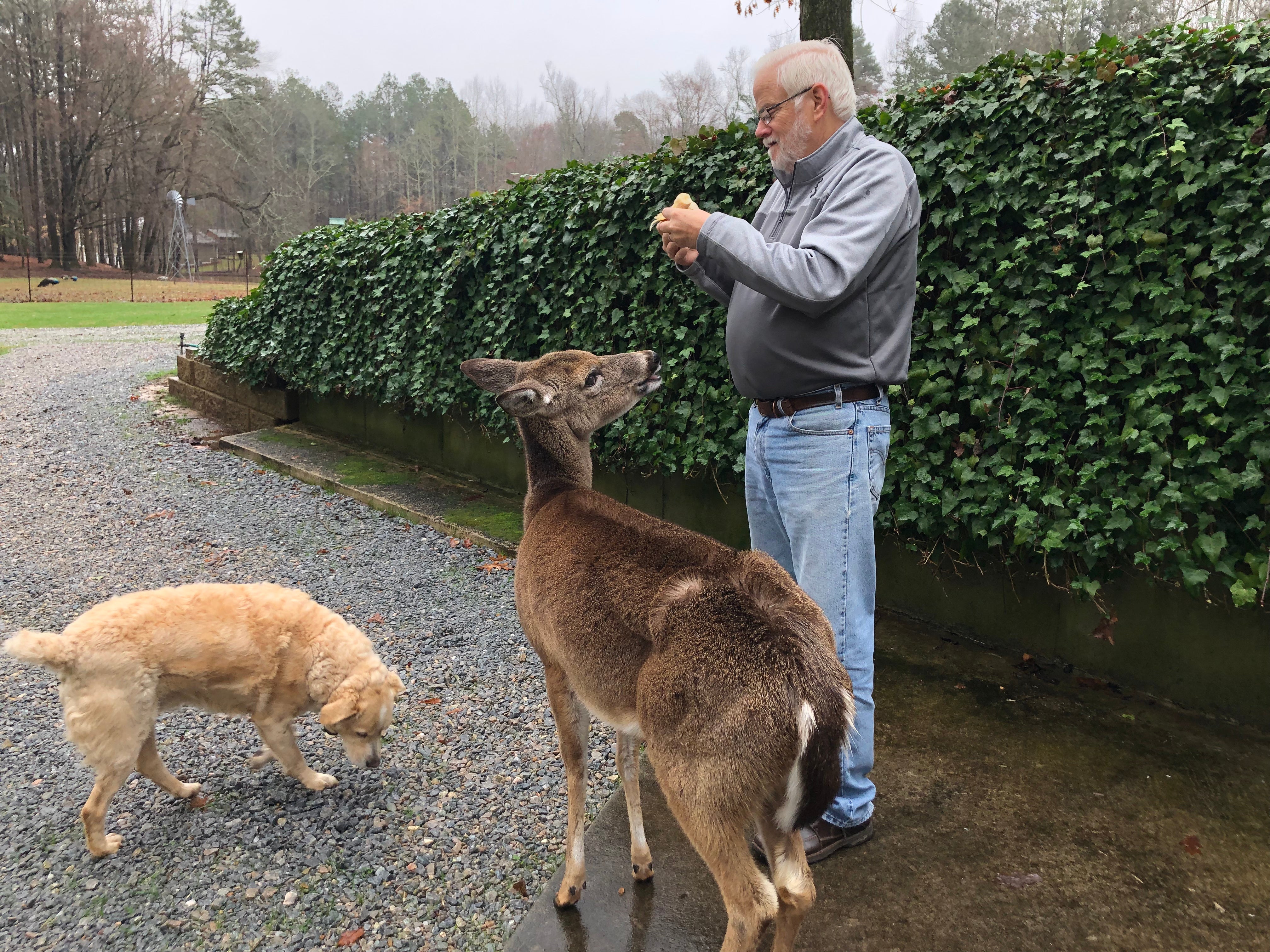 After that long together, Gene had learned a lot about deer and came to admire Prissy's intelligence.
Gene went on to add, 'People don't give credit to deer for being as smart as they are. I saw her play mind games with the dogs and completely fool them on multiple occasions.'
Pretty cool.