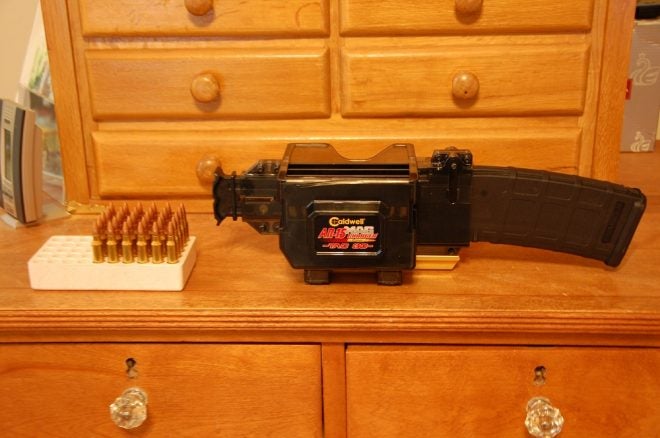 A really nice bonus to a specially priced Christmas version Smith and Wesson AR-15 Optics Ready Sport model at Academy Sports was a couple extra goodies included in the shipping box. Those Christmas presents included a nice S&W monogramed rifle case and another small cardboard box as well.
The other little box contained a Caldwell AR-15 Tac-30 Mag Charger. For so many years I have been stuffing cartridges into magazines one at a time by hand, that I almost dreaded having to reload empty mags. Almost.
This Caldwell Mag Charger ends the drudgery of restocking AR magazines with fresh ammo. I would have never realized just how easy this would be until this loader came to me as a bonus. I can already recommend that AR shooters that burn a lot of ammo or for prepper survivalists that maintain a stock of pre-loaded magazines, this is the only way to go.
While this Caldwell Mag Loader is rather intuitive, that comes after its use a few times. I do suggest you put the unit out in front of you on a desk or workbench, and thoroughly read the instruction booklet while studying the photos to see the options for how to use this mag charger.
There are three ways to load ammo via this charger. One is to prep the unit for loading then drop 20-round boxes of ammo into the loading bins, use ammo already stored on stripper clips, or drop single rounds into the three 10-round ammo bin slots before working the charging handle.
On the first trial, I elected to load the bins with single rounds since the ammo boxes I wanted to use contained 50 rounds. So, I dropped 10 rounds into each of the three available bins in the charger. You can load 10, 20, or 30 rounds at a time depending on the magazine capacities you are loading. Less than 30 rounds can also be charged into a 30 round magazine. Your choice.
The Caldwell Tac-30 Mag Charger's loading handle is pulled out. Then the spring loaded bin carriage is locked open. Rounds are loaded into the bins. Next an AR-15 magazine is inserted into the opposite side. Once ready, the charging handle is shoved closed with vigor to load 10 rounds. Then repeated twice more to load 30 rounds. That's it. It takes longer to write it out than to do it. One thing for sure, the Caldwell Mag Charger is a huge time saver.