Sharp Matters: Because a Dull Knife Will Hurt You
Russ Chastain 04.15.19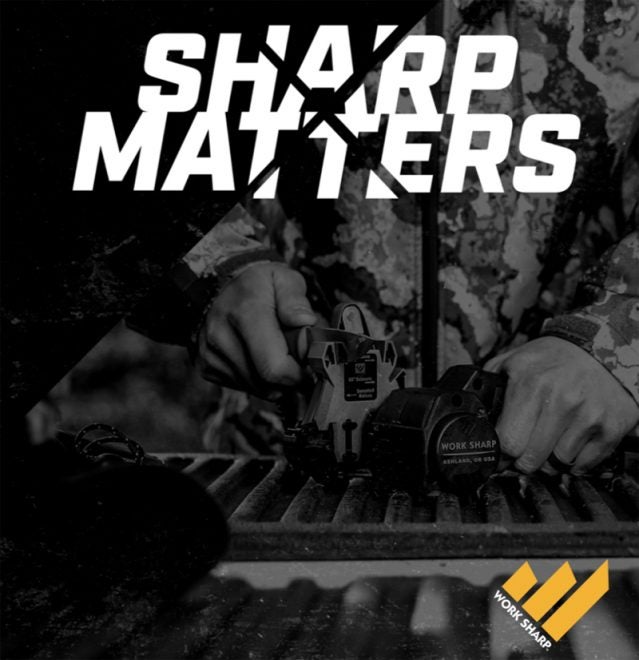 "A dull knife will hurt you worse than a sharp one."
Those words of wisdom came from my father when I got my first pocket knife as a little boy. To prove his point, he would lay his hands together as if saying a prayer, to show that one of his ring fingers was shorter than the other. While cutting sugar cane with a dull knife as a boy, the knife had slipped — and because he'd had to put so much force behind the dull blade, it cut a u-shaped plug of meat out of his finger as it flew free of the tough cane. By the time it healed, his other finger had grown longer.
That was my first lesson on keeping my knife sharp, and I've done a pretty good job of it. And he was right, of course… a good sharp knife requires much less force to do its job, therefore is much less likely to slip and hurt the handler. I guess you could say that cutting sugar cane with a dull knife was Dad's #SharpMatters moment.
To that point, Work Sharp Outdoor has started a campaign called "Sharp Matters" to help promote the importance of sharpness in your tools. Here's what they have to say about it:
Media, brand partners, and blade owners are encouraged to join the campaign by posting photos and videos on social media using the hashtag #SharpMatters, or by publishing a "Sharp Matters" story to an existing blog or content platform.

'As a brand, we share the conviction that "Sharp Matters,"' said Josh Warren, Work Sharp's digital marketing strategist. 'In fact, it's the underlying theme of everything we do, and what inspires our brand ethos: legacy, preparedness, and success. Think of a time when a sharp knife or tool was critical. How did you prepare for this moment? What skills paved the way for your success? What legacy will your story leave? This is the essence we're hoping to capture with "Sharp Matters."'

Whether it's field dressing an elk or deer in the backcountry, filleting a freshly caught trout campside, or the moment you bag a gobbler you've been chasing all season, these moments deserve to be celebrated. 'Sharp Matters' provides a platform for blade owners to share their stories and pass down their legacy to the next generation of hunters, anglers, and outdoor sportsmen and women.

'We know successful pursuits don't happen without diligent preparation, yet these critical moments often happen without a second thought,' Warren said. 'We want to celebrate your success along with the preparation and hard work it took to get there, and tell the whole story.'

In the field, on the water, and on the job – these are the places where sharp knives and tools matter most. What story will you tell?

For more information about Work Sharp Outdoor, visit www.worksharptools.com.
Of course this campaign has the added benefit of publicizing their company name, and there's nothing wrong with that. I'm liking the looks of their sharpeners, which I hadn't seen before I learned of #SharpMatters.
What's your #SharpMatters story? If it's anything like my dad's, it was a life-changing moment. Please share in the comments below.