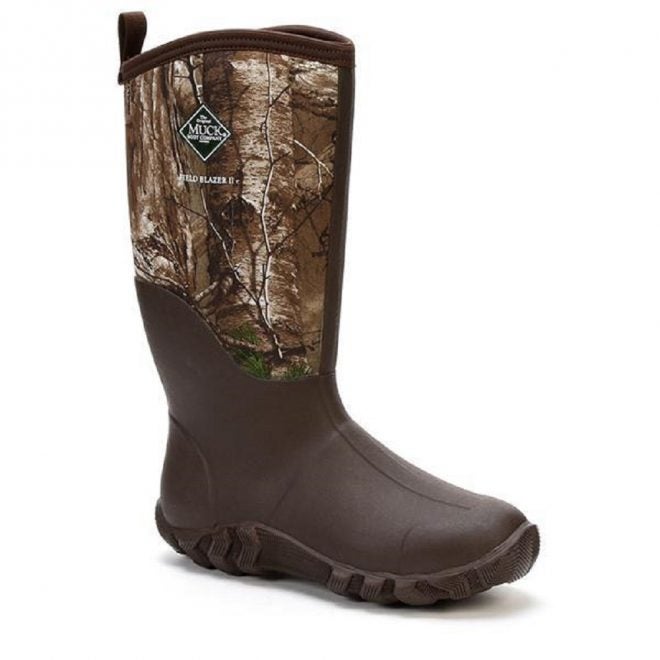 You might want to think twice before you tackle the turkey hunting woods in your deer hunting boots. Those leather insulated boots that got you through those cold days in the woods chasing whitetails or sitting for long hours in a cold tree stand might not be the best footwear for stalking gobblers. There are better choices.
Without any doubt the most utilitarian and indeed popular types of turkey hunting boots these days are of the rubber bottom type with neoprene tops. This type of boot in terms of wear are great. They are easy on and off unlike the older total rubber boots of years past. These boots are waterproof and ideal for working around a wet turkey woods.
The top two brand names for these types of boots are Muck Boots and LaCrosse. Muck brought these types of boots to the market first, and others soon followed suit. Now there are store brand named boots like these from Bass Pro Shops, Cabela's, the Academy brand and others. Be sure to check out the on line reviews of each brand before you buy them. For certain there is a wide swath of quality for all these boots. Stick with a good brand with a top reputation.
In the turkey woods you need these types of boots for a variety of reasons. Comfort is certainly first, but tall boots, at least to mid-calf or higher are best. You're going to encounter water, standing water, creeks, drainages, sloughs, and swamp edges. Leather boots even those touted as waterproof will not beat out the rubber/neoprene types. For sure you do not want water leaking inside or over the tops of boots. Buy the highest top boots that are comfortable.
These boots are best worn with your hunting pants bottoms inside the boots. Why? This keeps your pants dry when wading water, wet grass, or woodland growth. In the south one of the main reasons for doing this is to retard the crawling of ticks up the legs. But, be sure to spray repellant liberally around the tops of the boots.
These boots also have aggressive tread soles to help walking in mud and wet woods. You'll appreciate that feature if you try to climb a creek bank, steep hill, or going downhill. These boots also have good ankle support to keep from twisting your foot when traversing tough terrain. Turkey hunting can be tough business, you'll want good boots.