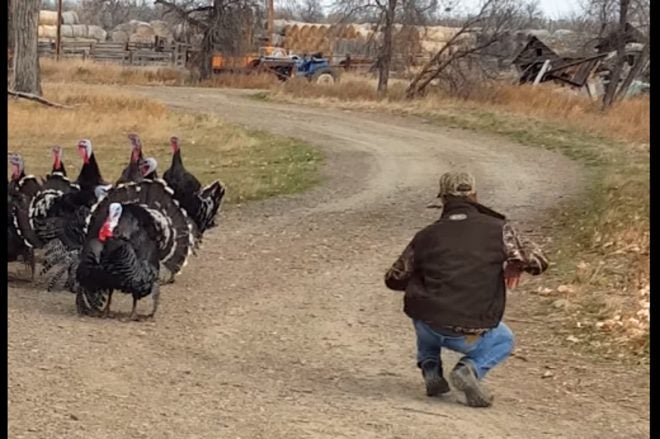 I recently came across a video which serves as an illustration of just how incautious turkeys can become when they're accustomed to humans — and how dumb some humans can be.
It begins when some pheasant hunters heard some distant turkeys on a farm, and one young guy began calling. Sure enough, the turkeys came their way.
We get our first clue to this fellow's IQ by the way he handles his shotgun, repeatedly covering the muzzle with his hand and leaning over it. Derp! He's lucky he didn't kill himself.
As the turkeys get closer and begin to strut, he decides to get in on the act, hunkering down and waddling towards the birds while yelping and gobbling. And it works! The turkeys all become interested and start coming closer.
At one point, hens even begin to charge him, probably because hens are naturally drawn to gobblers, and he's clearly the biggest gobbler in sight! That's when it all becomes too much for him and he runs back towards his buddy with the birds in hot pursuit.
The turkeys show that they're not about to back down, so he goes back to strutting, encouraged by his buddy who offers direction between giggles:
Get in a fight with 'em.

Grab 'em by the leg. Right by the neck.

Grab 'em right by the neck. Hee hee!
Even after he stands up, the birds hang out. It's clear they are used to humans and don't see him as a threat, even when he tries to kick one upside the head right before he runs back to his pal.
Why can't I find turkeys this bold when I'm in the woods hunting them?