Field Knife Perfection: A Review of the Case/Winkler Hambone
Jon Stokes 04.18.19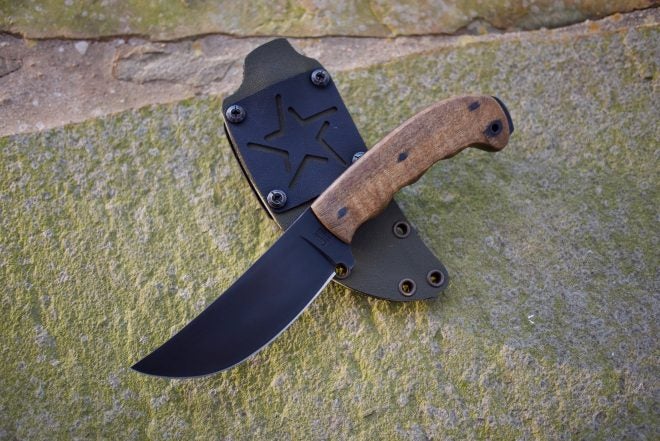 A quality fixed-blade survival knife is the number one tool in the toolbox of hunters, outdoors people, and preppers. You can get a great knife for well under $100, but if you're willing to spring for a full-custom knife then right now you can get some of the best blades ever made in the history of the world.
Modern metallurgy and manufacturing techniques have given us a wealth of high-quality gear, and knife nuts have benefitted especially so from this.
Case Knives is one American company that has kept up with the latest and greatest, continuing to offer quality folding knives in a variety of patterns. But their fixed blade offerings have been few and far between, so when they teamed up with ABS Master Smith Daniel Winkler for the American Heroes series of knives, everyone paying attention knew we were in for some great blades that would fill out this area of their offerings.
The Case/Winkler Hambone is the third knife in this series of collaborations, and arguably the most versatile. Designed in part by U.S. Army veteran and Medal of Honor recipient Clint Romesha, the Hambone gets is name from a pack mule that served at Fort Carson where Romesha was stationed.
I posted some initial thoughts over on reddit last week, but I want to follow up here with a more extensive review.
Blade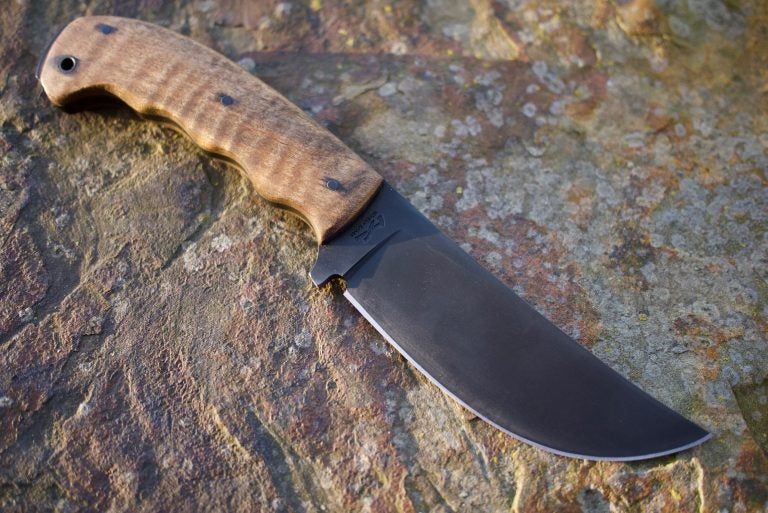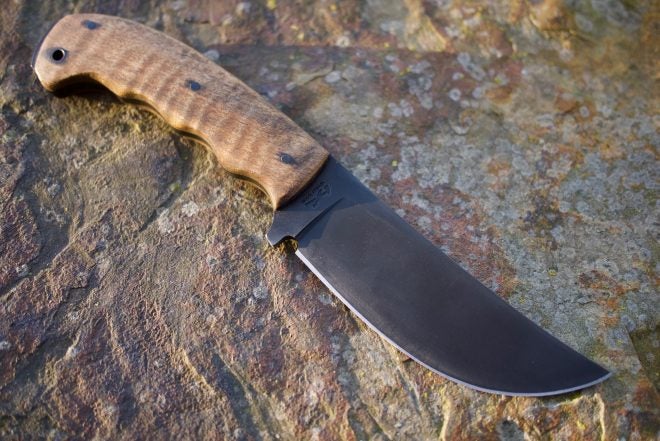 The first thing you notice about the Hambone is the upswept blade, which in combination with the handle gives the knife an almost Persian look. Indeed, a google search for "Persian fighter" will turn up may knives with similar lines. This an ancient and very effective blade shape.
The deep upsweep is popular on fighting and skinning knives, but less so on survival knives for one main reason: tip strength. That upswept point, especially when combined with a distal taper like the Hambone has, typically means a weaker tip that's at risk of breaking under hard use.
Modern, ultra-tough steels like the popular 80CrV2 used most Winklers are tough enough that unless you're engaged in serious knife abuse you'll never break the tip, even in serious survival situation. So it's great to see knife makers bringing this pattern out of the fighting and skinning niches that it has historically been limited to, and introducing it as a viable hard-use field knife option.
Handle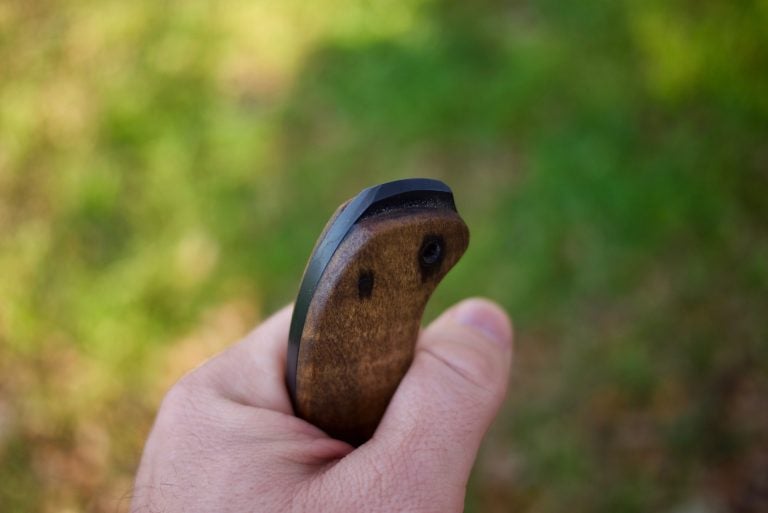 I selected the maple handle option for the Hambone, because I'm a huge fan of wood handles on knives. Micarta has historically been my go-to for hard-use field knives, but I've always loved desert ironwood and have lately really enjoyed using knives with walnut, birch, and maple handles.
I have honestly never in my life had a problem with a quality wood handle on a blade. Furthermore, I've seen wood-handled Winkler knives and tomahawks that have been used for many years in the field by SOF guys, and they look great. A lot of guys select this material, and it does hold up well.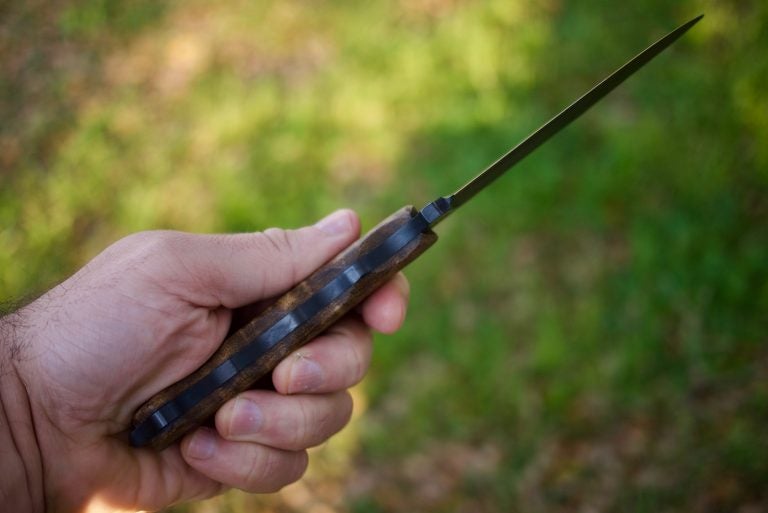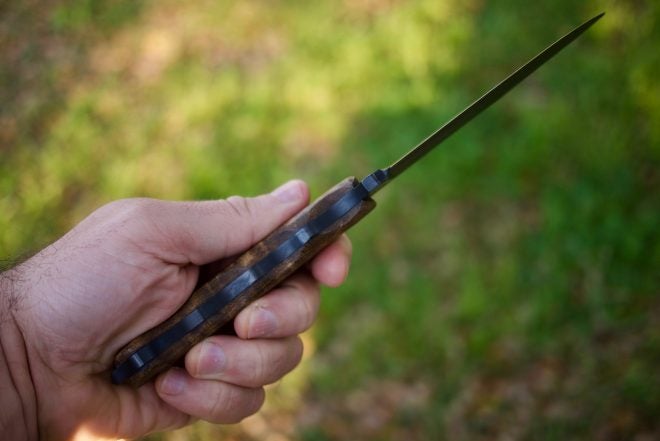 Winkler's maple is unstabilized, which is what I like, but I do finish it with some Tried and True finish, which is a mix of linseed oil and beeswax. This is a flat, sturdy finish that helps the handle repel moisture without changing the look or altering the feel too much.
The finger grooves in the handle are sized properly, and my large hands have no problem keeping a comfortable grip.
There's a lanyard hole in the bottom of the handle, and a glass breaker integrated into the pommel.
Sheath
I love Winkler's sheaths, and this one is no exception. Unlike the other sheaths from this maker, the Hambone sheath does not have an outer layer of leather stitched to the index, but the lack of leather makes this sheath lighter and thinner, which is a plus.
There's the standard Winkler felt lining, so the kydex doesn't scuff up the blade. It's sturdy and I've never had a problem with it coming apart.
The sheath has lanyard holes at the bottom for lashing to a pack, and comes with a clip attachment than be moved to the other side (or turned upside down or sideways) for alternate carry modes.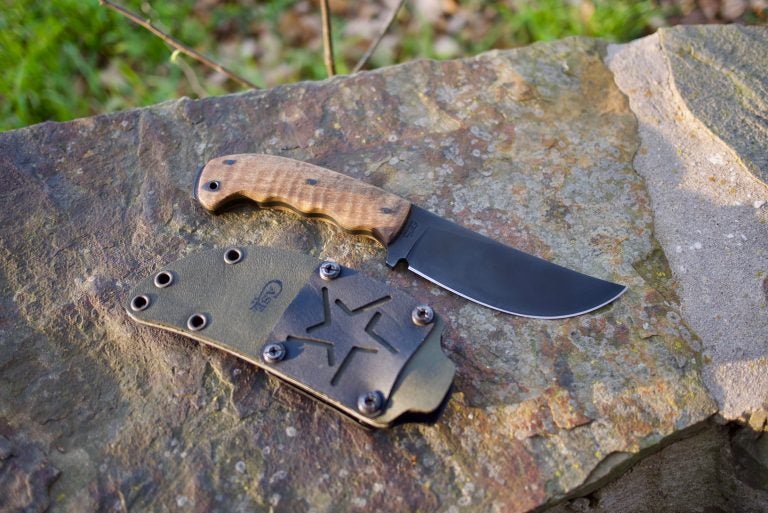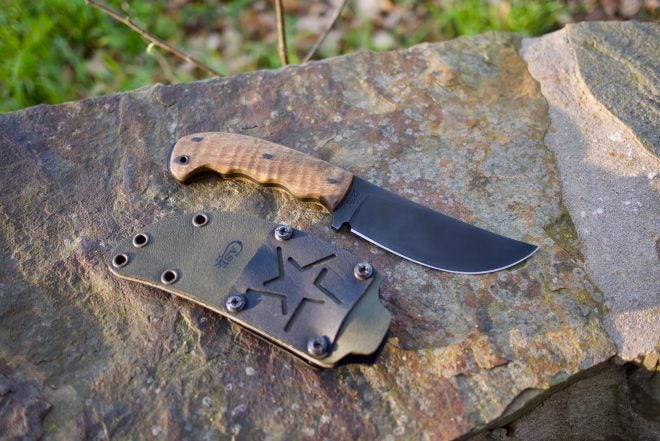 Finally, there's a star on the front, which I like because I live in Texas and it looks like a Texas star. If you live in a lesser state and this star intimidates you, you can easily remove it.
Field testing and use
The Hambone is a thin and easily concealable knife. It's very lightweight and comfortable to carry. It's easy to forget you even have it on your belt. This thinness and ease of concealment set it apart from the two other Case/Winkler collabs. The Skinner is in a fairly bulky dangler sheath, and the Recurve Utility is a thick beast of a knife that definitely prints.
The edge grind on the Hambone is probably the closest of any of the Case collabs to the grind on the famous Winkler Belt Knife, and I can testify that it is very effective. It bites deeply into wood and slices well, and is an all-around aggressive cutter.
The wide belly and upswept point are superior for food and game processing, and the combo works well for wood carving and general camp chores.
The one place this blade comes up a bit short is in chopping ability. This is just not a chopper, mainly because of the lack of mass. The edge wants to bite deep into wood, but you have to back it with a lot of muscle since there's not much blade mass there helping you out. That means this knife is ideal when paired with a well-reviewed hatchet or survival tomahawk to take over the chopping duties.
The spine of the Hambone is sharp enough to strike a ferro rod, and the steel is definitely hard enough. So you're covered for that aspect of fire craft.
Along the spine there are eight stars to represent the eight soldiers' lives lost in the battle for which Romesha was awarded the Medal of Honor. In addition to being beautiful commemorative and decorative touch, they also function as very mild jimping that can improve your grip.
The small sharpening choil at the bottom of the blade is just big enough to make the blade easier to sharpen, but not so big it's likely to hang up when cutting or chopping (a real risk for larger-choiled knives).
The black, cold Caswell finish on the blade isn't as durable as a modern DLC, but it does take a nice patina with use.
Conclusions
Probably the only thing I'd change about this knife is I'd add a fire steel loop to the sheath. Given how modular the sheath is, with the screws and such, all it will take for me to rectify this is a strip of Kydex, a drill, and a heat gun. So it's not that big a shortcoming. Otherwise, the whole package is pretty near perfect.
With the Hambone, Case and Winkler have another winner on their hands. Everything about this knife — performance, features, fit, finish — is all top-notch. I can unreservedly recommend this as a go-to field knife, especially if you're pairing it with a saw or chopper for heavy-duty wood processing.