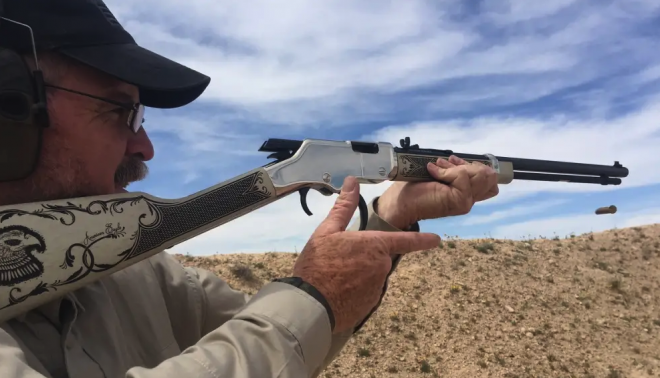 Henry Repeating Arms is well known for its one-of-a-kind tribute rifles. In fact, they produce more tribute rifles than any other gun company. The latest in Henry's tribute lineup is the American Eagle lever action in .22 short, long or long rifle.
The American Eagle rifle is a blend of the old west, US history and heritage giving tribute to the Bald Eagle, the iconic symbol of America since 1782.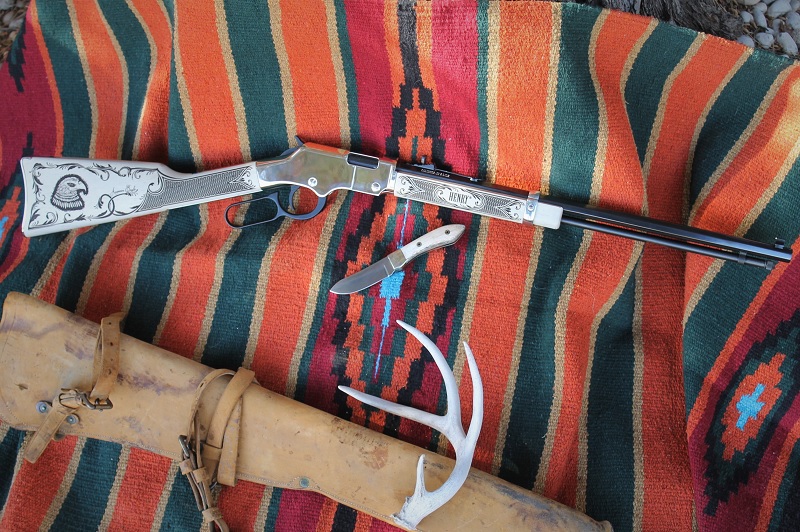 Henry Arms built this rifle on the Golden Boy platform for which they are well known. Instead of the usual gold accents of the Golden Boy, the American Eagle sports a nickel-plated receiver, butt plate, and barrel bands with a blued octagon barrel. Another immediate and obvious difference is the wood finish stock with a look of ivory. This rifle is truly unique with stunning eye appeal, a one-of-a-kind offering even among Henry rifles.
In case you're wondering the stock is in fact American Walnut that "gets layers of primers and ivory color that are sanded down between applications to highlight the wood grain and achieve a natural look," according to a factory description. The ivory-colored wood is then deeply engraved with the buttstock featuring the head of the American bald eagle centered in a leafy, vine-engraved pattern.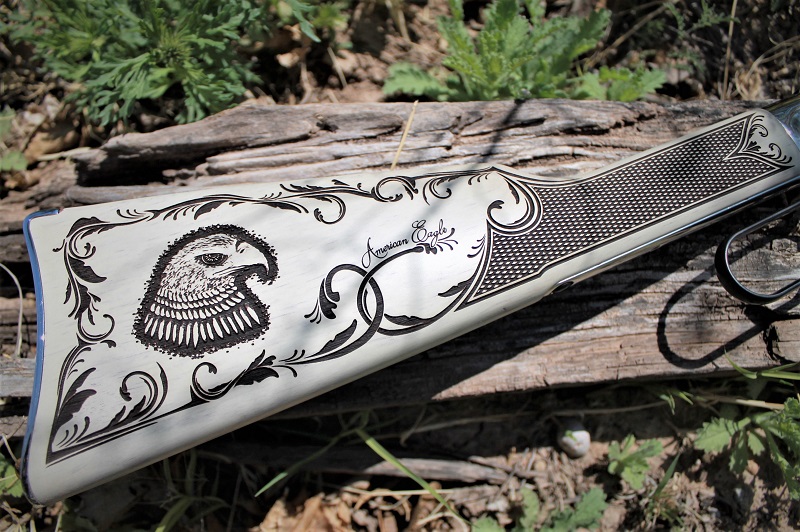 The American Eagle's forend also sports deep checkering and scroll work giving the look and feel of times gone by.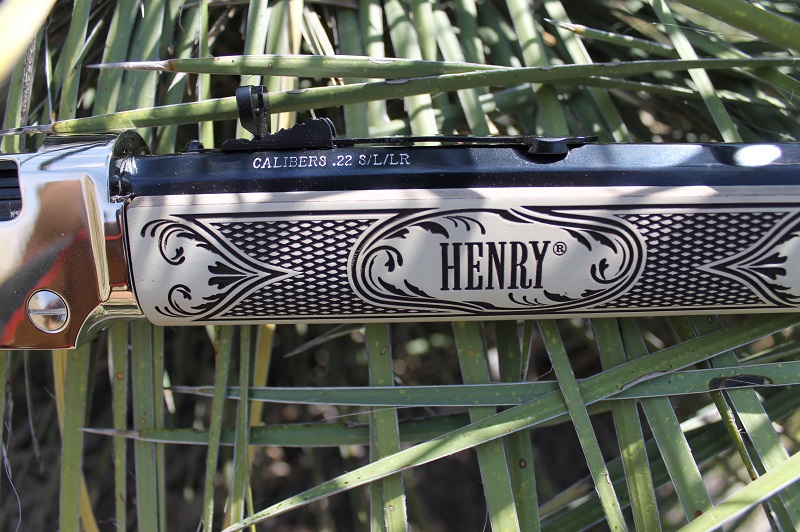 The benchmark of Henry Arms is "made in America or not at all," along with a lifetime guarantee, standard for all of Henrys firearms.
Features of the American Eagle include:
Lever action
Caliber, 22 S/L/LR
Magazine capacity:  16 LR/21 S
Barrel length:  20 inches
Octagon blue steel barrel
Overall length: 38.5 inches
Weight, 6.75 pounds
Length of pull:  14 inches
Receiver and butt plate:  nickel finish
Rear sight:  fully adjustable Buckhorn with diamond insert
Front sight, brass bead
Receiver drilled and tapped for scope mounts
Stock, American Walnut
Safety, ¼ cock
Extras:  Ivory colored stock and forearms with engravings
MSRP is $950, but if a person does some looking the American Eagle can be found in the $700 to $800 price range. Considering the craftsmanship and appeal this rifle has to offer I would say well worth the money either way.
Having personally tested and fired the American Eagle I can say it has the feel and action of a well-built Swiss watch. Firing over 100 rounds of various 22 short and long rifle ammo, this lever action never experienced a hiccup. Shooting for accuracy, I fired a ¼ inch 5 shot group right out of the box at 20 yards.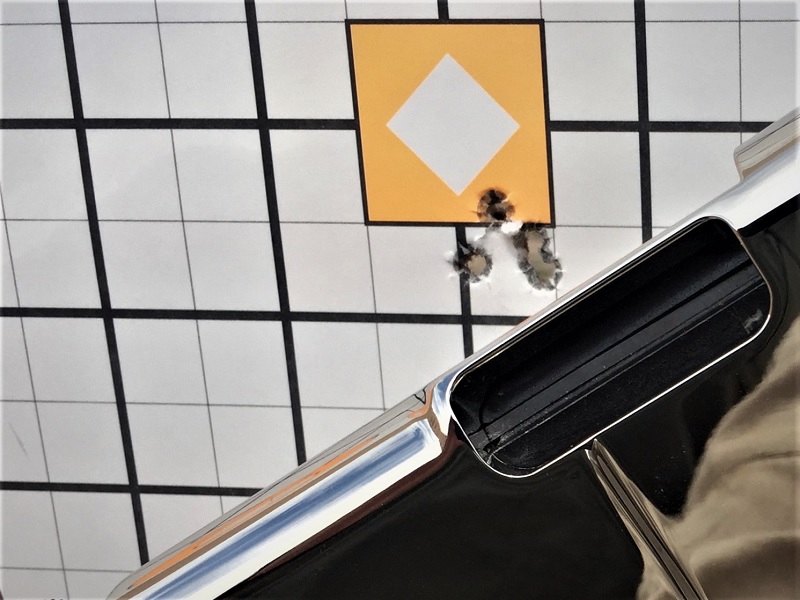 I found the brass bead front sight particularly beneficial in sighting.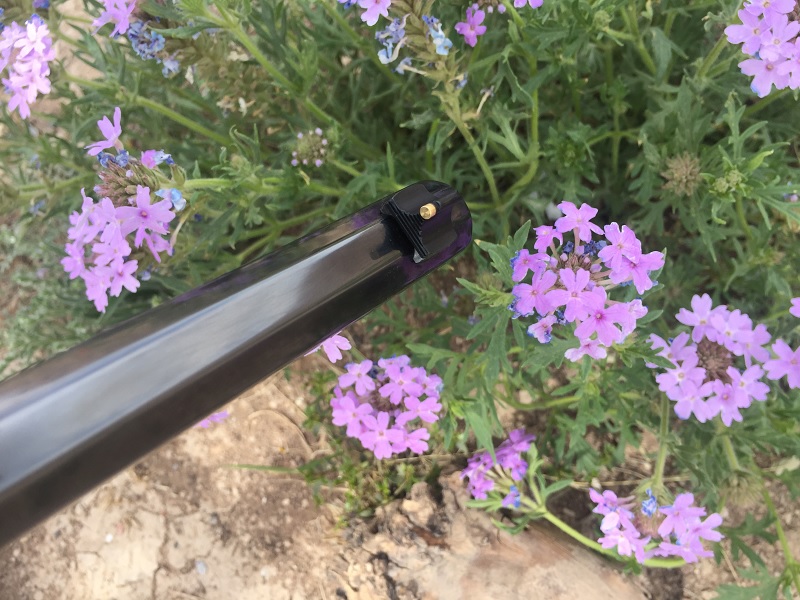 If you are looking for an attractive and unique .22 lever action rifle, one that is a tribute to the history and symbolism of America, and a rifle your kids and grandkids would love to inherit one day, look no further than the Henry American Eagle.