Bill Allowing Florida Armed Teachers Clears the State Senate
Ben Ryder 04.24.19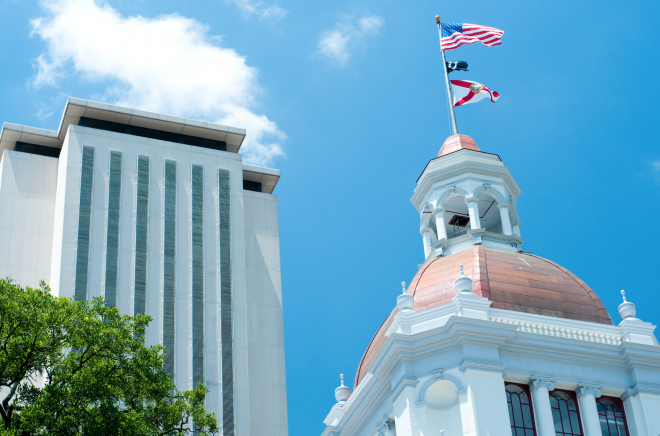 A bill that will create the framework to allow Florida armed teachers has cleared the State Senate and is off to the State House for a vote. Following the shooting at Marjory Stoneman Douglas High School in 2018, a special commission was established to evaluate what measures could be taken to increase security and student safety at schools around the state.
The result of the special commission was a comprehensive legislative package that includes, among other items, a process for teachers to acquire permission to carry a firearm on school grounds. If passed by the House, the next step after becoming law will be a vote by each local school board and charter school governing board to determine if they will authorize teachers to be armed on their individual campuses.
Those school boards who approve of armed teachers in their districts will then work with their local Sheriff's department to establish a "Guardian" program. This Guardian program will identify and train those teachers who meet the requirements set forth by the bill.
To become a Guardian, teachers must complete the following as stated in the bill:
Hold a valid license issued under s. 790.06.
Complete a 144-hour training program, consisting of 12  hours of a certified nationally recognized diversity training  and 132 total hours of comprehensive firearm safety and  proficiency training conducted by Criminal Justice Standards and Training Commission-certified instructors, which must include:

Eighty hours of firearms instruction based on the Criminal Justice Standards and Training Commission's Law  Enforcement Academy training model, which must include at least 10 percent but no more than 20 percent more rounds fired than  associated with academy training. Program participants must  achieve an 85 percent pass rate on the firearms training.
Sixteen hours of instruction in precision pistol.
Eight hours of discretionary shooting instruction using state-of-the-art simulator exercises.
Eight hours of instruction in active shooter or assailant scenarios.
Eight hours of instruction in defensive tactics.
Twelve hours of instruction in legal issues.

Pass a psychological evaluation administered by a psychologist licensed under chapter 490 and designated by the Department of Law Enforcement and submit the results of the evaluation to the sheriff's office. The Department of Law Enforcement is authorized to provide the sheriff's office with mental health and substance abuse data for compliance with this paragraph.
Submit to and pass an initial drug test and subsequent random drug tests in accordance with the requirements of s.112.0455 and the sheriff's office.
Successfully complete ongoing training, weapon inspection, and firearm qualification on at least an annual basis.
The bill looks to have a bright future as Gov. Ron Desantis has expressed his openness to armed teachers and the State House is comprised of 71 Republicans vs. 46 Democrats.
You can read the full text in it's current form here.
Image courtesy of ShutterStock