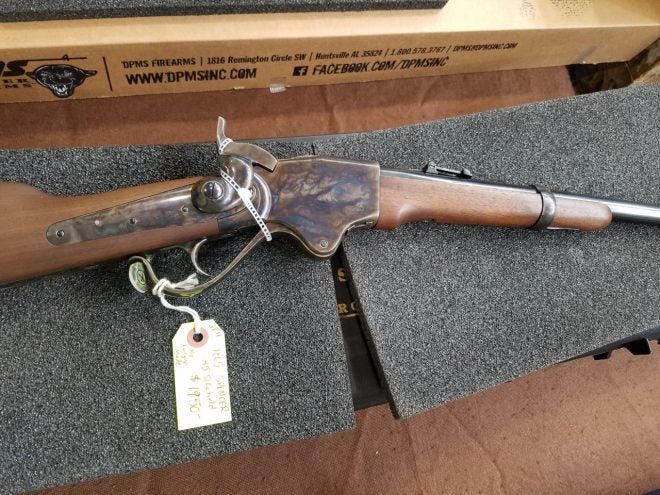 It is debatable if the unique Spencer Rifle expedited the end of the Civil War. In terms of the rifles used in that war, the firepower represented by the Spencer Rifle certainly gave a decided favor to the Union troops that were lucky enough to be issued one toward the end of the war.
The Spencer Rifle was invented by Christopher Spencer who established the Spencer Repeating Rifle Company in Boston, Massachusetts in 1860. Some 144,500 were manufactured in rifle and carbine configurations. They were issued to troops of the 5th Michigan Calvary at Gettysburg commanded by George Custer. After the war the Spencer rifles saw action in the western Indian wars. The Spencer Repeating Rifle Company went out of business in 1869.
Original Spencer's were chamber for the .56-56 rimfire cartridge using 350-360 grain lead bullets. The black powder load consisted of 42-45 grains. Incidentally, sporting wise this load was considered only marginal for deer sized game. In the post-Civil War era the Spencer's were also chambered for the .56-52 and the .56-50. You may recall seeing a Spencer in action by Clint Eastwood as Will Money in the movie Unforgiven.
Today, modern reproduction models of the Spencer Rifle have been manufactured by Armi-Sport of Brescia, Italy. This company began business in 1958 and was later transformed into the Chiappa Firearms Company USA, Ltd when it was established in America. Armi-Sport made faithful reproductions of the Spencer rifle in the one barrel band, carbine models with a 22-inch barrel. Their rifles however were chambered for the .45 Schofield, a round also used in the break open action Schofield revolvers which saw Army action before the 1873 Colt Peacemaker took over.
The .45 Schofield used solid lead bullets weighing from 200 to 250 grains. These rounds generated from 859 fps in the light bullets to 710 fps in the heavier. Bullet energy was rated from 283 to 328 foot pounds. Ammo is still available.
The Armi-Sport Spencer's have all the features of the originals. This includes the saddle ring slide rod on the left side as a sort of sling attachment point likely for a leather braided rope. Stock wood is satin finished walnut. All the steel has a deep mirror blue with the action components finished in a case-hardened blended blue and patina. Sights on the rifle include a blade front and a ladder type rear sight for long range shots. Spencer's are loaded through a metal gate in the butt that feeds a magazine tube up to the action via the loading lever.
The Spencer Rifle played a pivotal role in the Civil War. Original rifles are highly sought after collector's guns. Reproductions like the Chiappa Firearms-Armi-Sport are equally hard to find but would make a great shooting war replica.