There's a New SAINT in town: Field Trial of Springfield Armory's SAINT Victor .308 Rifle
Tom McHale 05.08.19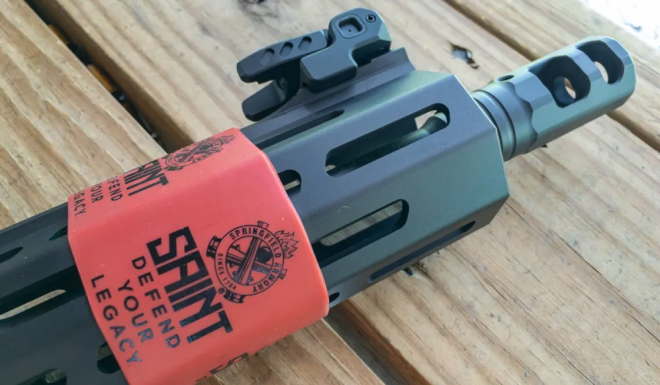 There's a new SAINT in town and it's got some serious thump. The new Springfield Armory SAINT Victor 308 is an AR-10 rifle that delivers more foot-pounds down range while keeping the popular lightweight attributes of the smaller AR-15 platform in play.
At just 7.8 pounds empty, it won't break your back or cause irritable bunion syndrome while toting around the range or field.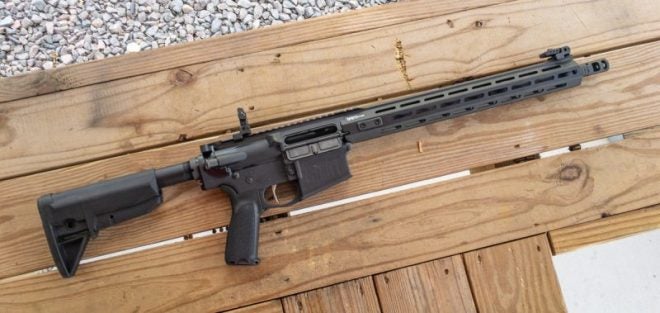 As with other SAINT family members like the SAINT Edge pistol we tested a while back, the SAINT Victor .308 doesn't skimp on details and premium upgrades. Some, like the Bravo Company Mod.3 pistol grip and 6-position butt stock are obvious. Others, like the quick detach sling point on the receiver butt plate don't stand out, but offer thoughtful additions. You'll also notice that the SAINT Victor ships with flip-up front and rear sights. The front is adjustable for elevation with a standard AR sight post tool. The rear adjusts for windage and has both large and small apertures for fast and precise aiming.
The barrel is a 16-inch lightweight profile model with a 1:10 twist rate. It's free-floated and surrounded by a generous 15.5-inch M-LOK compatible handguard with infinity-billion attachment points at the 2, 3, 4, 6, 8, 9, and 10 o'clock positions. The top rail is smooth except for a short rail segment up front for the iron sight and for an inch or so just forward of the receiver rail.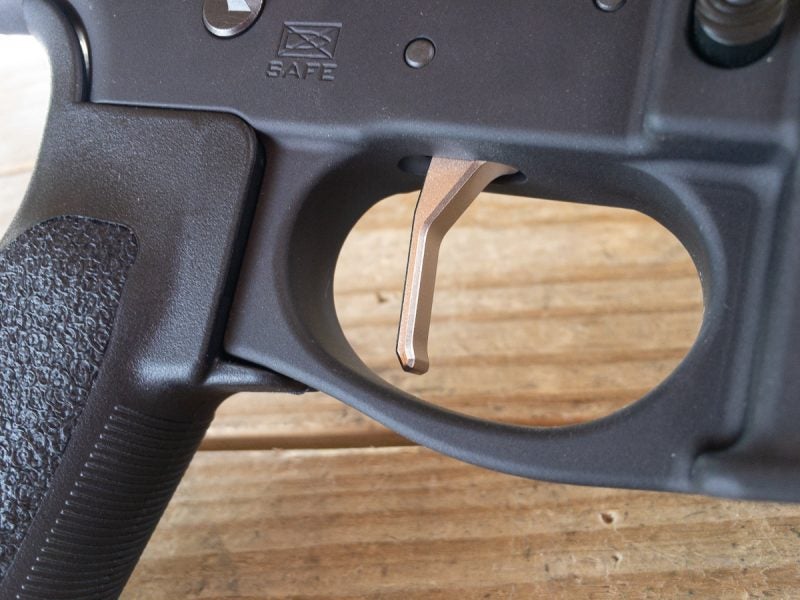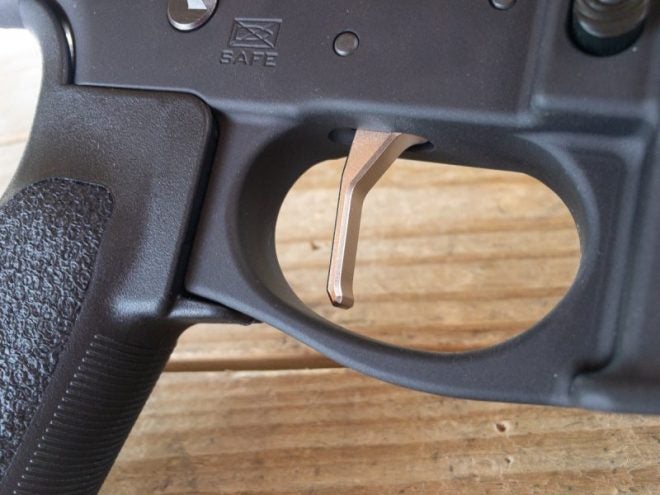 The trigger is not in any way, shape or form a standard AR rifle trigger system. That's a good thing. The nickel boron trigger is flat for starters. The flat surface is exactly finger width. That, combined with the bend at the top and small hook on the bottom gives automatic and consistent trigger finger placement for every shot. The take-up stage is 1/8th of an inch. The next 1/16th of an inch breaks the shot at five pounds of pressure. That surprised me as it feels less due to the smooth and crisp operation. I wouldn't touch this – at all. The five pound pull is perfect for service or defensive use and the quality of the trigger makes it just fine for most other applications too.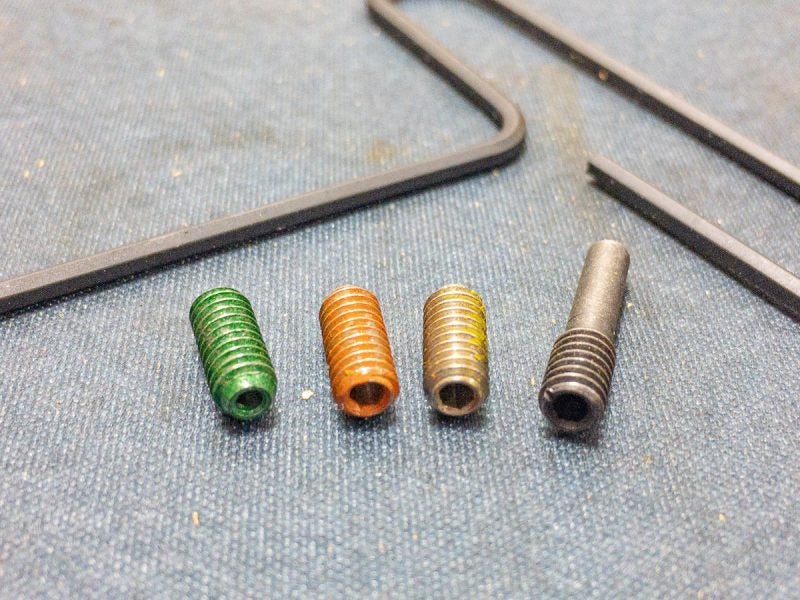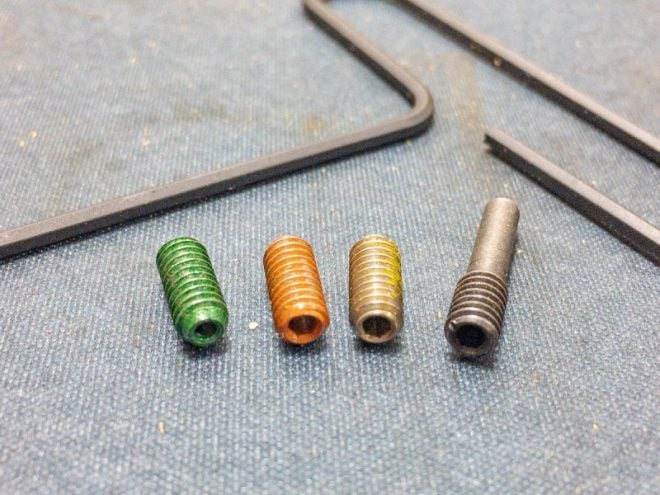 The gas system in the SAINT Victor is adjustable. Rather than a simple gradual adjustment, you have choices in how you want to set up the rifle. The system uses various included plugs that screw into the front of the gas block. The rifle comes with an extra-long Allen key that allows you to access the gas block plug without removing the handguard. The rifle ships with a fixed plug in place that provides the highest gas volume to the bolt carrier group through the gas block and tube. This is called Mode 1 and is optimized for standard ammunition. If you're going to use higher pressure ammo, then you'll want to reduce the gas flow using one of the following two methods.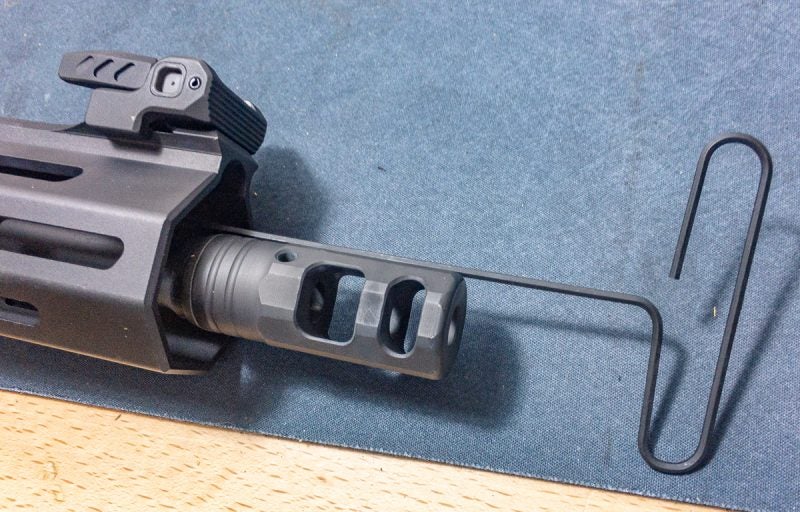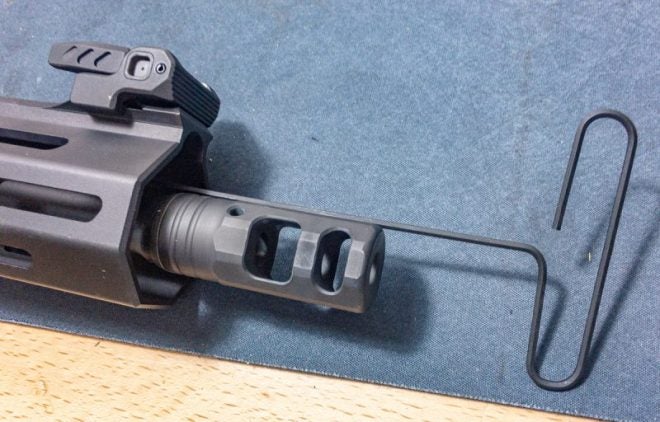 Mode 2 uses three Included gas block screws with bored out centers to create gas flow adjustments. Each has a different size hole, or metering jet, which serves to regulate how much gas is allowed to escape rather than going back through the tube to the action. They're color-coded for easy identification. The orange jet is biggest with a 0.081 bore, then yellow with 0.071, and green with a 0.062-inch hole. If you want to go this route, you start with the largest jet, which releases more gas out of the front of the block and sends less to the action. If the rifle functions, you're done. If the bolt won't lock back or ejection is erratic, move to smaller jets until function is perfect. This mode is mainly for higher pressure ammo use and not for suppressors. It's also the "set it and forget it" solution if you want to any tuning to your most commonly used ammo.
Mode 3 uses a screw that adjusts the gas flow from zero to mostly all going to the action. This is screw adjustable, so you can set it exactly where you want. If you're using a suppressor, this is the mode you'll use as you can tweak it down for less gas flow when shooting with a can.
Shooting the SAINT Victor
For testing, I mounted a couple of different scopes on different outings including a Burris XTR II 2-10×42 and a Burris 2-10×50. Those I used for accuracy testing so I didn't have to rely on my ancient eyes. I also mounted a Steiner P4Xi 1-4×24 for general purpose shooting. That's the one that would live on this rifle I think. I just didn't want to rely on the 4x maximum magnification for shooting precise groups.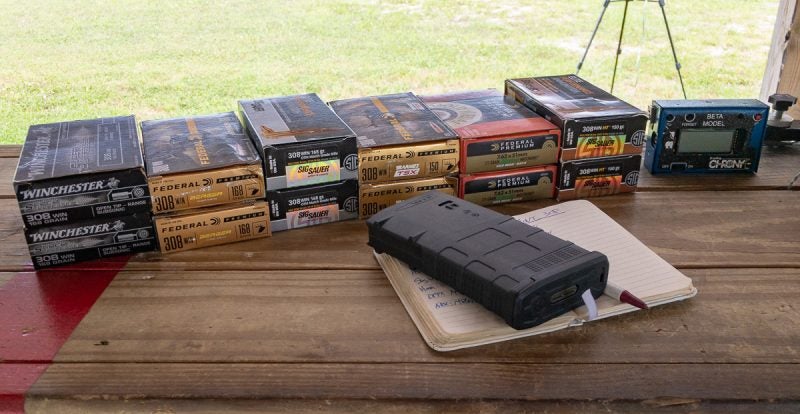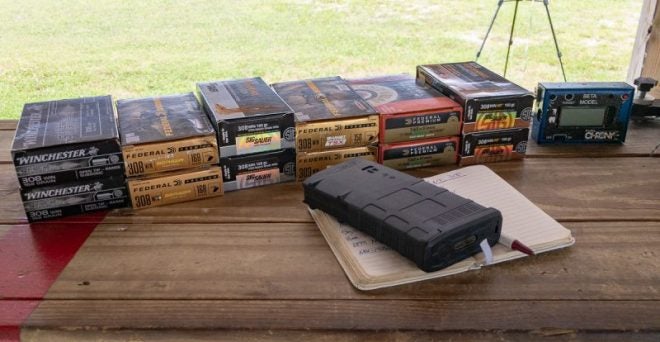 As expected with nearly any pairing of a flip up site and a true optic, not a red dot, I had to remove the rear sight to mount the scope with its Burris P.E.P.R mount. Of course, if you use a higher mount or use an optic with a longer eye relief, like a red dot or long eye relief scope, you can mount it a bit farther forward and keep the flip up sight in place.
I took the SAINT Victor to the range with a pile of quality .308 ammo with bullet weights ranging from 150 to 175 grains. Rifles all have their preferences, and I didn't know what weight and bullet type the Victor would appreciate, so I tried a variety.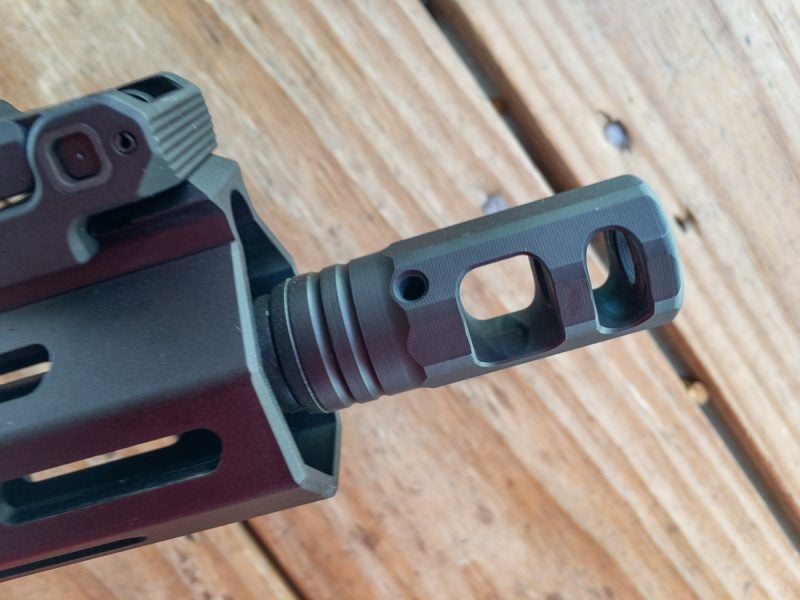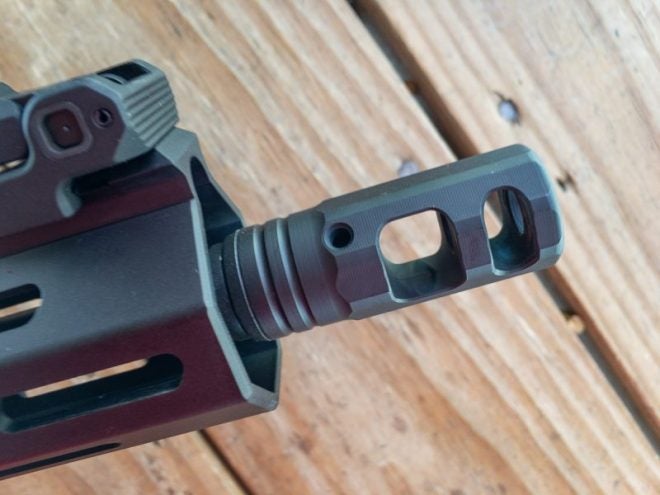 In general terms, I found the SAINT Victor to speak loudly but carry a small recoil. The muzzle brake directs gas out to both sides and straight up. The idea is to accomplish two things: counter overall recoil effects and keep the muzzle down so the rifle remains on target. The cost of that shooting convenience is noise. You'll hear it, especially if you're standing to the side of the shooter. In fact, you'll feel it. When my range officer buddy was shooting, I manned a spotting scope about 10 feet to his left. With every shot, I experienced a refreshing breeze of hot gas. Yes, I love the smell of muzzle exhaust in the morning. Anyway, the effectiveness of the brake is excellent. I had no trouble at all watching my shots impact at 100 yards, even with the Burris XTR II 2-10×42 scope I was using scope set to maximum magnification. The muzzle didn't bounce upward with any of the ammo types I shot.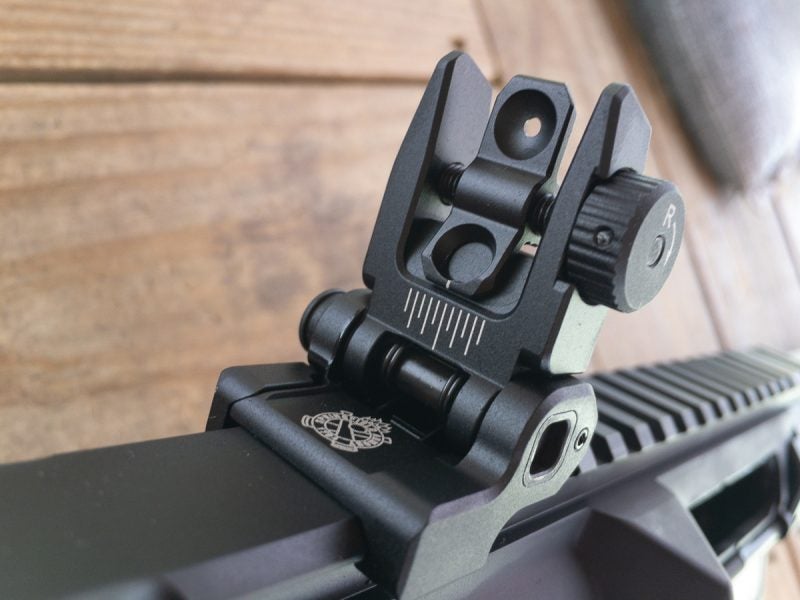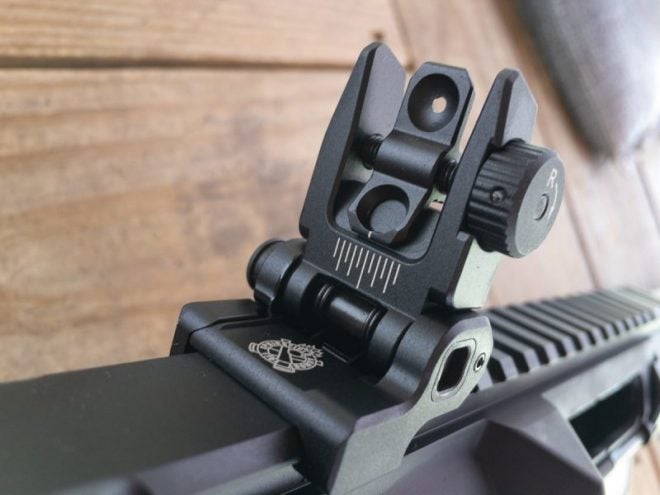 Got too much gas? As previously discussed, the Victor comes with an adjustable gas system. It's kind of neat how it works, and I'll certainly experiment with it more. For the initial outing I left the pull-power gas plug in place, so full gas was coming back to the receiver. This didn't agree with the Sig Sauer HT 150-grain ammo because the bolt movement was too fast from too much gas coming through the system. With the bolt coming back before pressure dropped enough to allow the case to retract from the chamber walls, a number of primers dropped out and the extractor yanked the crap out of some case rims. It's important to note that this was a gas function with one ammo type, not an issue related to over-pressure or chamber size. Every cartridge uses a different combination of powder type and volume. Some have different burn characteristics and produce gas at a different rate and volume like this particular load. When there's too much too fast, recoil begins a hair earlier than it should. That's one of the reasons for an adjustable gas system on this AR-10 rifle.


On my next outing, I installed the largest jet gas plug, which provides the lowest amount of gas pressure to the bolt carrier group. As expected, problem solved with the Sig Sauer HT. Better yet, the system functioned perfectly with all the ammo tested on the previous outing. Since I'd now found a setting that provided perfect function with less wear and tear on the rifle, I'll just stick with this configuration unless I do something wonky with a different type of ammo or add a suppressor.
Here's what I found with each type of ammo tested.
Sig Sauer Open Tip Match 168-grain
This 168-grain match bullet left the Victor's 16-inch barrel at an average of 2,491.0 feet per second according to my Shooting Chrony Beta Master placed 15 feet down range. Between myself and a couple of range friends, we fired (3) five-shot groups from 100 yards and measured center-to-center diameters of 1.66, 1.93, and 1.28 inches. That averages out to 1.62 inches. That 1.28-inch group was the last one fired of the day and it did appear that as the barrel broke in a bit, groups tightened up.
Federal Premium Berger Hybrid Hunter 168-grain
The Berger Hybrid Hunter projectiles moved just a hair faster than the Sig OTM's of the same weight. I measured average velocity of 2,509.0 feet per second. The Bergers had the best group so far at just 0.85 inches for five shots at 100 yards. The average of three groups by different shooters came in at 1.57 inches.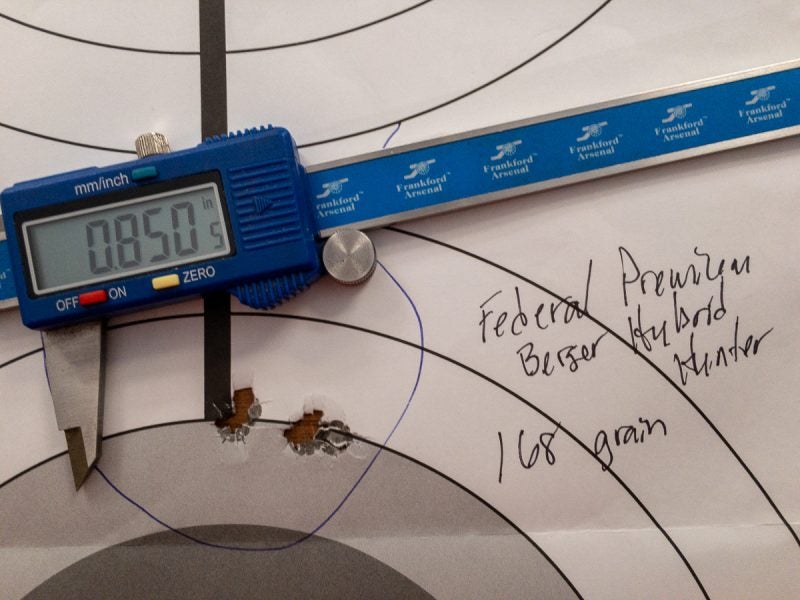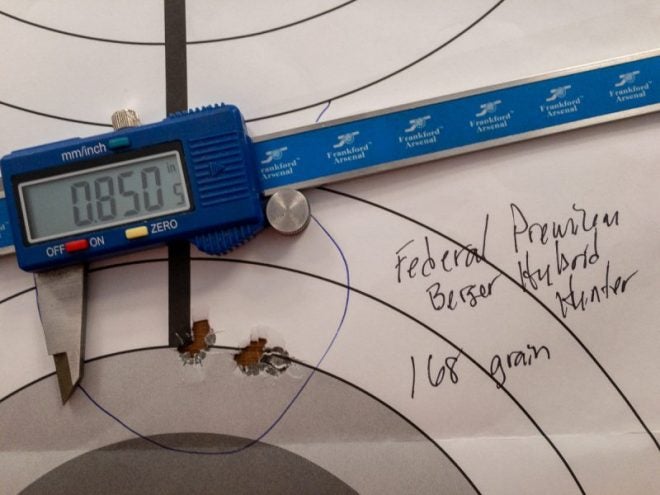 Federal Premium Barnes TSX 150-grain
These all copper bullets moved somewhat faster due to their 150-grain weight. I clocked the average at 2,700.7 feet per second. I fired (2) five-shot groups from 100 yards and measured diameters of 2.57 and 1.67 inches for an average of 2.12 inches.
Federal Gold Medal Match 175-grain
I chronographed these relative heavies at a surprising 2,524.3 feet per second. Even though heavier by seven grains, they were faster than the two other 168-grain loads I tested.
Accuracy with the 175-grain bullets was also surprising. I've fired this load (the same lot even) from several bolt and AR-10 rifles and gotten sub-inch five-shot groups from 100 yards from the bolt guns and inch to inch and a half averages from AR-10s. However, the SAINT Victor didn't seem to like these particular heavier 175-grain projectiles. I fired the first two five-shot groups and measured 3.2 and 3.9 inches on target. It just goes to show, every rifle like different ammo, even varieties within the same weight range.
I re-shot the Federal 175's on my next range outing after I had adjusted the gas system and found that the groups improved considerably. Whether that's a result of gas adjustments, the rifle breaking in, or Global Warming I can't say. The two 100-yard groups I shot (five rounds) measured 2.38 and 1.69 inches. While better than the first outing, it's clear that this rifle prefers the lighter weight projectiles in the 150 to 168-grain range.
Federal Gold Medal Match 168-grain
The Federal Gold Medal Match 168-grain load won top honors for accuracy. The first two groups I fired from 100 yards measured 1.11 and 1.00 inches for five shots. Not bad at all.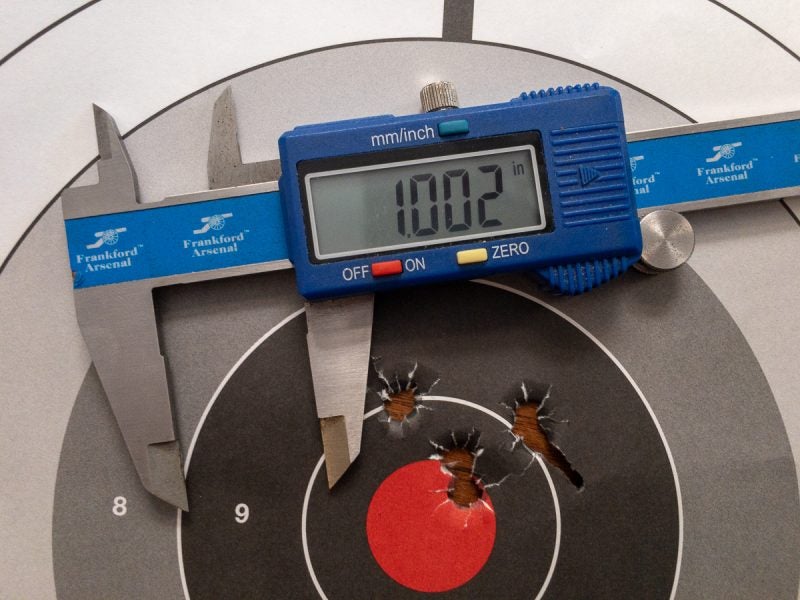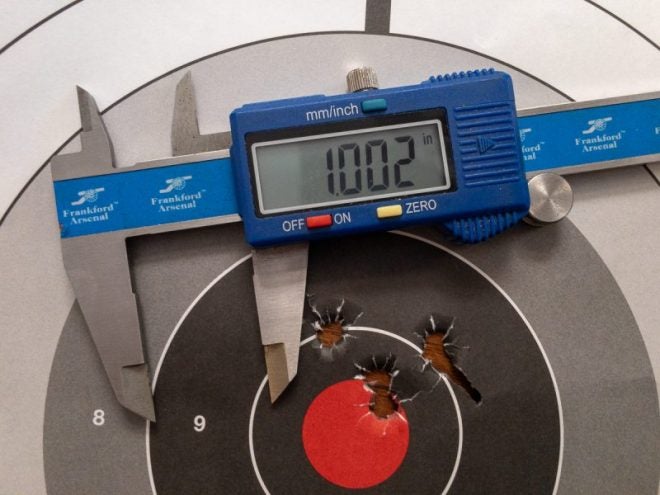 Sig Sauer HT 150-grain
Once I got the gas pressure right for this ammo, it performed well. I shot a couple of five-shot 100-yard groups and they averaged 1.23 inches with the best group coming in at just 1.03 inches across.
Winchester Super Suppressed 168-grain
I tested this one just for fun. It's a 169-grain bullet loaded to subsonic velocity. I measured the quiet pop of shots at just 1,074.7 feet per second. Compared to the regular .308 loads, this one sounded more like a Daisy Red Ryder BB gun. I'll have to put a suppressor on for the next outing, but even unsuppressed this load was ultra-quiet. By the way, this ammo wouldn't cycle the action, but I didn't expect it to.
The accuracy and point of impact surprised me. I expected this round to have a trajectory like a brick, but it held up pretty well over its 100-yard flight. Using ballpark math, I figured the point of impact was maybe four to six inches lower than the full-power rounds. The groups were respectable at 2.09 and 2.39 inches. This ammo could be fun…
Closing Arguments
This is a nice AR-10. I appreciate the light weight too. As part of the weight savings comes from the lightweight profile barrel, you may notice some heating and accuracy variance with heavy shooting sessions, but that's always the tradeoff. I do like the options for tuning the gas system to your specific shooting scenarios. Having the "set and forget" alternate gas plug option is handy as you can set that screw in place and not worry about it self-adjusting over time. Adding the variable jet give you suppressor options while maintaining the flexibility to shoot loud and proud.
Specifications
Caliber: .308 WIN
Magazine: (1) 20-Round Magpul Gen M3
Barrel: 16″ Lightweight Profile, CMV Melonite® Finish Internal & External, 1:10
Front Sight: Spring Loaded Flip-Up
Rear Sight: Spring Loaded Flip-Up
Muzzle Device: SA Muzzle Brake
Trigger: Enhanced Nickel Boron Coated Single Stage Flat
Upper Receiver: Forged Type III Hard Coat Anodized, 7075 T6 Aluminum
Lower Receiver :Forged Type III Hard Coat Anodized, 7075 T6 Aluminum w/ Accu-Tite™ Tension System
Handguard: 15″ M-Lok Aluminum Free Float w/ SA Locking Tabs
Gas System: Direct Impingement Mid-Length, Pinned Gas Block
Receiver Extension: Mil-Spec Dimension Carbine, 7075 T6 Type III Hard Anodized Aluminum
Bolt Carrier Group: MPT, Melonite® Finish w/ 9310 Steel Bolt
Buffer Assembly: Carbine "H" Heavy Tungsten Buffer
Charging Handle: GI Style
Butt Stock: Bravo Company 6-Position
Safety: 90 Degree Single Sided
Trigger Guard: Integral to Receiver
Pistol Grip :Bravo Company Mod.3
Length: 37.75″ Fully Extended, 34.5″ Collapsed
Weight: 7 lbs 11 oz (with magazine)
MSRP: $1,399