Kim Rhode's Shooting Excellence Continues to Set Records
Russ Chastain 05.14.19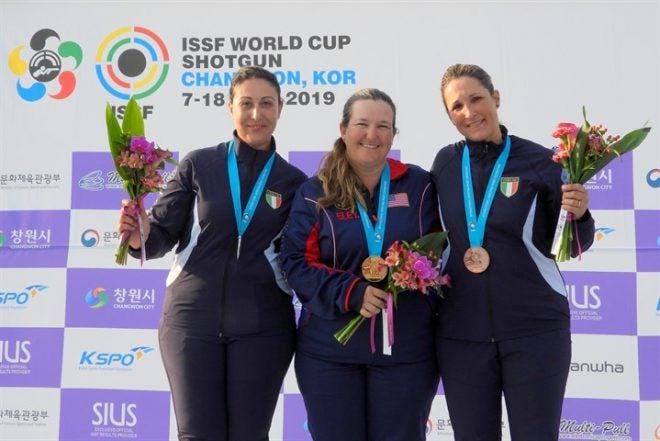 It's no secret that Kim Rhode is an excellent shooter. This fantastic female has been winning with her shotgun internationally since age 13! And now at age 39, she's made history yet again.
I last wrote about Kim here in 2016, after she'd just won a Bronze Medal in Women's Skeet at the Summer Olympics in Rio. That one win made her:
The only woman to ever win individual medals at six consecutive Olympics
The only U.S.A. athlete to win six consecutive individual Olympic medals
The first U.S.A. athlete to win those medals in six consecutive Summer Olympic Games
On May 10, 2019, she made shooting history yet again, this time at the International Shooting Sport Federation (ISSF) World Cup shooting event in Changwon, South Korea. Kim won Gold for the fourth time in a row, becoming the first person to ever do so. On top of that, she has now won the World Cup 21 times — which is 10 more wins than anyone else has achieved!
In Changwon, Rhode missed only six targets out of 185 between qualifying and Friday's final. She hit 57 out of 60, including her final 31 shots, in the final to beat Italy's Diana Bacosi, who hit 54 of 60. Fellow Italian Chiara Cainero won bronze as Italy claimed the two available quota spots for the Olympic Games Tokyo 2020. The U.S. already secured its two quota spots in women's skeet.
She's truly a force to be reckoned with.
Rhode, who will turn 40 in July, has won all three 2019 World Cups, as well as the September 2018 stop in Tucson, Arizona.

'It's like a flashback to the Rio podium,' Rhode said from Korea. 'I'm still in shock and can't believe I've been able to win four straight World Cup golds. With so much talent out there on the line, I still can't believe I am lucky enough to wear the Red, White and Blue, let alone win gold. Right now, I'm focused on making the 2020 U.S. Olympic Team, so all the rest is just icing on the cake!'
I can attest that Kim Rhode is just as humble in person as she sounds in her public statements. I've been blessed to have met and spoken with her a few times and she's always been down-to-earth and real.
What a great person to represent the USA and the shooting sports.