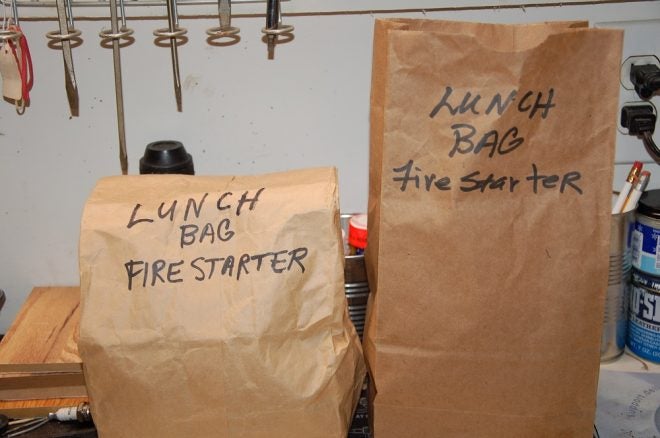 Most preppers are probably into recycling as well as many other socially-redeeming programs. In our city, we get recycled paper products and plastics picked up once a week, and that is supposed to offset our monthly water and sewer costs. I've never seen evidence of that, but even so, recycling is a good thing.
Though you don't see classic brown paper lunch sacks much anymore, a few come through the house once in a while. I hate throwing them away or even adding them to the recycle bin. I know they have many other potential uses. Accordingly I have found one use to suggest to all preppers, campers, hikers and other outdoors people wanting help starting a quick fire.
These brown paper bags can easily be filled with other smaller pieces of waste paper that are easy to set afire to initiate a camp fire, cook fire, warming fire, or just a comfort fire for use in the wilderness, bugout camp, or wherever. Even if nearby tinder is damp or wet, these mini fire kits will help get things going.
What to use to stuff these paper sacks? You know you get tons of junk mail every week at home and work. These worthless sales flyers and promotional documents make excellent fire fodder. That is nearly any paper but the slick photo type paper, which often does not burn well. Tear any junk mail in half or strips and drop them into a brown paper bag. The bags only need to be about half to three-quarters full to make them useful for starting a fire.
I pull all the subscription renewal cards out of the magazines as I read them. I stack these up until I head to the garage the next time. I usually have 3-4 bags to fill up at any given time. After dinner if the napkins are only partially soiled, I collect those, too. Same with many paper towels used to wipe up spills or other uses. These burn quickly and clean.
Once the mini fire kit bags are nearly filled, just roll the top down tight to secure it. If you have the time or inclination, you could staple the top closed as well to keep the contents contained, especially if you decide to store several in a vehicle EDC storage box. If you collect paper matchbooks, include one of them, so the fire kit is complete and ready to use, anywhere, any time.