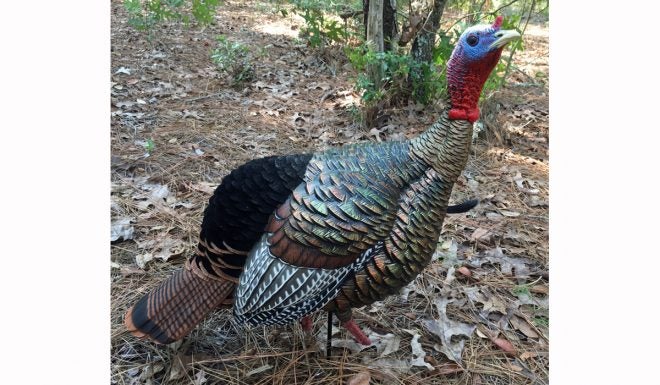 The HDR Jake turkey decoy from Avian-X is the most realistic-looking decoy I've ever used or seen in person. It looks like the young male turkey it's supposed to portray, and that's its job. It's also bulky and heavy, so there's a trade-off. But the quality is certainly there, and the handy-dandy tote bag can double as a turkey-totin' sack when you finally clobber that gobbler.
Avian-X offers quite a few turkey decoys, all of them with impressive details and easy setup. The HDR Jake is designed to represent a young male that's just coming into its own. The idea is that an old boss gobbler will spot the jake, possibly with a hen if you add another decoy, and hustle on in to kick the jake's butt. That's where you come in, hopefully whomping that big longbeard to give you bragging rights back at camp.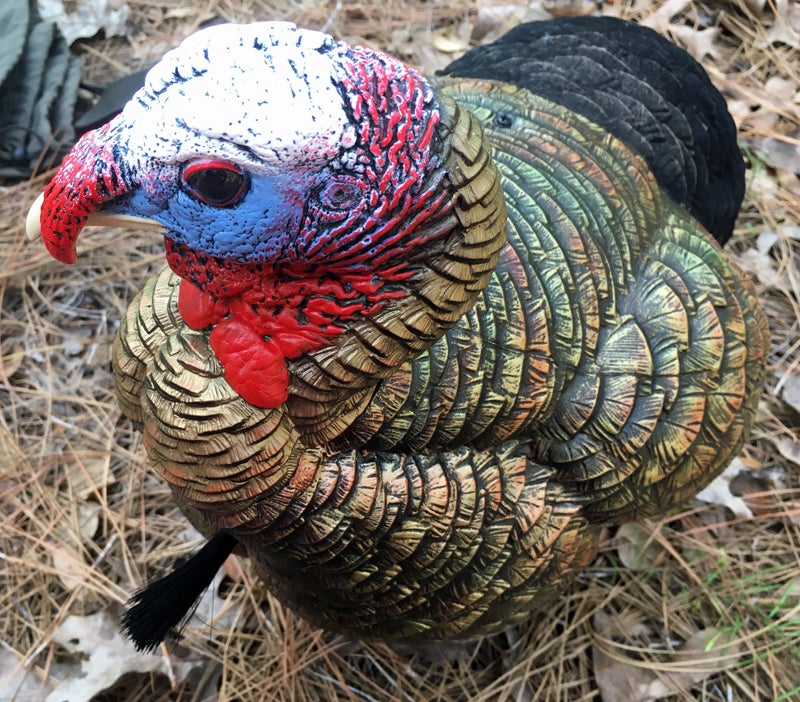 Manufacturer Specs
Avian-X says:
Introducing the Heavy-Duty Realism (HDR) line of turkey decoys. Blow-molded into reality from hand-carved designs, these decoys harness unbeatable detail and durability.
Quarter-Strut jake decoy has relaxed body posture
Carbon stake included, stores inside decoy body
Carry bag with drawstring closure and shoulder strap
Blow-molded design that should last
Rubber molded leg stumps with authentic spur detail
Customize setups with two removable heads: aggressive and submissive
Pre-attached synthetic beard
True-to-life paint scheme and feather detail
Pairs well with any hen to mimic breeding pair
Realistic movement without unnatural spin
MSRP: $149.99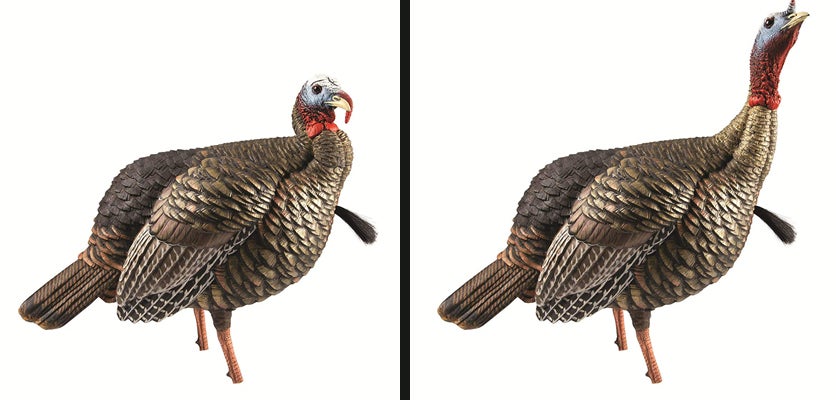 I saw no weight in the specs, but I weighed mine and came up with a total of 3.6 pounds for the decoy body, stake, both heads, and bag.
In the Field
The first time I used this decoy, I was impressed at the ease of setup. I set my Miss Purr-Fect hen decoy on the ground in front of the jake so any approaching gobbler would think the jake was about to get lucky, therefore the big bird would hustle in to break them up to show his dominance. No gobblers showed up, but I was impressed by the ease of setup and realistic appearance of the HDR Jake.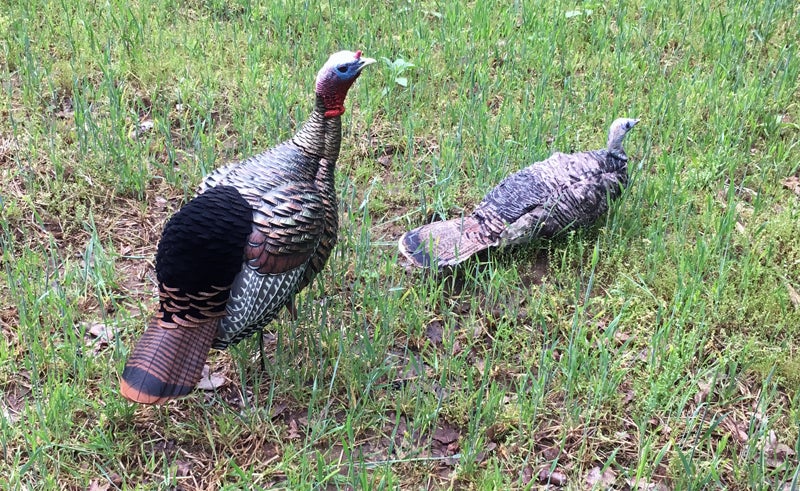 The specs say the HDR Jake is "sized slightly smaller than a real turkey, but just big enough that he'll make a tempting target." You won't think it's small when you're carrying it around, and once it's set up it looks plenty realistic.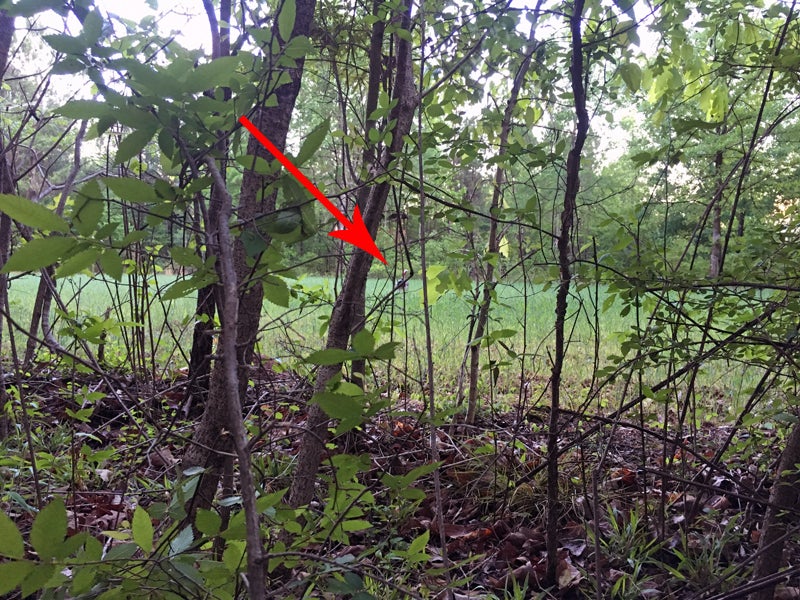 They also say, "His quarter-strut posture and subdominant feathers signal he's content but ready to fight if an opportunity presents itself. Choose from two included removable head designs -– one with a curled, aggressive posture, the other straight and submissive." Swapping heads is easy to do.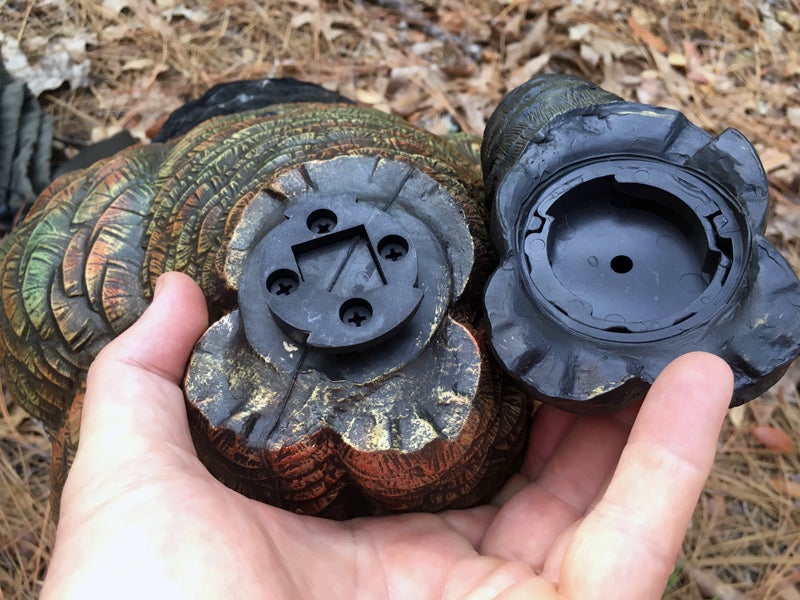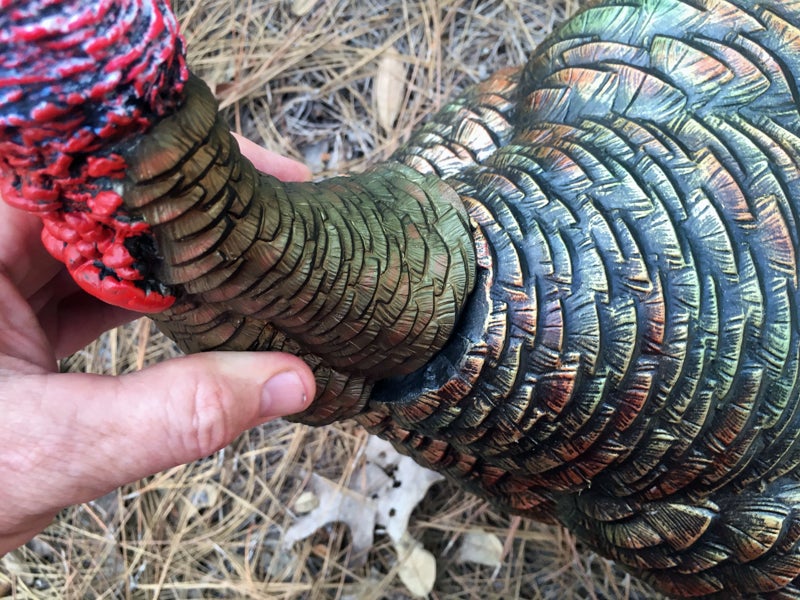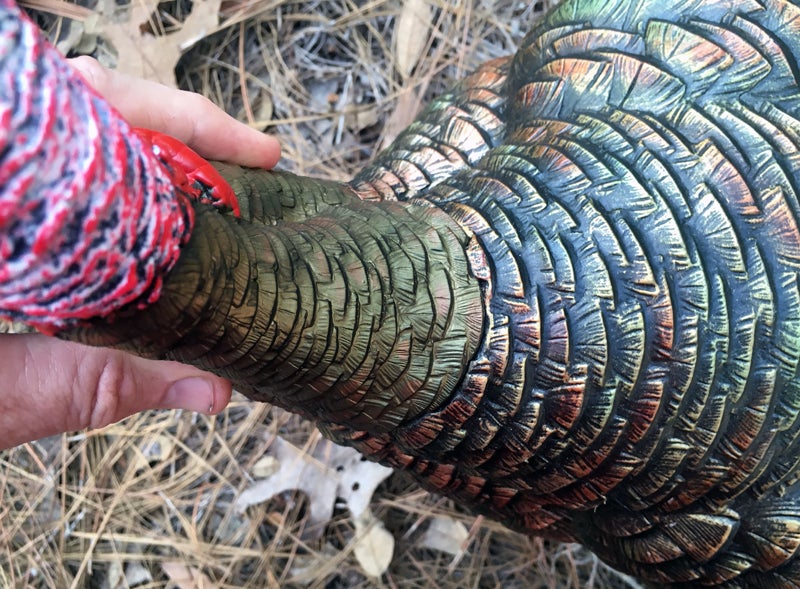 Other Features
The tote bag that comes with this decoy is big — and it has to be. The decoy will fit inside with a head on, as long as it's the aggressive "curled neck" head. Length of the headless body is about 25 inches.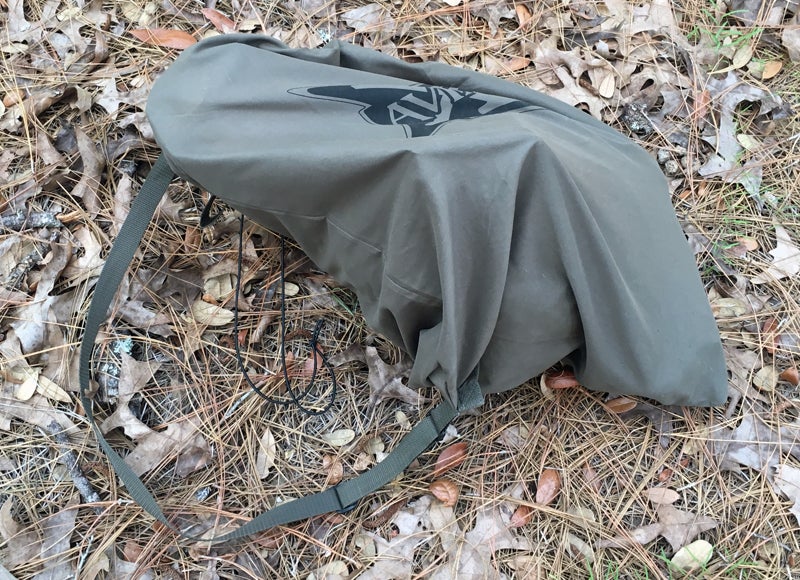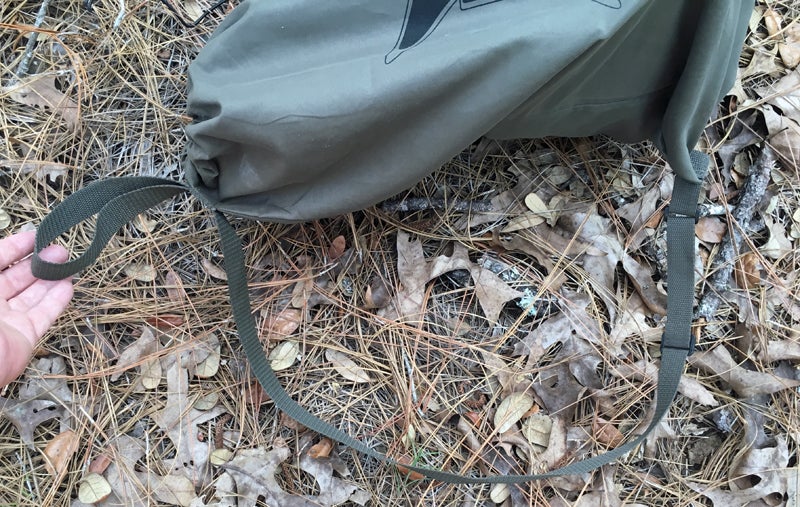 The HDR Jake's beard is sized right for a young male, but mine is a bit more "erect" than most.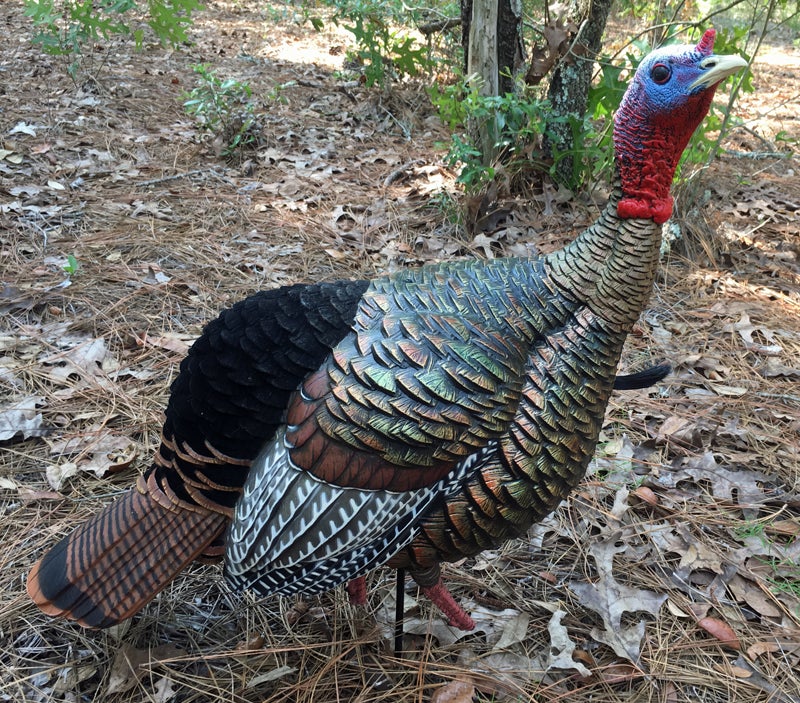 The beard's bristles are in a sort of plastic cup, which is then secured to the decoy.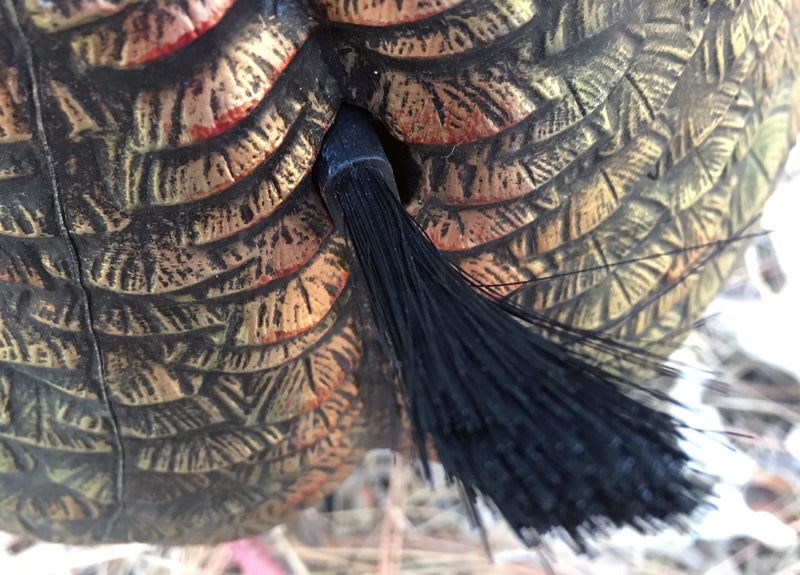 I don't think the upturned beard will bother a real turkey, but if I was concerned I'd simply tape or tie the beard down and leave it that way for a while.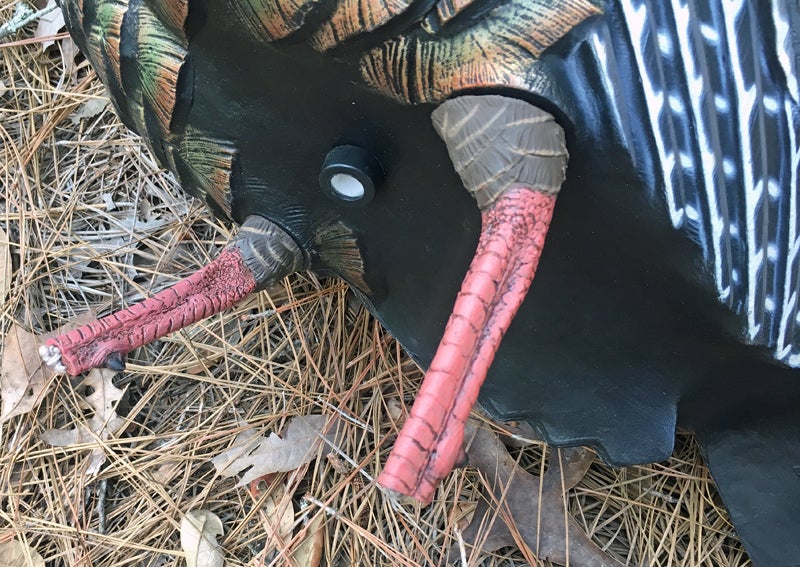 Even the legs look good on this decoy… and they are not mounted rigidly, so they have some "give" when stowing, deploying, and carrying the decoy.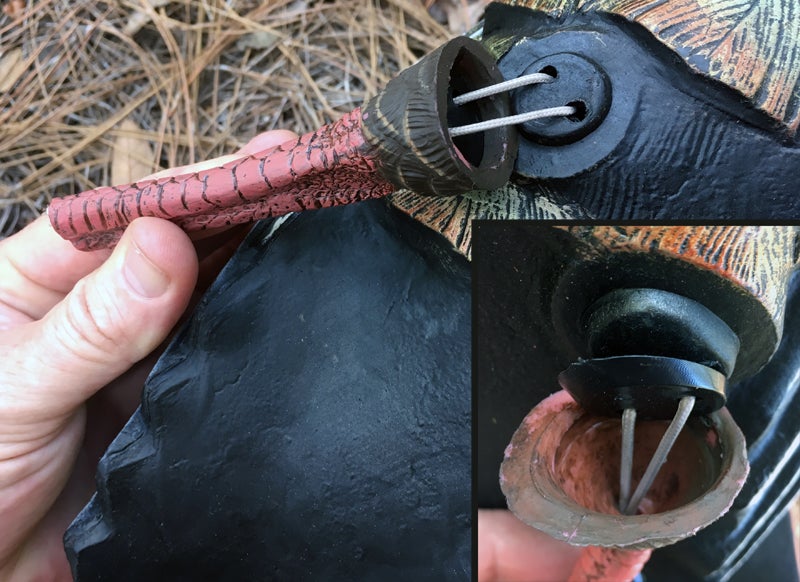 The stake is simple, which is good. It also stores well, which is not always the case. For the HDR Jake, the stake slips into a hole under the tail and is retained there by friction.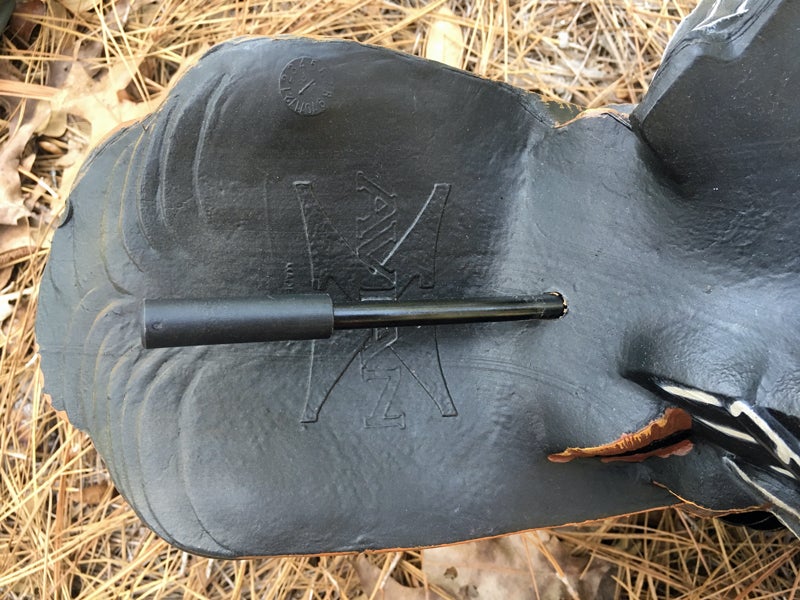 The carbon-fiber stake is pointed at the bottom and has a larger cylindrical portion up top. The larger part makes it easier to stick into the ground, and fits well in its hole.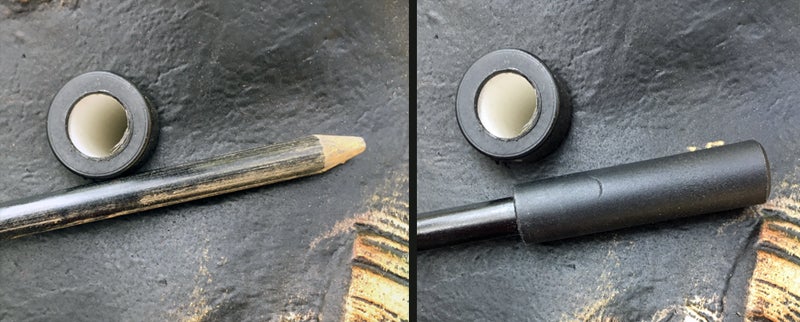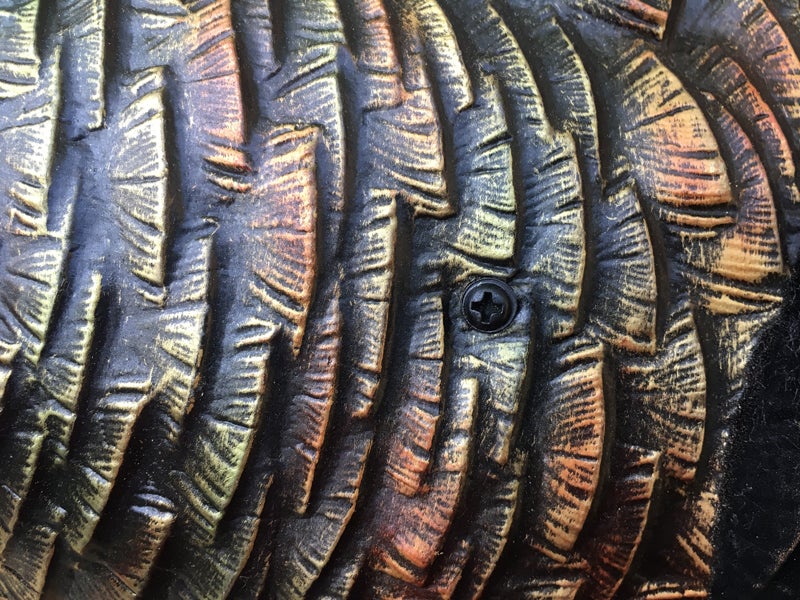 Conclusion
If you want a realistic turkey decoy, you should take a look at Avian-X. Yes they're bulky and have some heft, but they're really good-looking and the shoulder strap can be adjusted for a diagonal shoulder carry that isn't bad.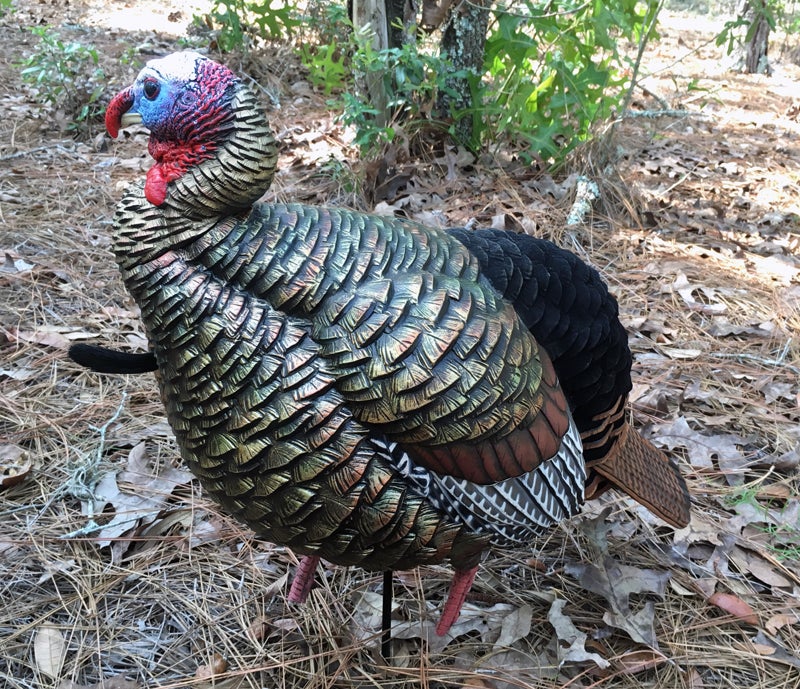 This decoy is tough, the build quality is great, and I fully expect this decoy to last for many seasons.
I appreciate how the HDR Jake turkey decoy is non-threatening to the mature gobblers that I pursue. I found the Avian-X HDR Jake turkey decoy here for $128.74 shipped.