"Build A Custom 10/22® Step By Step" by Amilcar Hernandez
Adam Scepaniak 06.03.19

Many of us nowadays are building AR15s from stripped lower receivers because of the cheap ammunition and to gain intimate knowledge of the inner workings of the firearms we own. An even more affordable route on a platform that has been around just as long is the Ruger 10/22. There is a pantheon of parts on the internet and at gun stores to modify and upgrade a basic Ruger 10/22 rifle.
Do you know how to safely and correctly gunsmith in all of those parts though? Someone who does is Amilcar Hernandez, and he's been doing just that for 45 years. He recently published a book on the topic dubbed "Build A Custom 10/22® Step By Step" to share his wealth of knowledge on the subject.
This soft-cover book of 175 pages will show you how to build a custom 10/22 that will shoot straighter than you thought possible. Every detail to the build is explained in easy-to-understand text and beautiful high-definition photos that show you exactly what needs to be done and how to do it.

Whether you are a beginner or an experienced gunsmith, you will have a custom-built, tack-driving 10/22 by the end of this book. Inside you will find lists of resources and websites where you can buy parts and find additional information. From stocks to barrels, from bolt-actions to optics, this book gives you all you need to complete your project and make you proud of what you've accomplished.

Many of the photos are close-ups that have captions that explain what you are looking at. Arrows that overlay the photos point to the exact spot on the gun part that needs your attention. This book takes all the guesswork out of a 10/22 gun build so that you can jump right in and do it yourself, no matter what your skill level.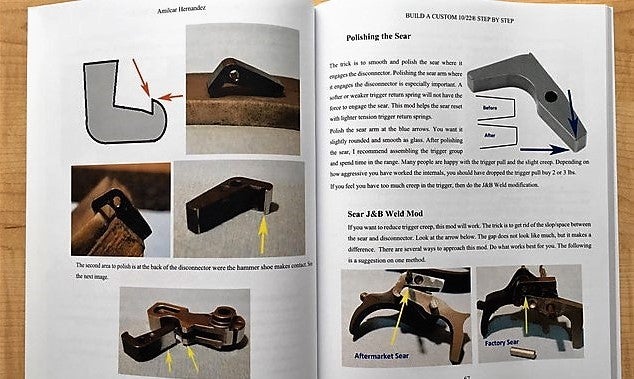 When it comes to building up a custom rifle like a Ruger 10/22 it can be a tremendously rewarding process as well as an excruciatingly stressful one (if it's your first go-around). That is why Amilcar Hernandez loaded his book with close-up pictures and arrows documenting exactly where your focus should be throughout the entire process. If you want to reach out to him for more specific questions, he is active on social media and has provided his personal email address and phone number.
"Build A Custom 10/22® Step By Step" by Amilcar Hernandez is currently available on Amazon for $29.99 as a soft cover book for those who might be interested.
For our readers out there, how many of you have built up a customized Ruger 10/22 before? Are there any specific things you wish you'd known going into a build like that? Let us know all of your thoughts in the Comments below! We always appreciate your feedback.