CCI Brings Out New Magnum Rimfire VNT Varmint Rounds
Russ Chastain 06.04.19

CCI has come out with a couple new magnum rimfire loads loaded with the Speer VNT bullet that was unveiled last year. The new loads are for 22 WMR and 17 Mach 2 and they say the VNT bullet "extends the range and devastation of magnum rimfire."
In 2018, CCI extended the range and devastation of magnum rimfire with the VNT bullet design. Now, it's offering VNT loads in 17 Mach 2 and 22 WMR. The new loads feature a Speer bullet with an extremely thin jacket and polymer tip that team up to offer flat trajectories, superb long-range accuracy and explosive terminal performance on impact.
Manufacturer Specs
New 17 Mach 2 and 22 WMR loads
Speer VNT bullet design
Very thin jacket combined with precision-built polymer tip
Devastating terminal effect on varmints
Flat shooting and highly accurate to maximize effective range
Consistent CCI priming
Nickel-plated cases
The 22 magnum (WMR) ammo retails for almost 50% more than the .17-caliber stuff, at 50 rounds for $15.95. The bullets do weigh almost twice as much (30 grains vs. 17), so maybe that's why?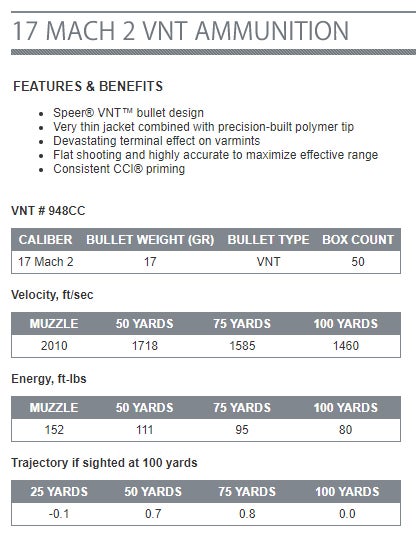 17 Mach 2 VNT ammo has an MSRP of $10.95 per 50.
If you're itching to try out these new loads, your wait shouldn't be too long. They say shipments are currently being delivered to dealers.