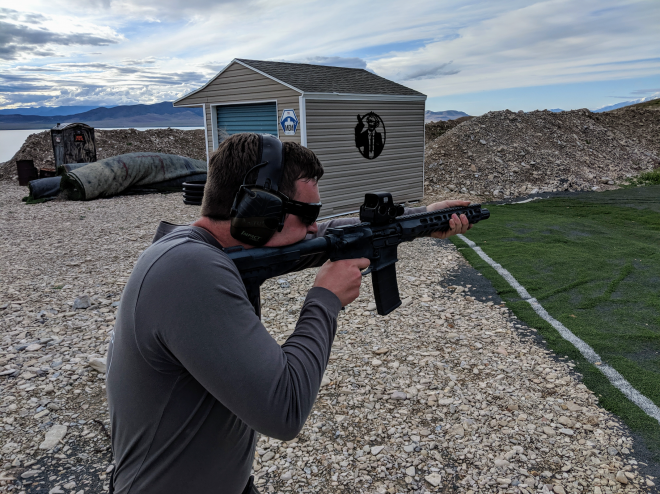 Holographic sights have become widely used in the civilian sector, law enforcement, and military for many years. The concept of using a hologram to display a reticle has clearly withstood the test of time. When it comes to holographic sights, none are more well-known and well-established than EOTech. In fact, the first holographic sight I saw used in combat was an EOTech — and that was nearly 14 years ago. A lot has changed with EOTech's offerings (and other holographic sights) since 2005, including power source, mounting footprint, battery life, and so on. What has largely remained the same, however, is the color of the reticle.
Red is the default color for almost all holographic sights, illuminated rifle scopes, and, of course, red dot optics. But thanks to science and optics manufacturers paying attention to science, we the shooters can benefit. Whether you're using a holographic sight in a competition or a gunfight, speed is essential, no matter how marginal the improvement may be.
It has long been established that the human eye can see green in a greater variety of shades than any other color, and it is more sensitive to green than any other color as well. It is upon this logic that EOTech has developed a green reticle for the EXPS2 sighting system. The question is: Does it make for a better optic?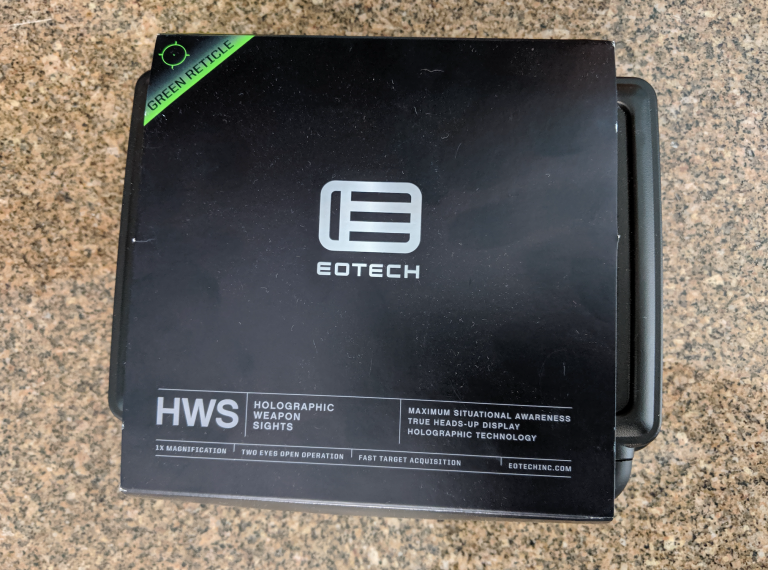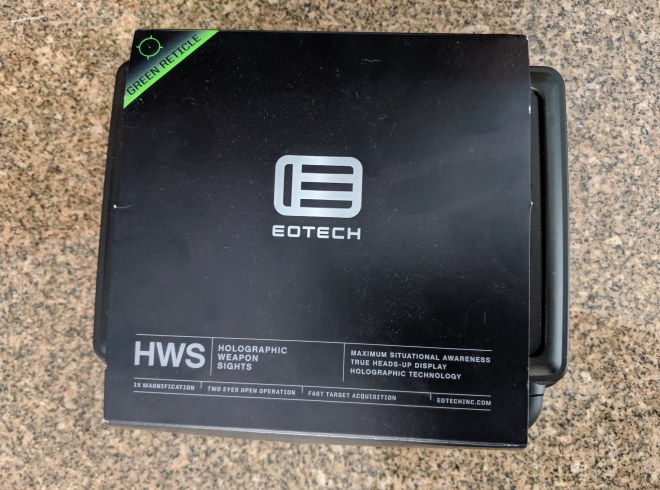 Specs
Below are the specs of the EXPS2 green weapon sight:
Magnification: 1x

Field of View: 90' at 100 yards / 29.9 meters at 100 meters

Power Source: 1 x CR123

Runtime: 600 hours

Eye Relief: Unlimited

Sight Window: 1.2" x 0.8"

Mounting: Picatinny / Weaver rail systems

Eye Relief: Unlimited

Elevation / Windage Click Value: 0.5 MOA

Total Elevation Adjustment: 40 MOA

Total Windage Adjustment: 40 MOA

Water Resistance: Waterproof

External Dimensions: 3.8" x 2.5" x 2.1" (LWH)

Weight: 9 oz / 225g

Reticle: 68 MOA Circle / 1 MOA Dot (Green)
Size/Weight
If you are familiar with EOTech you are no doubt aware of the XPS and EXPS sights (both the 2s and 3s). The EXPS2 with the green reticle is the exact same size and weight as the EXPS2 with the red reticle, which is to say that its efficient package occupies a minimal amount of rail space and has simple on/off functions as well as  intuitive brightness control. Battery replacement is also quite easy: simply unscrew the cable-tethered cap and insert a fresh CR123.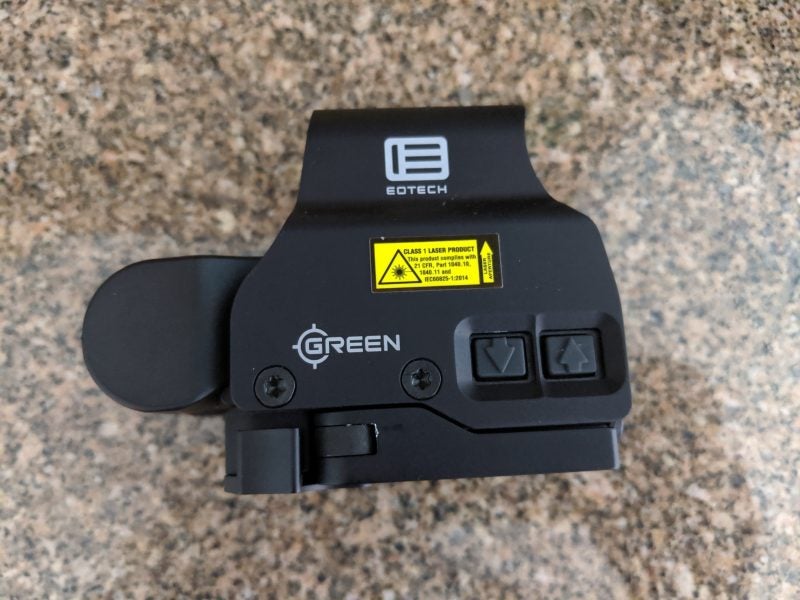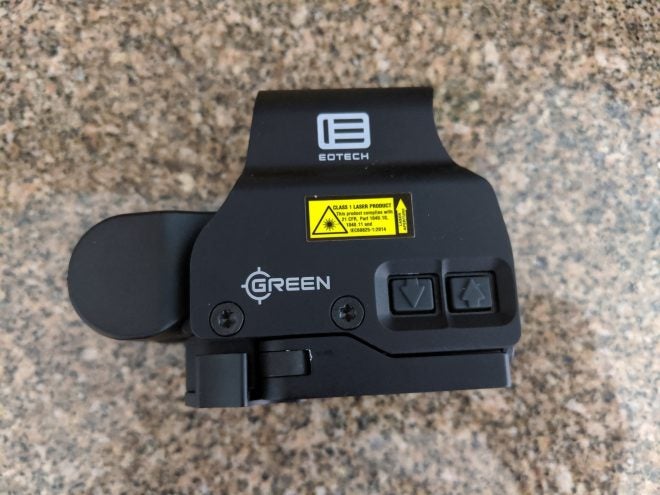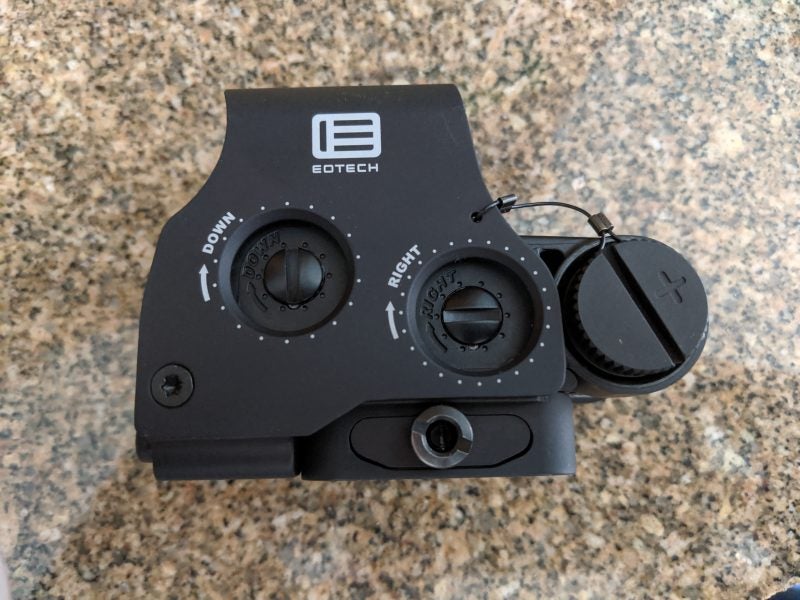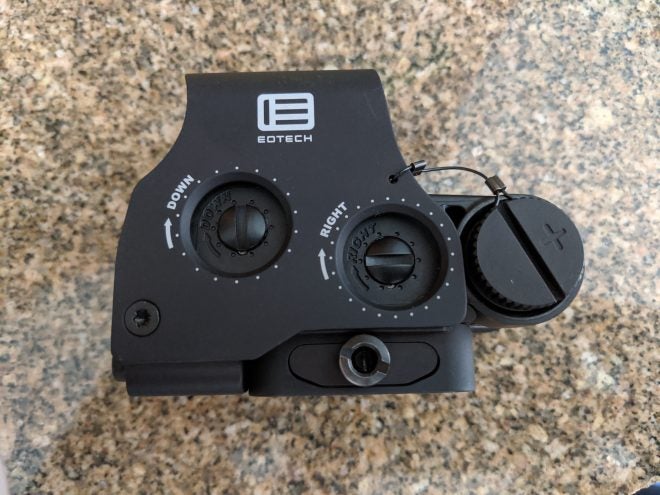 Reticle
The only technical difference between this reticle and their standard "doughnut of death" is the color. To my eye, at least, the green reticle seems a bit more fuzzy. I know some readers may be thinking that EOTech reticles are always somewhat fuzzy, and such is the nature of holographic reticles. But no, this particular reticle is different.
I have spent many, many hours behind an EOTech and know the reticle well, as my primary carbine is adorned with one of their red offerings. Now, there is a possibility that it's just the way my eyes see the reticle, or perhaps it's just this particular EXPS2, so I won't speak in absolutes — but I simply don't see this reticle as clearly as others.
Speaking to the reticle design alone, I do like it, and have liked it for many years. I find it easy to pick up when looking through the optic, intuitive to use while shooting, and I feel like I have an easier time staring through any holographic EOTech for an extended duration than just about any red-dot offering.
Range Use
To me, the EXPS2 Green performed similar to my red reticle EOTech on the range. I was able to turn up the brightness of the green reticle to a level well beyond what my red one is capable of, which is nice for sure.
I didn't feel like the green reticle allowed me to shoot any faster than I do with the red, but this wasn't confirmed by a direct timed comparison. I did notice that I was surprised by the reticle being green a few times when running drills, which is obviously a familiarity issue and not a critique of the optic. I'm sure many of you will have a similar experience if you've traditionally used red reticle optics for a long time.
As expected, there were no functional issues with the optic. Zeroing was a simple process at 25 yards, and the zero remained stable throughout the range session, several un-cased truck rides, and across several shooters. I've come to expect this kind of consistency from EOTech and have yet to be disappointed.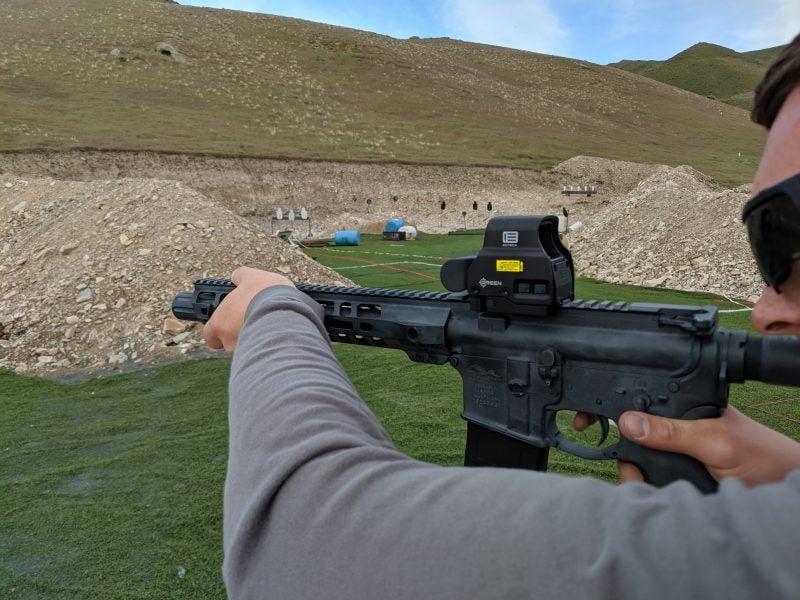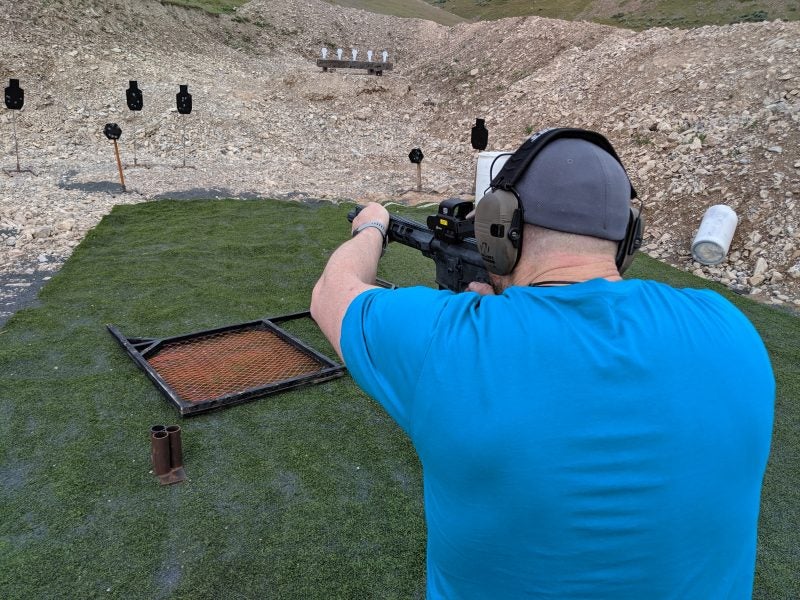 Conclusion
I like the EXPS2 Green just fine, but I don't prefer it to my current EOTech. When considering the science behind the green reticle (which supposedly makes it  easier to see) and combining that with a fuzzier reticle, I'm not sure we get a net gain. My suggestion would be to go to your local gun store and compare green and red EXPS2s side by side and make the judgement for yourself.