Smith & Wesson Donates $20,000 to 'Honored American Veterans Afield'
Adam Scepaniak 06.07.19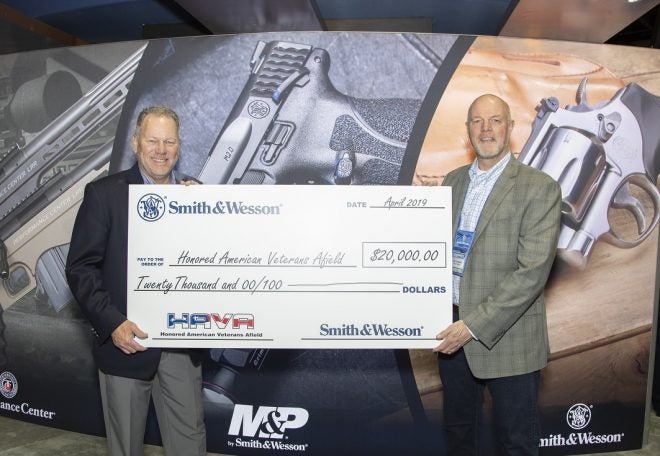 Smith & Wesson contributes and gives back to the shooting sports pretty frequently. One organization they deservedly give extra attention to is the Honored American Veterans Afield (HAVA) group. It was at the 2019 NRA Annual Meetings and Exhibits in Indianapolis, Indiana that Smith & Wesson presented HAVA with a $20,000 donation to help fund HAVA-sanctioned hunting and shooting activities for disabled veterans and injured active military personnel.
Those present were Lane Tobiassen, President of Smith & Wesson, who gave the $20,000 donation to Tom Taylor, Chairman of HAVA, in the Smith & Wesson booth at NRAAM. Lane Tobiassen had these words to share after presenting HAVA with the $20,000 check:
It is an honor to support an organization that has done so much for veterans for more than a decade. HAVA-funded activities are an inspiration to the firearms community, and the importance of the work being done to get our veterans back in the field cannot be overstated.  These activities provide so much excitement and happiness to thousands of veterans and their families who have sacrificed themselves for our freedoms, and we are proud to give back through this important organization which supports the well-being of veterans throughout our community.
Founded in 2007 by several companies in the shooting sports industry, HAVA has sponsored events across the nation and has worked to heighten awareness of issues facing disabled veterans upon returning home. Donations from HAVA's co-sponsors help sustain the many hunting and shooting sports activities that it hosts each year. Those who would like to contribute to HAVA's mission, learn more about the organization, or see photos from past events can visit www.honoredveterans.org
Have any of our readers participated in a Honored American Veterans Afield event before? Do you know someone who has, or has benefited from the good works of HAVA? Let us know all of your thoughts, and feel free to share your stories in the Comments below! We always appreciate your feedback.