NEW Rapid Deployment Flippers from Buck Knives SPRINT Series
Adam Scepaniak 06.13.19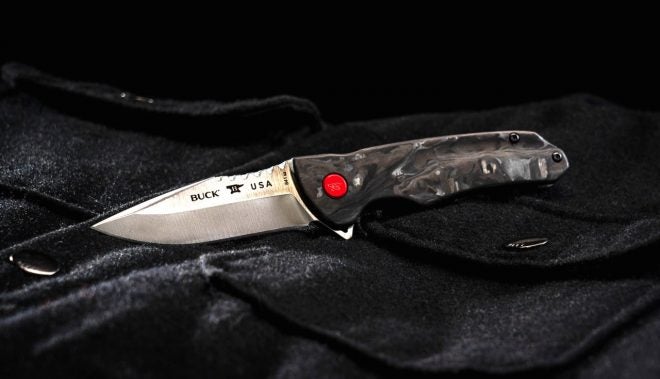 Buck Knives has recently debuted a new Sprint Series of rapid deployment flippers, all sharing the same ball-bearing deployment system. They will also have Buck's advanced Edge2x™ technology for superb sharpness right out of the box. As always, they are all made in the USA and are backed by Buck's respected Forever Warranty. Let's dive into them and see each of the 3 new tiers individually!
840 Sprint Select
The 1st tier of their new rapid deployment flippers featuring a ball-bearing pivot system. These are meant to be forward-thinking, modern knives that poke in at a modest price-point for consumers. They boast glass-filled nylon handles in Black, Gray, and Green. The blade itself has a stonewash finish on 420HC steel with a deep pocket carry clip. The full retail MSRP is set at $60 for any of the 840 Sprint Select knives.
841 Sprint Pro
The 841 Sprint Pro tier of knives from Buck utilizes the same ball-bearing pivot system as the previous series, but you receive upgraded handle and blade materials. The blade is now an S30V steel to improve edge retention, corrosion resistance, and also has a high ductility. Your handle options are either a marbled carbon fiber or a Burlap Micarta®. The Pro versions also feature a deep pocket carry clip in stainless steel and Cerakote® USMC red coated stainless steel. The MSRP for these ranges from $120 – $180 depending on the exact configuration you choose.

842 Sprint Ops Pro
Finally, the Buck Knives 842 Sprint OPS Pro tier is technically another group within the Pro series, but with a twist. It has a slightly different drop point blade with a broader tip. Both the blade and pocket clip receive a Graphite Black Cerakote® finish for a more discreet look. The handle is a combination black and blue G10 handle. The MSRP you are looking at for this one is benchmarked at $150.

So between all three series of knives brought out by Buck this summer, which one could you see yourself getting the most use out of? Are you more economically-minded or would you throw down a Benjamin for one of the nicer knives? Let us know all of your thoughts in the Comments below! We always appreciate your feedback.