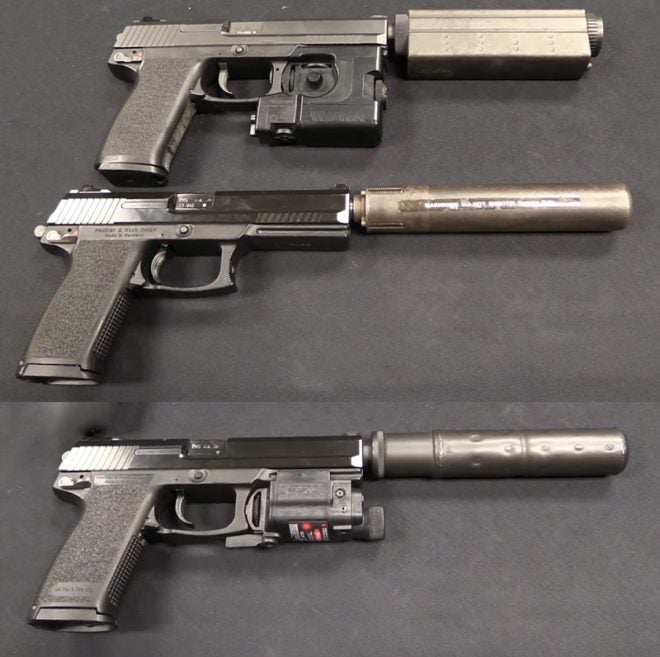 This a longer video for Ian of Forgotten Weapons; at 26 minutes it's kind of a whopper. But the reason is that he's at Heckler & Koch Military and Federal Law Enforcement center in Ashburn, Virginia, where he has access to a wide variety of H&K firearms. It's a rare opportunity to lay hands on a series of developmental pieces which were part of the process of creating the Mk 23 Mod 0.
From his video description:
The H&K Mk 23 pistol was developed in the 1990s for the US Special Operations Command and US Navy. The goal was to produce an "offensive handgun" that could serve as a primary armament for a special forces operator as well as a backup arm. It was required to be no more than 12 inches long, fit a suppressor and aiming module with laser and illumination options in both visible and IR spectrum, have at least 10-round magazines, chamber 45 ACP, and pass a 30,000 round endurance test.

The testing this pistol went through during development is really quite remarkable.
In the early days of SOCOM, there was no standardized sidearm, which created quite a snag for maintenance and supplying things like magazines & ammo. Because of the potentially important role of a sidearm in special operations — where a handgun is much more likely to become a vital part of a warfighter's kit than in the regular army — SOCOM created a whole passel of requirements for the new firearm.
One of the most important specs was the use of 45 ACP +P ammo with 185-grain bullets — a much more effective man-stopper than the 9mm in use by most of the USA's military. Another unusual request was the ability to fire the pistol with the slide locked in the forward (closed) position, to ensure effective use with a suppressor.
After an initial round of submissions, the government was willing to pay private companies to develop their pistols and select a winner later on. But there was a snag when only two companies submitted pistols in the first phase: Colt and H&K. Each company produced a batch of pistols to be torture-tested, which they most certainly were. The endurance test was 30,000 rounds, which H&K's offering passed — and was still able to accurately hit a target at the end. Colt's offering failed the tests.
H&K then went on through phase two and further refined the pistol into the final product: the H&K Mk 23 SOCOM. Ian takes a look at Mk 23 pistols from all three phases of development.
The first-phase example had a rather funky-looking suppressor, with a sort of boxy-looking chamber hanging off the bottom. In the second phase, the suppressor was changed completely into a spring-buffered version that was built by a different company (Knight's Armament). This was a much better way to keep the gun reliable for suppressed semi-auto firing.
Another change in phase two was the elimination of the ability to fire the gun with the slide locked forward. Other alterations include checkering on the front- and back-straps, improved magazines & mag well, and a new slide finish.
The final product lacks any front slide serrations for gripping, but was not much different than the phase two version.
Pretty cool walk down memory lane, thanks to H&K and Forgotten Weapons.