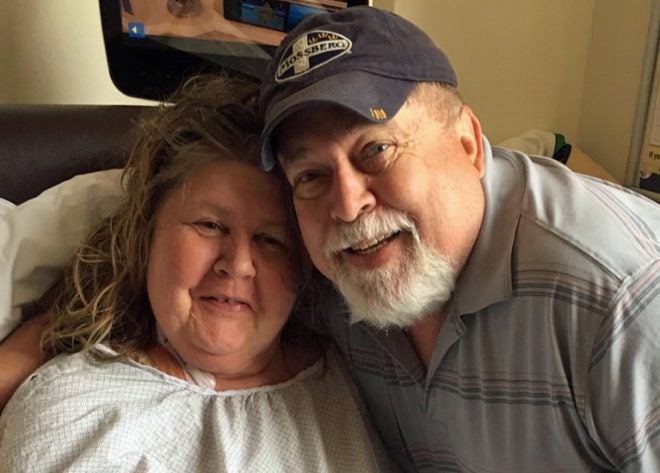 Ray Eye, a longtime hunter and outdoor writer whose name is well-known to many outdoors folks, is having a tough time right now — and you can help.
Ray's wife Janet has "Autoimmune Encephalitis," which affects her memory. I'll let her daughter describe it for you:
At the end of January this year my mother Janet suddenly lost her short term memory. It came on rapidly and she couldn't retain anything for more than a minute. Initially everyone thought she might have had some type of stroke but… a specialist… was able to catch that my mom had something very rare: Limbic encephalitis. My mother's brain was swollen. We were told the special medication would fix her up in a couple of weeks.

[By] the end of April [her health had] rapidly declined. She is now a patient with a specialist at Washington University and had her diagnosis changed to Autoimmune Encephalitis. Her short term memory is about two minutes before she forgets anything you've said. She also is having severe issues with her long term memory. She'll have moments of sheer confusion and reality mixes with dreams. Sometimes she forgets she has grandchildren or even who my Dad is. She has forgotten who she is as well. Other times she'll be sharp for a hour or so.
Janet has run out of vacation and sick days, and that's rough on income. Ray has stayed at her side and "cancelled all of his work for spring which means no paychecks." Ouch.
Her daughter adds, "All we want to do is pay the thousands of dollars of copays off and make sure my parents can comfortably be able to get groceries. We're super hopeful this next round of treatment will bring us our Mom back. There is nothing more than I want than to have our lives go back to normal."
The benefit is rapidly approaching — it's in just two days! There are many prizes and all sorts of cool things to do.
When: Saturday, July 27, 2019 at 10 AM – 5 PM CDT

Where: 911 C.R. 3500, Mountain View, MO 65548
Here's some event info from a recent post by John McAdams:
They'll be raffling and auctioning off hunting gear, firearms, and hunting trips. Among other things, they'll be giving away a custom made to order PSE Bow Madness bow that's autographed by Mark and Terry Drury, a Mossberg 930 shotgun, a Mossberg MVP patrol rifle, some custom turkey calls, a Gould's Turkey hunt in Mexico, a dove hunt down in Argentina, and much more.

You'll also have the opportunity to play sniper golf, participate in a laser range competition, and even shoot a .50 BMG rifle at the range there (and keep your brass as a souvenir) for $5 a shot.

Bottom line: this is shaping up to be a really fun event where you'll have the chance to win some cool hunting and outdoor gear. The proceeds from the event will go to the Eye family to help them pay their medical bills and living expenses, so you will also be helping out a good cause.
Here's a link to the Facebook page for the event: Benefit for Ray and Jan Eye
There's also a GoFundMe page where you can donate to help support the Eyes in their time of need.