Speer's NEW Impact Component Bullets for Handloaders
Adam Scepaniak 08.05.19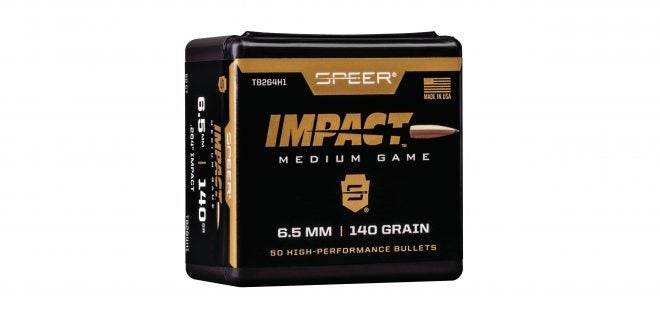 Speer has recently announced a NEW line-up of component bullets for reloading dubbed Impact. These bullets are looking to go after popular calibers and grain weights for such cartridges like .308 Winchester and 6.5 Creedmoor. At the moment, only their .308 diameter bullets are available on the Speer website with the .264 diameter bullets to be coming out very soon. The offerings, grain weights, and associated pricing for all of them can be read below as presented by Speer:
.264 Cal 140 Grain | 50 Count | TB264H1 | MSRP $25.95
.308 Cal 172 Grain | 50 Count | TB308H1 | MSRP $26.95
.308 Cal 190 Grain | 50 Count | TB308H2 | MSRP $26.95
While Speer makes a lot of handloading bullets that perform great in a variety of cartridges, this NEW Impact series is the 1st for Speer that is directly attacking the precision rifle shooting and long-distance market. Some of the specifications for the Impact line can be read below:
Molecularly Fused Jacket maximizes Weight Retention & Improves Accuracy
Slipstream Polymer Tip increases Downrange Energy & initiates Low-Velocity Expansion
High Ballistic Coefficients for Flatter Trajectories & better Long-Range Performance
Close-Range Penetration & Long-Distance Expansion
Competitively Priced
At this time, they have not been out on the market a full week yet, but they look like they have the makings of being both a good hunting bullet and for target shooting. Speer is quite excited about this new offering they can provide for reloaders and expanded on that sentiment in this Press Release quote:
LEWISTON, Idaho – July 29, 2019 – Speer's new Impact component bullets let you take your hunts and handloads farther than you ever thought possible. Shipments of Speer Impact component bullets have been delivered to dealers.

The new Speer Impact bullet, available in three great calibers, blends tough, molecularly bonded construction with a high ballistic coefficient. Its groundbreaking Slipstream polymer tip provides a perfect aerodynamic meplat, and its hollow core initiates expansion at velocities 200 fps lower than comparable designs. The combination results in deep penetration at mid-range, as well as extreme accuracy and consistent low-velocity expansion at long distances.
The sport of long-range shooting continues to grow by leaps and bounds with many participants reloading their own ammunition to squeak out as much accuracy as possible. So what do you think of Speer's NEW Impact line of component bullets? Are these something you would be willing to reload? Let us know all of your thoughts in the Comments below! We always appreciate your feedback.