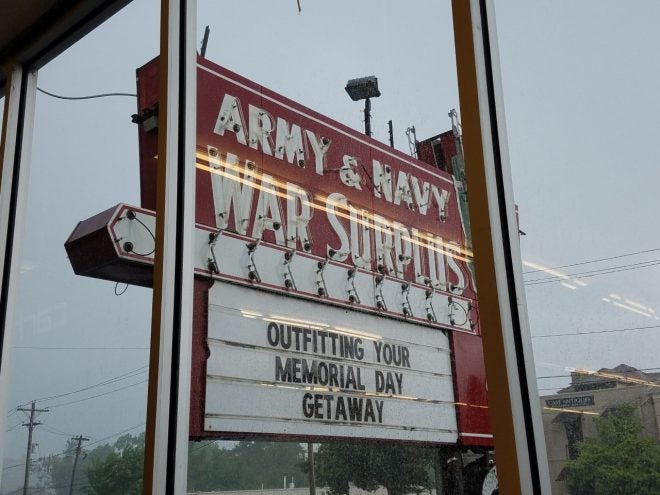 Army and Navy surplus stores are a dying concept of retail establishments these days. They are getting to be far and few between, with big box corporate venues selling war surplus or copies thereof along with camping gear and other outdoor products. If you find a well-stocked genuine army-navy surplus store in your area, you are lucky indeed.
On a recent trip to Nashville, Tennessee, I by sheer accident passed a real army surplus store along one of the downtown streets just south of the Vanderbilt University hospital. I conducted my business and asked my associate to stop at the store on the way back past it. That was a good idea. It was like going back in time to my college days when I shopped regularly at such a store in Columbia, MO, and then later in Hattiesburg, MS. Such stores are a gold mine.
Preppers will discover that an army-navy surplus store is pure heaven for gear and supply shopping. Now honestly, some stores like this are war surplus in name only, selling mostly commercial camping and outdoor gear rather than genuine military surplus. However, some stores do handle a lot of military surplus either from government disposal sales or production overruns from manufacturers fulfilling government contracts. Real military surplus should be marked as such.
So, what might you expect to find at such an outlet? At the army-navy store in Nashville, just inside the door was a huge assortment of genuine military patches, pins, insignias, and uniform decorations for all of the US military service branches. I knew I was in the right place.
From there I previewed aisles of knives, axes, bladed weapons of all kinds. There was a whole section for gun maintenance and cleaning supplies. In the corner was a wide selection of shooting targets, including the latest in zombie characters. Behind a long counter was a selection of airguns and everything to go with them. Down another aisle on both sides was a comprehensive selection of every type of camping item one could imagine.
Further back in the store I ran into tons of genuine surplus. There was a clothing selection of camo coats, shirts, and pants. There were all kinds of web gear, military packs, tents, tarp covers, rain ponchos, and hats of all kinds. In the shoe section were army boots, hiking boots, sneakers, and everything in between including socks. It went on and on.
For prepping, a good army-navy surplus store is a best bet for selection, quality, and value. If you can locate one, make it a regular stop. You'll find good stuff there.